Emotional Intelligence in Leadership – The 4 Pillars of Success
Emotional Intelligence in Leadership – The 4 Pillars of Success


"The technical skills that helped secure your first promotion might not guarantee your next. If you aspire to be in a leadership role, there's an emotional element you need to consider. It's what helps you successfully coach teams, manage stress, deliver feedback, and collaborate with others. "
– Harvard Business School
This blogpost is aimed at providing great insights into why  leading your team with emotional intelligence can make or break your organization.
Putting your best foot forward as a leader with Emotional Intelligence. 
The year 2020 and most of 2021 will forever be etched in our minds as the year of remarkably unusual circumstances. It was a flurry of uncertainties where leaders were facing entirely unchartered territories; carefully navigating through the waves of Covid-19 outbreaks, growing geopolitical tensions, social injustices and complex economic consequences — all of which impacted workplaces and the people within them. 
A large scale catastrophe such as COVID-19 has the ability to strip leadership back to its most bare basic element: making a positive difference in people's lives.  It is imperative for leaders in such times is to show and demonstrate compassionate leadership and to make dealing with the unfolding human tragedy the priority. 
There are several studies proving that in a business-as-usual environment, compassionate leaders perform better and foster more loyalty and engagement by their teams. However, compassion becomes especially critical during a crisis. While a crisis's early days might seem like the time for leaders to put their head down and exhibit control, it is just as critical to tune in to personal fears and anxieties to be able to turn outward to help employees and colleagues grapple with their own reactions. 
To put simply, tapping into emotional intelligence is the sign of effective leadership. This directly affects how a leader perceives, uses, understands and manages their own emotions and the emotions of others, is extremely important. It's no longer just a nice-to-have skill, but one of the World Economic Forum's Top Ten skills to thrive in the fourth industrial revolution (and it arguably underpins the other nine). 
Having emotional intelligence is not a mystical gift or an inborn characteristic. Emotional Intelligence (EI) is a valuable skill that, with dedication and effort, just about anyone can develop. And for today's business leaders, developing EI is definitely not optional. In any organization, the most effective leaders are credible and trustworthy. They build rapport, they show empathy, they alleviate resistance to change, and they inspire excellence. A leader's ability to do all of this, and more, is rooted in their emotional intelligence. 
If you've been fortunate enough to have worked directly with an emotionally intelligent leader during tough times, then you would have likely seen some, or all, of these qualities that define this type of leadership.
– Shahde Zarai (Forbes Coaches Council)
To understand how EI relates to and impacts leadership, it's essential to start with a clear understanding of what EI is. Emotional intelligence is built on four cornerstones:
Aware: the ability to recognize and process your own emotions. When you're aware, you know what you're feeling—even when those feelings are uncomfortable.
Connect: the ability to perceive and grasp the emotions of others. When you connect, you try to understand what others are feeling.
Manage: the ability to monitor and assess your own emotions. Managing your emotions includes making adjustments in response to others or changes in the situation.
Achieve: the ability to direct your emotions in a productive manner.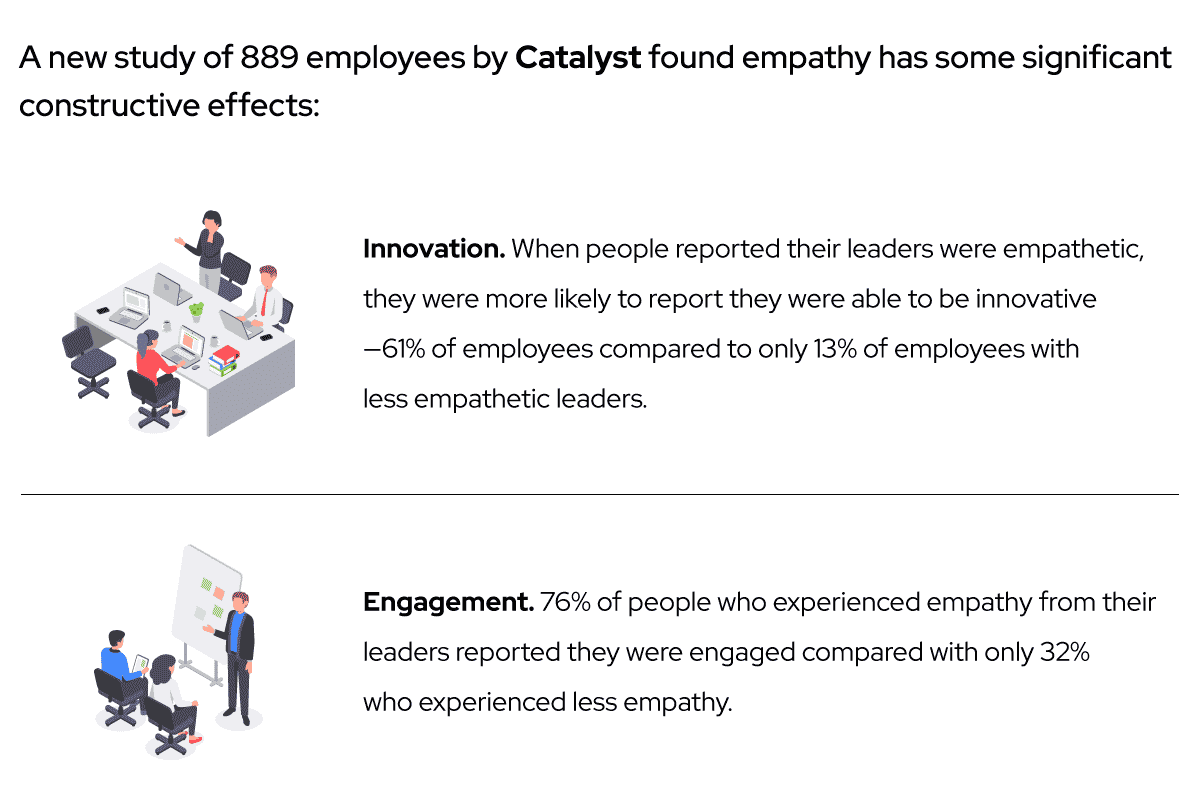 Increasingly, companies are seeking out leaders with high EI, viewing this quality as a leadership fundamental and, in many cases, even more important than IQ and technical proficiencies. To help you raise your emotional intelligence level in the workplace, the experts at American Management Association (AMA) offer guidance on linking the four cornerstones of EI to six leadership competencies that increase employee morale and performance, drive results, and create a dynamic organizational culture:
Personal influence: Are you able to connect with others to build your personal credibility, gain their trust, and secure their buy-in? Are you applying empathy when coaching team members? When you encounter resistance, are you able to analyze the possible reasons through the lens of EI to identify alternative approaches?
Inspiration: Are you aware of your own strengths and liabilities? Could you use this awareness to increase connection and inspire your team members using relevant and relatable, emotionally intelligent leadership stories?
Collaboration: Are you adept at identifying others' strengths and liabilities? Are you able to bring different types of people together and encourage them to coordinate their efforts and bridge gaps? Can you convey how individual differences complement one another and strengthen creativity?
Change: Are you able to grasp and describe how your own and other people's emotions impact attitudes toward change? Can you use the most effective communication skills to move past team members' resistance to change?
Healthy conflict: Do you understand how emotions factor into developing strong working relationships and establishing the foundation of trust essential to making people feel comfortable with speaking up and sharing different perspectives and ideas? Are you able to check your own emotions, avoid becoming defensive, and foster "good conflict"?
Team leadership: Are you sensitive to the impact of emotions on team morale and performance? Are you adept at assessing your team's stress levels and mood to help them remain optimistic and productive? Can you apply emotionally intelligent communication when a team or team member encounters failure?
Incorporating EI into your leadership practices takes conscious effort and ongoing commitment. To develop your EI leadership skills, self-assess your ability in each cornerstone. Identify the impact of your assessment on your leadership effectiveness. Then, develop goals for improvement. Emotionally intelligent leadership can produce lasting benefits for your team, your organization, and for you.
---
We recommend checking these AMA courses out to help you on your way to improving your organization. 
Emotional Intelligence helps you create and sustain unique opportunities and more impactful relationships.
This AMA-2133: Leading with Emotional Intelligence course uses an integrated competency approach to help you develop this crucial skill. You'll get hands-on opportunities to practice and apply methods for consistently using EI as a leader. Attend this seminar so you can influence and motivate your organization's workforce to new heights of achievement.
It's one thing to be a manager—but being an effective team leader takes special skills, knowledge and practice.
This AMA-2508: Improving Your Managerial Effectiveness course will help you build a high-performing team by becoming a learning leader and partner, developing your team's ability to work together, and resolving conflict. Through lectures, discussions, self-assessments and other activities, you will gain insights about yourself and your role as a manager, as well as how your behaviors and ability to coach and mentor team members impacts their performance.
In addition, you will apply what you learn to a prepared case study, plus a situation within your own team, and then share your solutions.
When you're focused on your organization's future every day of every workweek, it's vital that you are well equipped to optimize your company's performance—as well as your own career—with executive leadership training.
What does it mean to be an executive leader? It means you're a visionary, a trailblazer, a strategist, a communicator, a coach, a diplomat and a politician. Pride, commitment and camaraderie. Those are the words you describe your team. You're able to focus on the big picture and uphold high standards while wearing many hats. We know It takes laser-precise vision to be an executive leader. Join your peers in this course to craft your own leadership style, build an extraordinary team and master the competencies of effective executive leadership.
American Management Association Online Professional Development and Management Training Programs.
Looking for real results from your online training experience? Only AMA's training is backed by our decades of proven training expertise, including more than 10 years of perfecting the virtual classroom. Experience carefully curated content developed with leading subject matter experts.
Learn with the guidance of our renowned faculty and top business authorities, and using fully interactive technology. AMA virtual training experiences will keep you engaged, provide you with insightful feedback and foster accountability.

Syazana Khan
A communications specialist and technology wordsmith with over 2 years experience in the IT and professional development training arena.