Microsoft 365 Certification: Advancing Career With Role-based Expertise
Microsoft 365 Certification: Advancing Career With Role-based Expertise
Microsoft 365 brings teams closer, and the workplace better with tools that challenge limitations to productivity. The role-based certifications taps into the continuous challenges faced by enterprises and removes those barriers with specialized skills set.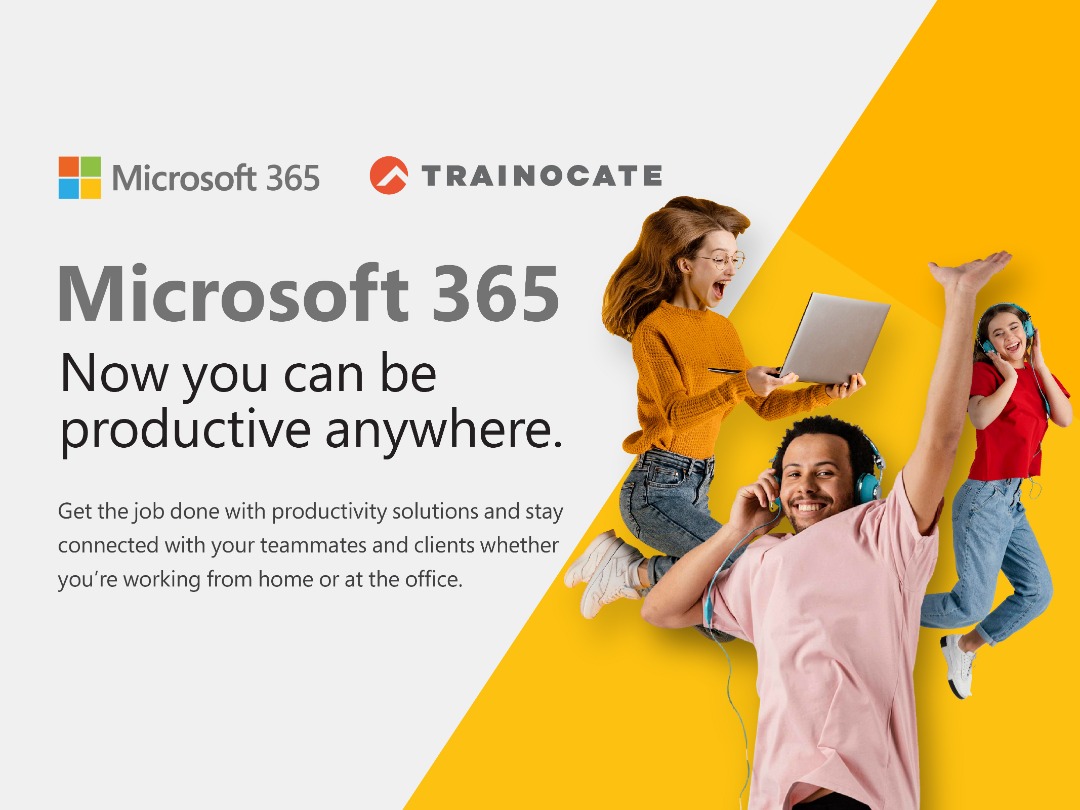 What is Microsoft 365?
Microsoft 365 is a subscription-based service offered by Microsoft for workplace applications that is often known better as Microsoft Office. In reality, Microsoft 365 is formerly known as Office 365. As the name implies, it primarily provides access to Microsoft Office products. The rebrand is in line with the expansion of products. Microsoft 365 now includes OneDrive, Microsoft Teams, Azure Sentinel, and other essentials.
Microsoft 365 Key Facts and Figure
In 2021 alone, over 1 billion people worldwide use Microsoft Office which is the core product in Microsoft 365. In addition, an estimated 445 million people use OneDrive independent of subscription. Thanks to the trend of remote working, Microsoft Teams recorded 145 million daily users in 2021.
As more people are exposed to these programs which are also offered by Microsoft 365, enterprises worldwide would require skilled professionals to optimize the usage of its products.
Which Certification Is Great For Microsoft 365?
Microsoft has designed the certification to be role-based so that each candidate can be highly specialized in what they do. In light of remote learning trend, the training for these certifications can also be completed remotely through Live Virtual Class (LVC).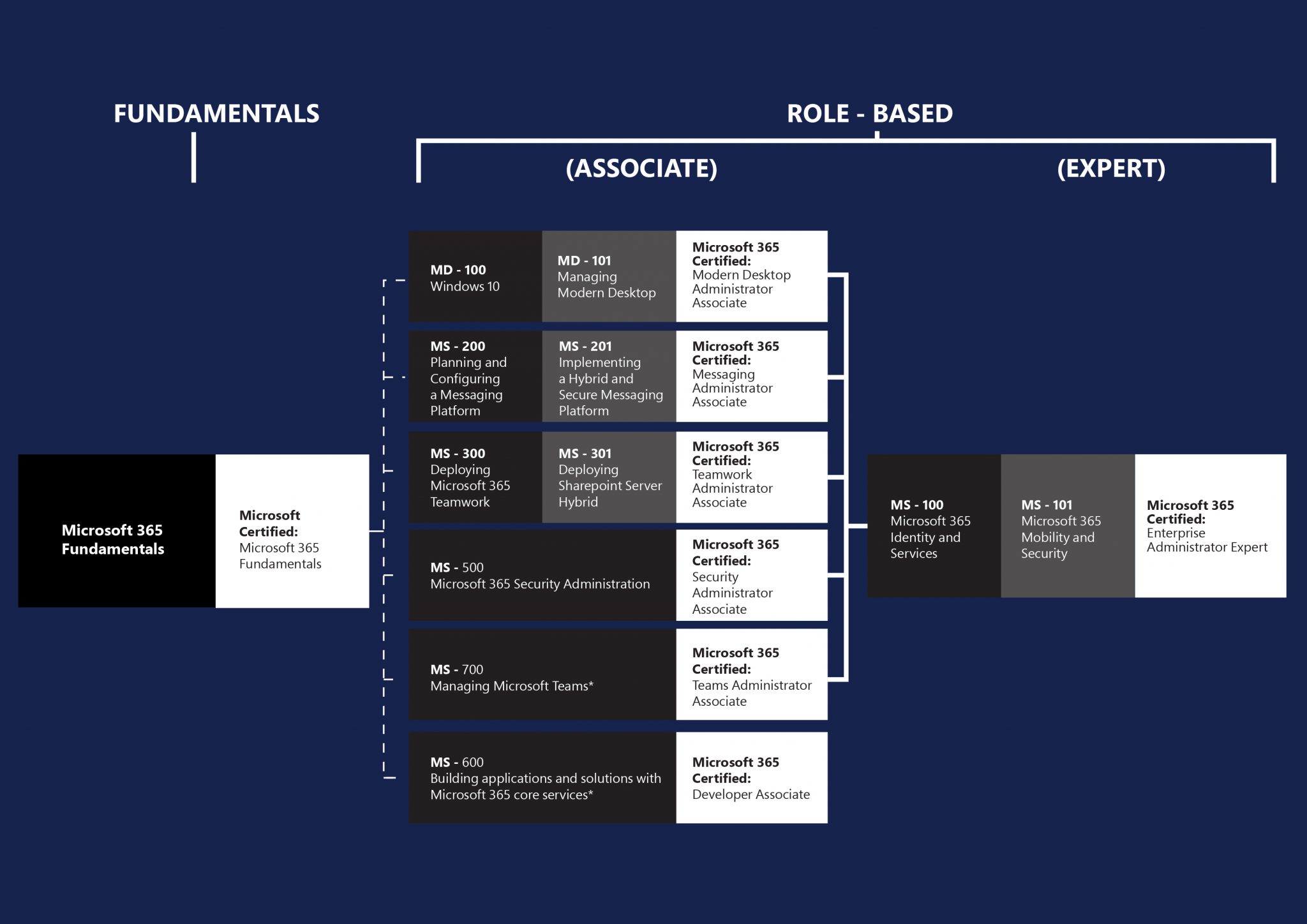 Fundamental
This certification covers all the basics of Microsoft 365. The candidate will also learn how to execute migration to Windows 10 and Microsoft 365, security protocols, subscription management, cloud deployment model, and others. The certification is great for newcomers of Microsoft 365 to get a sneak peek without great difficulty in passing the exam.
Associate
This certification is ideal for developers to design, build, and maintain applications plus solutions on Microsoft 365. The candidate will acquire mastery for different tasks in Microsoft Identify, Microsoft Graph, Microsoft Teams, and SharePoint. This certification is highly technical and it requires the candidate to have general knowledge on UI elements and workload platform targets
Microsoft 365 Messaging Administrators deploy, configure, manage, troubleshoot, and monitor recipients, compliance, threat protection, and mail flow in hybrid and cloud enterprise environments.
This certification is essential for maintaining communication at the workplace. The candidate should possess good IT literacy to deploy, configure, manage, and troubleshoot. Creating a safe mail infrastructure for delivery of e-mails is also an essential skill.
Microsoft 365 security administrators proactively secure Microsoft 365 enterprise and hybrid environments, implement and manage security and compliance solutions, respond to threats, and enforce data governance.
Candidates who obtained this certification are known to develop security solutions for Microsoft 365, as the name implies. The candidate should also ideally possess experience in identity protection, information protection, threat protection, and data governance. These skills are needed to build a strong cybersecurity framework.
Microsoft 365 developers design, build, test, and maintain applications and solutions that are optimized for the productivity and collaboration needs of organizations using the Microsoft 365 platform.
Microsoft 365 developers are proficient in Microsoft identity, Microsoft Graph, and building apps for Microsoft Teams. They have general knowledge on UI elements (including Fluent UI (Office UI Fabric), integration points (including Office Add-ins, SharePoint Framework, Actionable Messages), and determining workload platform targets.
The Microsoft 365 Developer Associate certification measures your ability to accomplish the following technical tasks: implement Microsoft identity; build apps with Microsoft Graph; extend and customize SharePoint; extend Teams; and extend Office.
Optimizing Microsoft Teams for seamless communication will be the main focus for this certification.  The candidate will play an instrumental role to facilitate effective communication among employees. Advanced skills in Windows PowerShell, SharePoint, OneDrive, and Azure Active Directory are required for this role.
Candidates for this certification must be able to plan, deploy, configure, and secure Teams chat, apps, channels, meetings, audio/video conferencing, live events, calling, and Microsoft Teams-certified devices.
Expert
This certification requires an Associate-level prerequisite – any candidates may pursue this except Developer Associate. The certification verifies abilities in evaluating, planning, migrating, deploying and managing various services. The candidate would likely excel in managing user identities, authentication, compliances, and others.
Start Training With Microsoft Certified Gold Partner
The learning pathways for Microsoft 365 certification is highly specialized for each specialist to bring something unique to the table. While it's possible to ace the certification with self-learning and work experiences, why not make it easier on yourself with trusted expertise at Trainocate – Microsoft Certified Gold Partner?
Kevin Boey
IT professional with 15 years of working experience with Malaysia's largest training provider specializing in Information Technology & Human Development Competency solutions.