Be in Demand with the Top IT Skills of 2022
Be in Demand with the Top IT Skills of 2022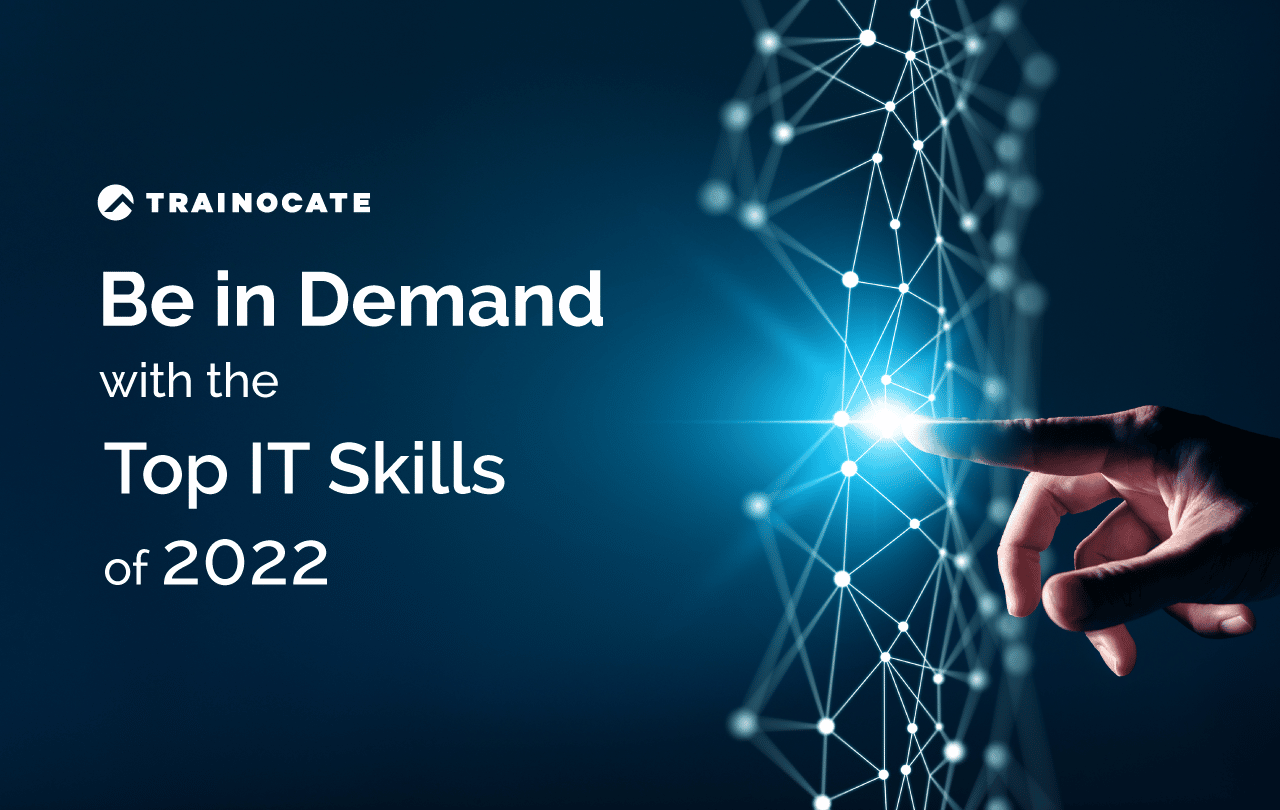 It is a well known fact if you're in the IT field, especially if you are a technical professional that acquiring new skills and updating old ones along with the evolving technology comes with the territory. Having these in-demand skills keeps you competitive and performing at your peak in your IT, irrespective of what the future might hold for you.
As an IT professional, this is a time for you to level up your tech skill sets by obtaining specific knowledge. If you choose to maintain the status quo, you risk losing relevance in your field. Here are some of the top IT skills in demand this year that you could add to your resume and get you one-step closer to reaching your IT goals. The blog post will first lay out the current digital situation in statistics and data based in Malaysia. Then we will proceed to look at the numbers from the USA, to gain a holistic view, as we feel that context in comparison is essential. So, let's get on with it!
---
The Dawn of Digitalisation in

Malaysia.
---
Here are Some Skills That Are Most in Demand in the IT Industry in Malaysia.
Analytical Skills

Software Development (SQL,

Javascript

, Python)

Cloud Computing Supply

Data Analytics

Python

Creative content development

(Adobe, Video Editing)

Data Entry
Fastest Growing Skills (YoY)
Lead (+266%)
Computer Science (+48%)
Python (+42%)
Information Technology (+42%)
Data Entry (+33%)
Adobe Premiere Pro (+33%)
Analytical Skills (+31%)
Video Editing (+28%)
Digital Marketing (+27%)
Git (+26%)
Skills Commonly Advertised in Job Vacancies in Malaysia
Analytical Skills
Engineering
Computer Science
Software Development
Programming
SQL
Lead
JavaScript
Information Technology
Cloud Computing
Source: Extracted from LinkedIn Talent Insights
The aforementioned were statistics and data for the tech talent landscape in Malaysia, which shows a healthy demand for tech talent in the country. The upcoming paragraphs will go on to elaborate more about the talent field globally with an emphasis on the US.
Here are 22 popular IT skills that you can seize in 2022 to unlock your potential and advance your IT career.
Infrastructure
---
1. Networking
Just about everything we do has to begin with the network. A well-versed IT expert would know that it is imperative to have a good grasp on the technology behind computer networking.
2. Cloud computing
With the increase of work from home setups and remote working environments, the demand of cloud computing has increased in tandem. Cloud skills like, configuration, deployment, security, management and troubleshooting, are essential components to a good tech pro. This includes everything from end user support for software as a service (SaaS) solutions to analyzing, managing, maintaining and deploying cloud platforms like Microsoft Azure or Amazon Web Services (AWS).
3. Technical support
IT professionals have many reasons to kick start your careers in technical support. The honing of problem-solving and troubleshooting skills at the help desk will provide you with a solid foundation that you'll be able to harness again as you move through your career, no matter what specializations you move to.
4. Linux
This year, companies are relying on IT pros to know how to operate Linux successfully. Basic maintenance, installing and configuring workstations, networking and understanding the Linux command line are skills that tech workers should start mastering now.
Companies are relying on IT pros to know navigate the operations of Linux successfully. These include having IT pros master elements such as – basic maintenance, the installation and configuration of workstations, networking and understanding the Linux command lines.
Development
---
5. Programming languages
The belief that that programming languages like Java, JavaScript, C++ and Python is an IT skills that is presently one of the most in demand is an understatement. Programming languages touch nearly every IT job role, so IT pros would benefit from strengthening these skills.
6. User experience (UX)
Good UX design is beneficial within an organisation, as it is known to be able to increase productivity, decrease support costs and boost customer retention and acquisition. Every one of these benefits are attractive to organizations that are navigating another challenging year and whilst striving to create a healthier bottom line. Technical experts can learn UX design – to the degree o researching target markets, visual design skills, coding and project management skills – to establish themselves as experts in the tech industry.
7. Machine learning
It should be noted that there are quite a few skills that fall under the umbrella of machine learning. Tech pros are advised to start with software engineering, systems design, computer science fundamentals and programming. These competencies will help you begin finding patterns in data.
8. Quality assurance
An individual that carries out quality insurance uses data analytics to identify stumbling blocks and opportunities in products that are created by a factory or business process. They make sure things are done right, minimizing errors and vulnerabilities.
9. Mobile application skills
Organizations are increasingly turning to mobile app solutions to expand customer reach. Understanding application programming interface (API) development platforms and cross-platform app development frameworks will help IT specialists develop mobile applications and create new digital solutions.
Cybersecurity
---
10. Risk analysis
Risk analysis is essentially the assessment of risks and vulnerabilities that could potentially have a negative impact on an organisation. The increase of cybercrime only makes this skill more important than ever. Cybersecurity skills like risk identification, analysis and management help IT pros keep organizations' sensitive data safe.
11. Cybersecurity analytics
A convergence of cybersecurity and data analytics is cybersecurity analytics. In a cloudy world that doesn't have secure perimeters, there is a critical need to secure data. This includes threat intelligence, intrusion detection and response, risk analysis and data modelling.
12. Penetration testing
To simplify penetration testing is about finding any vulnerabilities and weak points within your systems before a cybercriminal does. Whilst cybersecurity analytics is considered a defensive strategy, penetration testing would be considered an offensive strategy. Both sides are intended to work in tandem to secure the organisation in different ways.
13. Compliance
The definition of compliance could be said to be actions of facts of complying with regulations. It is imperative to comprehend the background behind compliance as it is used in many aspects of security and extra cybersecurity tasks.
Data and Analytics
---
14. Database administration
Configuring and maintaining the database management system or updating database code for upcoming new technology lies in the hands of a database administrator. The role involves the management of all aspects of an organized database environment. Within data administration is a highly used programming language, Structured Query Language (SQL). SQL is the standard programming language for relational databases, and it is important that IT pros know how to structure and manage these databases. Those wanting to move into a database administrator role should make it their mission to learn SQL inside and out.
15. Data analytics
Most IT professionals are expected to be well-versed in data analytics has the ability to examine data sets and ultimately reach a conclusion to help their organization get better results. As a top IT skill in demand this year, it is vital that tech specialists learn the art of data analytics. Gaining some of the skills listed earlier – such as machine learning and programming languages – will strengthen your data analytics skill set.
16. Data visualization
Data sets can often be complex and difficult to wrap ones head around. Businesses are constantly looking for talents that are analyze and create data visualization to aid the storytelling process and reasons why the data is important to stakeholders. Data visualizations also guides the decision making process across the organization.
17. Data science
More than ever organizations are in need of employees who can interpret raw data and transform it into usable feedback that data analysts can use to guide decision making. Learning to work with a variety of programming languages (SAS, R and Python, for example) can help IT pros do this.
18. Big data
You might have heard of the term Big Data being used more often, what is refers to is the use of new technology tools to handle data that previously could not be handled with existing tools. IT skills in demand in 2022 that are related to big data include effective problem solving skills, data handling skills and understanding programming languages. By pursuing these competencies and utilizing these tools, you can advance your career.
Additional Professional
---
19. Professional skills
Along with a plethora of technical skills, IT pros these days are demanded of bringing to the table a variety of professional skills. Adaptability, empathy, teamwork, communication and active listening are just as important to employers as technical skills are. With that in mind, building and strengthening your professional skills should be a top priority for IT specialists.
20. Project management
Project management skills can be applied across the board and make you better at your job regardless of the size of projects you're managing. Understanding project management methodologies as well as learning how to manage the project lifecycle and communicate with stakeholders will add efficiency and effectiveness to your work.
21. Automation
Automation is a process that most businesses are adopting in order to boost efficiency and productivity. And IT pros can implement it at every level, from the help desk to cybersecurity.
22. Business skills
While professional skills refer to how you behave, business skills are more about what you know. As an IT pro, the more you understand about how your organization functions, what the business priorities and goals are, and what challenges employees and end users are facing, the better you're able to recommend solutions.
---
Get the IT Skills You Need to Thrive in Your Job This Year.
Looking at all the IT skills needed for this year may feel overwhelming. Creating a plan to obtain the technical skills you need will help.
Let's have a look at some of our recommended CompTIA courses, so you can get a head start.
source: CompTIA Blog
Embrace the Future: Explore the Top IT Skills in 2023.
Feeling like our 2022 doesn't quite align with the current IT landscape? Don't worry, we've got you covered! Step into the future of technology and discover our latest blog on the top IT skills in 2023.
From advanced concepts like artificial intelligence and cybersecurity to game-changing domains like low code/no code development and cloud computing, we've got the insights you need to stay ahead of the curve.
Join us on a journey to embrace the cutting-edge skills that will shape the IT landscape in 2023 and beyond. Read now!
Syazana Khan
A communications specialist and technology wordsmith with over 2 years experience in the IT and professional development training arena.