What you need to know about ITIL 4 in 2022
What you need to know about ITIL 4 in 2022

What is an ITIL certification? 
We are in a time of exciting change full of opportunity. Digital services are helping organizations to compete in the modern digital economy. But this new digital era, known as the 'Fourth Industrial Revolution 'and characterized by the unavoidable interaction between humans, digital technologies, and physical assets, has created an increasingly fast-paced and complex environment, requiring organizations to be more agile, better equipped to adapt what they do, and ready to adopt new ways of working to succeed.  
ITIL 4 is the evolution of this well-established framework. It provides a flexible end-to-end IT/digital operating model for the delivery and operation of tech-enabled products and services, which helps organizations to connect and align these different challenges. ITIL 4 supports the existing investment that people and organizations have made in traditional service management activities, for example, incident management and continual improvement. However, the scope of ITIL 4 has moved beyond IT Service Management (ITSM) and elevates the discussion outside of IT (Information Technology) to a wider range of professionals working in the digital world. 
The ITIL 4 certifications demonstrate that you are educated in service management best practices, utilizing processes, terminology, and methods that are common in modern IT. ITIL certified professionals are in high demand: they possess the skills to grow and transform the business. 
Digital services typically rely on ongoing project management that focuses on the service's objectives while also paying attention to inevitable issues in developing, delivering, and maintaining the service. A good IT service management approach is knowing exactly how to integrate all these ever-changing factors into your development process. 
Benefits are not limited to the certified individual. Organizations see far-reaching advantages from adopting ITIL, including: 
Aligning IT to business

 

Providing quality services that better meet the needs of their customers

 

Improving the quality of the

IT services you deliver

 

Decreasing time, money, and other resources spent on the entire service development lifecycle

 

Increasing customer satisfaction

 

Boosting staff morale

 
By following these guidelines, organizations can expect to see: 
A better, more tangible understanding of your customers, their needs, and their expectations

 

Increased productivity

 

Risk management that minimizes or prevents service disruption

 

A stable yet flexible development environment

 
Industry experts, as well as those certified in ITIL, often agree that certification behoves both the individual and the company.  
Following a recent survey of

117 people who have earned at least an intermediate-level ITIL certification

found out that: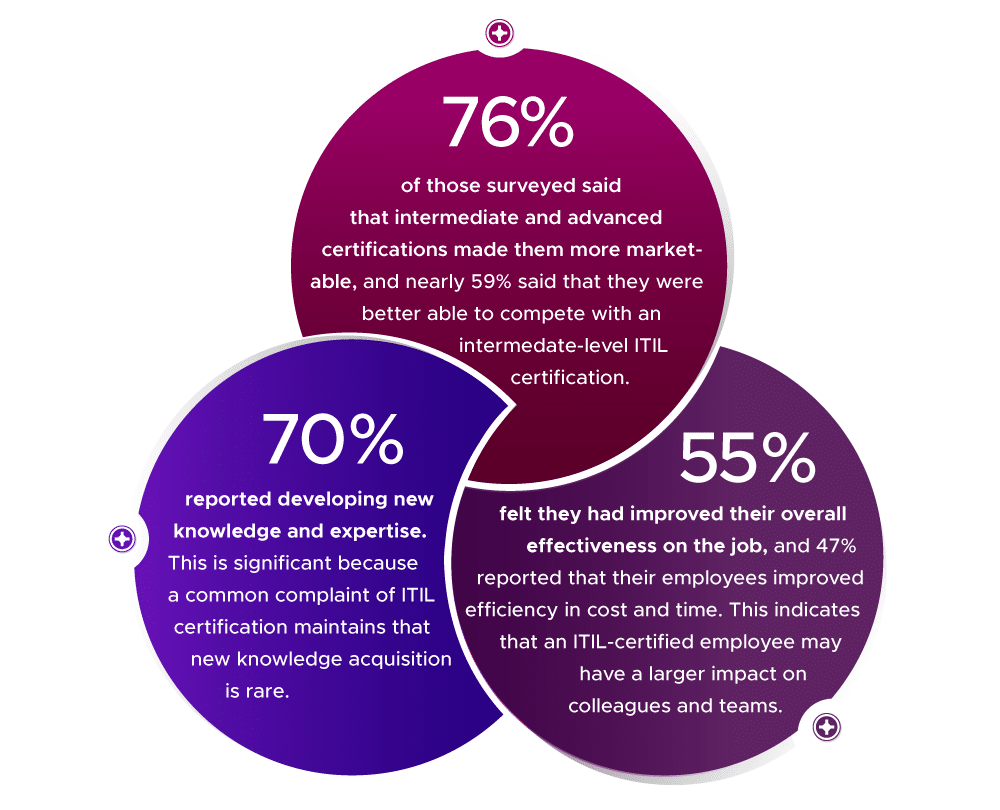 Who are ITIL 4 Certifications aimed at?  
ITIL 4 Foundation provides the building blocks of ITIL 4 and step one of the ITIL 4 journey. ITIL 4 Foundation has been designed as an introduction to ITIL 4 and enables candidates to look at IT service management through an end-to-end operating model for the creation, delivery and continual improvement of tech-enabled products and services. ITIL 4 Foundation is for anyone working within an IT function who needs to understand the key concepts of IT and digital service delivery and is interested in helping their organization address new service management challenges. It is for professionals at the start of their ITIL 4 journey or those looking to upgrade their existing ITIL knowledge. 
*It should be noted that ITIL certifications are available only to individuals, not to an entire organization. If a company claims they are ITIL certified, they probably either: 
Comply with a related, but different standard, such as ISO/IEC 20000 which organizations can earn.

 

Promote any number of employees within the company do hold ITIL certifications.

 
---
A guide to all the ITIL 4 certification courses 
There are four certification designations within the ITIL 4 scheme.
ITIL 4 Foundation introduces an end-to-end operating model for the creation, delivery and continual improvement of technology-enabled products and services.
ITIL 4 Managing Professional designation, comprised of four modules. 
ITIL 4 MP has been created for IT practitioners working within technology and digital teams across businesses.
Obtaining a Managing Professional designation gives you the essential skills to run successful IT-enabled products and services.
ITIL 4 Strategic Leader designation, comprised of two modules: 
ITIL SL recognizes the value of ITIL, not just for IT operations, but for all digitally-enabled services. Becoming an ITIL 4 Strategic Leader demonstrates that you have a clear understanding of how IT influences and directs business strategy.
Gaining a Strategic Leader designation helps established and aspiring IT leaders to navigate the complexities of the digital era and prepare for digital transformation.
ITIL 4 Master *Coming Soon*
The ITIL4 Master certification is the highest ITIL certification. This certification means you have mastered not just the theory of the ITIL principles, methods and techniques, you can also implement these best practices in your own situation.
ITIL 4 Roadmap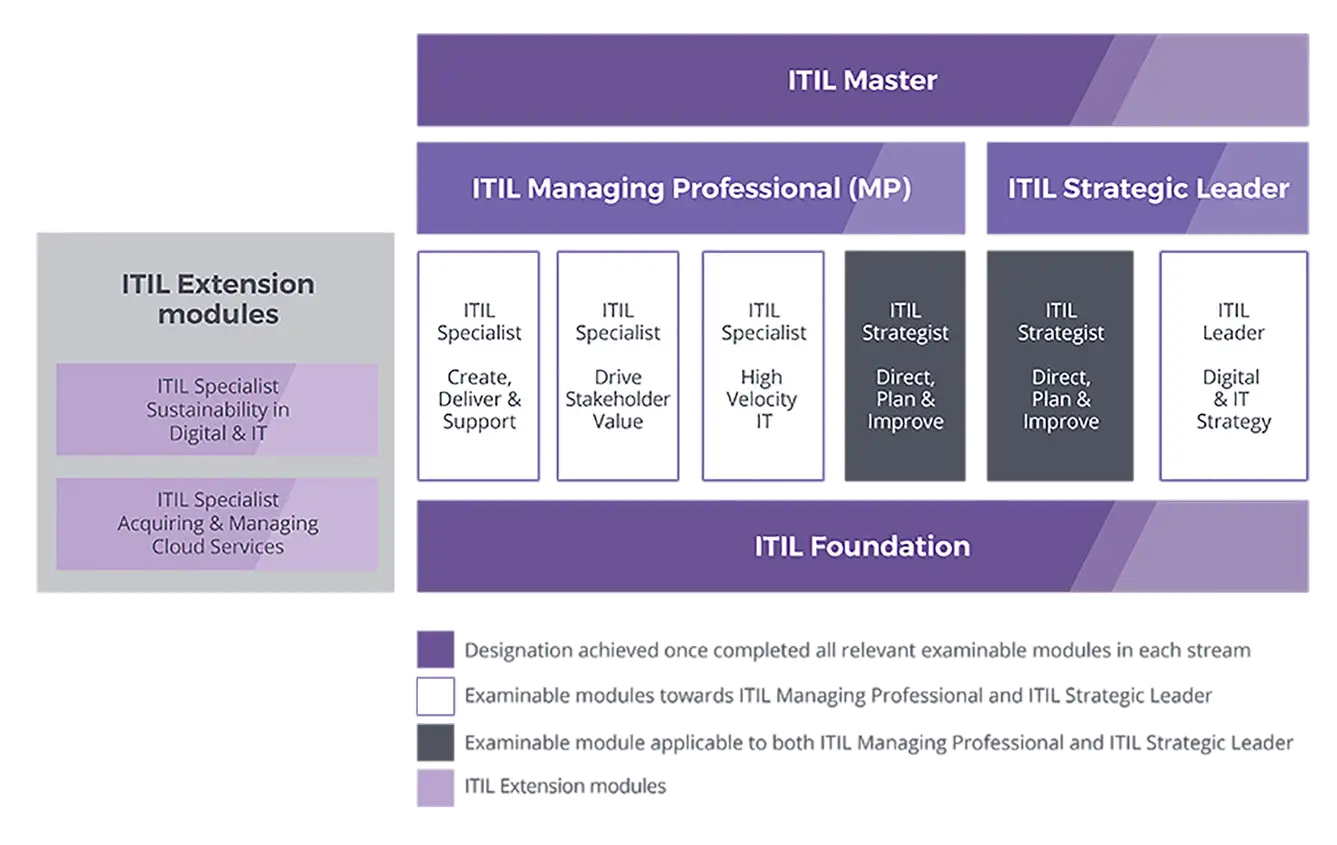 Image credit: Axelos
Welcome the future with ITIL 4 Certification.
Still the ultimate in IT best practice, ITIL 4 builds on all the best things from ITIL and expands IT and service operations into the future. ITIL 4 certification will enable IT, professionals, to support their organization on their journey to digital transformation and support world-class digital services.
The latest iteration of ITIL is a natural evolution of the framework, which responds to the fast pace of technological change that organizations are now experiencing. ITIL 4 training allows practitioners to progress their existing expertise in ITIL and capitalize on the opportunities that are arising from technological advances. With mobile devices, artificial intelligence, robotics, autonomous vehicles, the internet of things, 3D printing and much more, IT services are everywhere. ITIL 4 supports practitioners in carrying out best practices with these services and gives them the tools to take part in this global digital transformation.

Syazana Khan
A communications specialist and technology wordsmith with over 2 years experience in the IT and professional development training arena.