What is the aim of ITIL?
What is the aim of ITIL?

Challenges of the fast-moving tech landscape.
The current model that Information Technology (IT) is operating on is constantly being challenged in these fast-paced technological landscapes. What makes traversing it even more laborious is that the growth in complexity and the rate of change in IT has exposed limitations in current ways of working. In today's environment, a digital management system that can holistically manage IT service and product lifecycles is integral to success. Organizations require an operating model that was designed with the new digital reality in mind. 
At the dawn of the digital age. Change is essential. 
Disruption from digital transformation challenges how IT is organized and managed. What's more, technology is increasingly integrating into businesses and directly affecting the customer and business experience. IT is no longer a support technology, but an enabler of innovation. It enhances competitive advantage, boosts productivity, and reduces costs. 
ITIL 4
ITIL is the most widely used IT service management framework in the world. ITIL 4 embraces new ways of working, including Agile, DevOps, and continuous integration/continuous deployment (CI/CD) and retains the best and most effective elements of previous evolutions of ITIL. It uses a value stream approach to model activities that co-create value and helps organizations to address modern service management challenges. It is designed to ensure a flexible, coordinated, and integrated system for the governance and management of IT-enabled services. 
The latest iteration, ITIL 4 was designed as a practical guideline for organizations that are focusing on:  
Digital transformation 

 

Operational and service excellence

 

Enhancing customer service 

 
But what exactly is the primary objective of ITIL and how can you benefit from using ITIL as a framework? 
Many digital enterprises place higher expectations on IT. But when you implement and adopt ITIL practices and procedures across the service value chain, you'll meet the needs of a digital-first workforce.
The principal concept of ITIL 4 lies in the Four Dimensions.  
These would usually draw the goals of good service and management in four key areas.  
Organizations and People

 

Information and Technology

 

Partners and Suppliers

 

Value Streams and Processes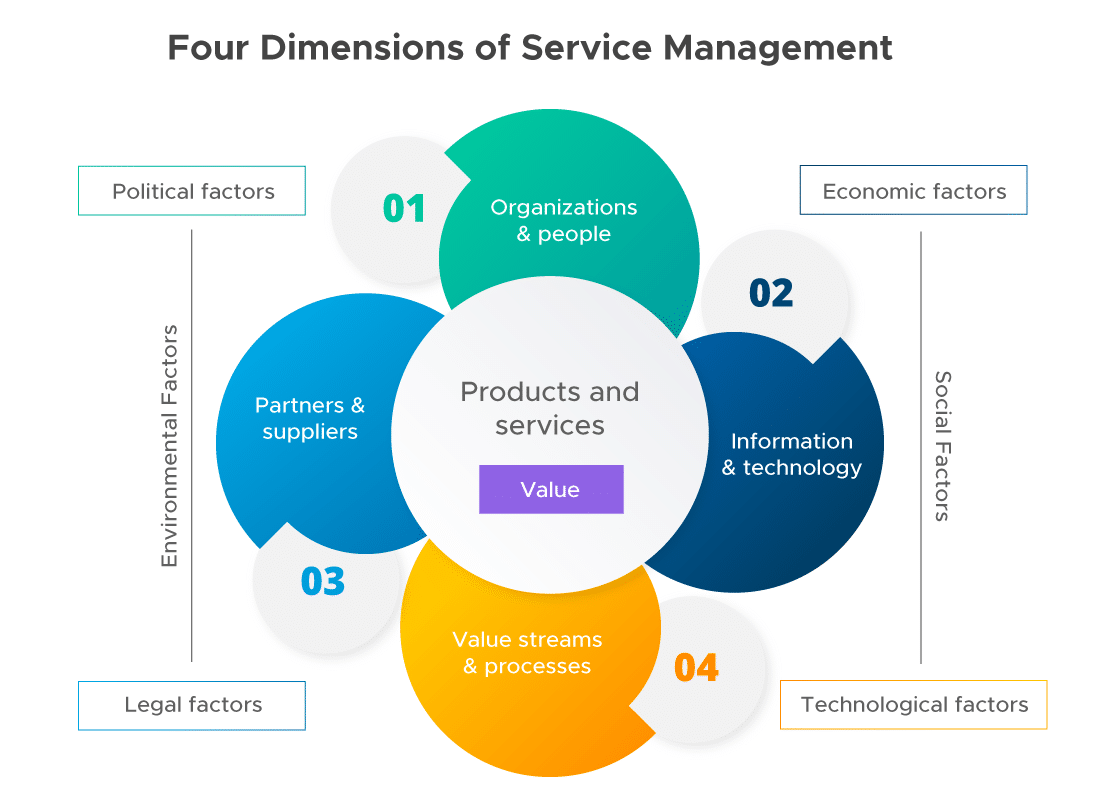 High-velocity IT requires organizations to transform their capabilities across all Four Dimensions to foster creativity, collaboration, and innovation. At the same time, digital enterprises also expect IT to reduce risk across the value chain. 
In order to understand why organizations should adopt ITIL to achieve these goals, let's first highlight the key elements of the Service Value Chain (SVC) covered by the guideline. After that, we will discuss how the specific guidelines across the Four Dimensions deliver the promised value propositions. 
Elements of the ITIL Service Value Chain 
The Service Value Chain is an operating model for creating, delivering, and improving your services. Here are the six elements and their objectives: 
Plan. 
Developing a collective understanding of the vision, understanding the current state, and identifying the future direction for ITIL best practice implementation across all Four Dimensions. The planning forms a basis for provisioning the resources, solutions, guiding processes and ultimately, the services for end-users. 
Improve. 
Continuously improving the ability to align ITSM capabilities with business objectives. The improvement is considered across planning, operational activities, and the performance delivered across all Service Value Chain activities. 
Engage. 
Ensuring that all stakeholders thoroughly understand the ITSM practices and are encouraged to take correct actions in the right direction. The engagement includes communication, collaboration, partnerships, and contributions at the individual and collective level, across hierarchies internally as well as beyond the organization as necessary. 
Design & Transition. 
Developing products and services that continually meet the defined requirements, standards, and expectations. These requirements may pertain to business performance, regulatory compliance, customer experiences, market sentiment and innovation, among other key factors. 
Obtain/Build. 
Ensuring timely availability of components and resources that are to build the designed products within the acceptable specification criteria. This element of the SVC is particularly relevant for organizations adopting the DevOps SDLC methodology, which thrives on timely delivery of the right automation tools, server resources and IT services for Continuous Integration/Continuous Delivery (CI/CD) use cases. 
Deliver & Support. 
Delivering and supporting all IT services according to the agreed specifications and requirements. This SVC element is key to ensure that the services used across all Four Dimensions of the IT can co-create value for the business. The support extends across all parts of the service value chain to support the end-to-end service delivery process. 
ITIL objectives Across Four Dimensions
ITIL defines the Four Dimensions as the key focus areas to deliver business value and impact upon the SVC system. For each dimension, here are the goals and objectives. (Of course, this assumes that you're adopting the associated ITIL 4 best practices.) 
The goal of ITIL
So, to conclude, as a service management framework, the overall aim of ITIL is to improve service management and optimize value for your customers and your organization. 
---
ITIL4-DPI: ITIL 4 Strategist Direct Plan and Improve Certification 
The ITIL4-DPI: ITIL 4 Strategist Direct Plan and Improve certification course covers both practical and strategic elements related to improvement. Lean and Agile methodologies and techniques, a feature of ITIL 4, is embedded into directing, planning and improving services in support of business objectives. This interactive course is indispensable to the development of the modern-day technologist and ITSM practitioner and leader in modern IT organizations seeking to innovate and improve IT services delivered to business. 
ITIL4-DSV: ITIL 4 Specialist Drive Stakeholder Value Certification 
This ITIL4-DSV: ITIL 4 Specialist Drive Stakeholder Value certification module provides the candidate with an understanding of all types of engagement and interactions between a service provider and their customers, users, suppliers, and partners, including key customer/user experience and journey mapping concepts. Take what was established as THE best practice guidance of IT Service Management – then make it better. 
ITIL4-HVIT: ITIL 4 Specialist High Velocity IT Certification 
This ITIL4-HVIT: ITIL 4 Specialist High Velocity IT certification module provides the candidate with an understanding of the ways in which digital organizations and digital operating models function in high velocity environments, focusing on rapid delivery of products and services to obtain maximum business value. Take what was established as THE best practice guidance of IT Service Management – then make it better.  
ITIL4-MPT: ITIL®4 Managing Professional Transition 
The ITIL4 Managing Professional (MP) Transition course and bridging examination will enable the senior ITSM practitioner who have already attained or one step away from attaining the ITIL Expert designation to attain the MP designation. It maps the ITIL v3 Service Lifecycle with ITIL4's Service Value System and explores key concepts and practices within ITIL4. 
ITIL 4 Foundation certification provides a practical and flexible basis to support organizations on their journey into the new world of digital transformation by helping them align their human, digital and physical resources, adopt emerging technologies into their IT operations to compete within the complex modern landscape. 
Syazana Khan
A communications specialist and technology wordsmith with over 2 years experience in the IT and professional development training arena.