Microsoft Azure | Training & Certifications
Microsoft Azure | Training & Certifications
Digital transformation is not a one-size-fits-all situation
Organizations across industries and sizes were compelled to embrace technological transformations on a large scale last year when the pandemic hit and new norms were introduced. The ensuing speed of digital adoption across the globe was astounding. Those who have been holding back, expedited their move data to the cloud instantaneously. 
It is important to note that digital transformation is never a one size fits all situation. It is pivotal to think of it as a journey – with incremental steps towards a long-term goal – it then becomes a less intimidating proposition. 
This blog post is aimed at showing the ways in which Microsoft Azure training courses and certification can help in ensuring your people are empowered with the skills needed to meet the challenges of today's cloud-based digital world.  
But first, a quick rundown on Azure 
Azure is designed to make sure that its technology meets your needs. Cloud moves at lightning speed, with innovative technology releasing every week. Microsoft understands that it is important to meet new capabilities now and invest in those on the horizon such as the Internet of Things to artificial intelligence to quantum computing.  
"With more than 200 products and cloud services, the Azure cloud platform is designed to help you bring new solutions to life – to solve today's challenges and create the future. Build, run and manage applications across multiple clouds, on-premises and at the edge with the tools and frameworks of your choice."
Microsoft Azure Cloud Certification and Training
Securing the right talent is pivotal, to meet today's demanding business landscape.  
Azure cloud certifications are developed as means to substantiate your technical knowledge and ability in current and future job roles.  This could also help ensure that your organization acquires the best talent.  
Azure training and certifications have one aim in mind – empowering IT pros, developers, and data & AI professionals to validate that they have the required skills to cover all angles of your digital transformation, including – managing on-premises, hybrid, cloud infrastructure to innovating with the best-in-class applications.   
It also helps professionals prove that they possess the adeptness in supporting those apps and infrastructure with data and analytics, all with proper security considerations.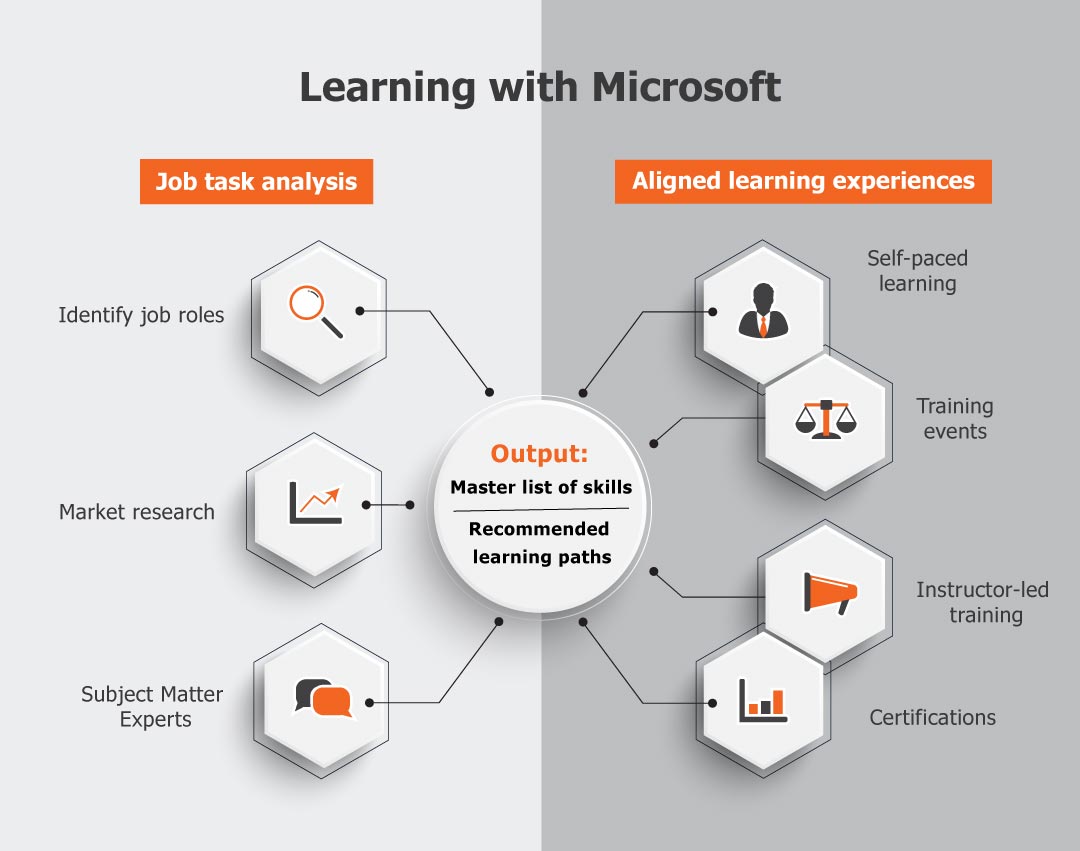 There are three elements to understand Azure certifications better:  
How building the right skills on Azure can help you embrace digital transformation 

 
How the Microsoft Learn offering works, along with the role of Azure certifications as part of the offering

 
How to identify the right certification based on your current role or your anticipated future role, plus the breadth of resources available to help you and your team prepare for certifications. 

 
Skills build confidence, and confidence drives productivity, innovation, and growth. Let's take a look at how Azure training and certifications can build skills intensity 
Azure Fundamental 
Get the right foundation. All fundamental certifications attest to your foundational understanding of Microsoft technologies.
Azure offers an ever-expanding set of cloud services that can help companies meet business challenges. It offers the freedom to build, manage, and deploy applications on a massive global network using an organization's favorite tools and frameworks. This opens up many opportunities for IT professionals, depending on their talents and interests.
If you're a developer, you can get your work done faster, take your skills to the next level, and imagine and build tomorrow's applications.
If you're an IT administrator, Azure cloud infrastructure helps you simplify management, reduce costs, rapidly adjust to changing business demands, and enhance security.
If you're a data specialist, Azure can help you unlock the potential of data. Azure enables rapid growth and innovation with a portfolio of secure, enterprise grade database services that support open-source database engines.
If you're an artificial intelligence (AI) specialist, Azure offers your application an edge over the competition. Just imagine what you can build—an app that translates speech in real time as you're speaking or an app that helps you identify parts of a motor in a mixed-reality training. The possibilities are endless.
Get the Azure training that fits your background and interests  
Interested in Azure, and want to learn more? Explore Trainocate's training offerings to explore the fundamentals of the cloud platform, foundational database concepts in Azure, and the basics of Azure AI.
The AZ-900T00: Microsoft Azure Fundamentals provides learners with guidance to learn the essentials of Azure—architectural components and core Azure services and solutions, plus management tools, compliance, security, and data protection. Learn how to get the best of Azure by growing your skills on cloud computing concepts, models, and services, including public, private, and hybrid cloud. In this training, explore cloud concepts, such as high availability, scalability, elasticity, agility, fault tolerance, and disaster recovery, and get strategies for transitioning to the cloud.
The DP-900T00: Microsoft Azure Data Fundamentals course provides learners with the fundamentals of database concepts in a cloud environment, get basic skilling in cloud data services, and build your foundational knowledge of cloud data services within Azure. Learn core data concepts, such as relational, nonrelational, big data, analytics, and roles, plus tasks and responsibilities in the world of data.
Attend the AI-900T00: Microsoft Azure AI Fundamentals training to explore how Azure provides easy-to-use services to help you get started with building AI solutions. Learn about many areas of AI, including machine learning, which is at the core of AI, and how many modern applications and services depend on predictive machine learning models. Explore computer vision, an area of AI in which software systems are designed to perceive the world visually, though cameras, images, and video. Plus, get the details on natural language processing (NLP), which supports applications that can see, hear, speak with, and understand users, and conversational AI, which deals with dialogs between AI agents and human users.
If you are new to Azure, or just getting acquainted with cloud technologies, we recommend considering the Azure Fundamentals certifications to corroborate your fundamental understanding of cloud services and how Azure can help you in this instance. You could also utilize this certification as preparation for other Azure role-based certifications, but it isn't a prerequisite for any of them.
Azure IT Pro 
The role that IT pros holds mainly involve managing hybrid cloud infrastructure.
These certification courses help validate the knowledge that IT pros are required to have to build, deploy and manage on-premises, hybrid or cloud infrastructure solutions. It is to be noted that although most of the certifications shown here are targeted for IT pros, a handful is apt for those with other technical skills as well.
Certifications for system administrators (IT pros). We recommend these certifications for IT pros who want to validate their skills in building, deploying, and managing on-premises, hybrid, or cloud infrastructure solutions. For additional IT pro certifications, see the "Cross-profession certifications" list that follows.
If you're a cloud administrator who implements and manages your organization's Azure environment, consider the Azure Administrator Associate certification and the related training. If you dive deep into implementing security controls and threat protection, managing identity and access, and protecting data, applications, and networks in cloud and hybrid environments, the Azure Security Engineer Associate could be a great fit for you. It's also a nice complement to the Azure Administrator Associate certificate. Architects and engineers who have extensive familiarity with the SAP system landscape and industry standards that are specific to the long-term operation of an SAP solution on Azure might want to consider Azure for SAP Workloads Specialty. If your skills are in bringing cloud agility to on-premises environments, you should consider the Azure Stack Hub Operator Associate certification. Take advantage of the burgeoning growth of remote work and the urgent need for administrators ready to manage virtual desktop experiences and remote apps—for any device—on Azure, with the Azure Virtual Desktop Specialty certification.
Azure Developer 
.
The Azure Developer is responsible for innovating with best in class apps and these certifications have been developed to validate your skills in this area. Developers design, build, test and maintain solutions. These individuals are also required to implement applications and services by partnering with Solutions Architect. Refer to the above table to explore our developer certification courses that are the most sought after by employers.
Data & AI  
.
Placing data as the foundation for all advanced analytics and machine learning can become one of the most strategic assets. The unstoppable growth in data science and prebuilt AI services has put the world within reach for every organization on the planet. Now, you can empower your team to accelerate your business with the power of data and AI. 
Providing support with data and analytics falls under the purview of the Data & AI pros. Some of the skills that you will be able to validate through these certifications include, designing and implementing end-to-end solutions.
The certifications mentioned above are what we recommend to validate the skills required to support apps and infrastructure with data and analytics.
Syazana Khan
A writer and communications specialist with 2 years of experience in professional development and technology training.