All you need to know – Cisco CCNP Collaboration Certification and Training
All you need to know – Cisco CCNP Collaboration Certification and Training
It's time to prove your skills with Cisco Collaboration solutions
You choose where you want to focus. You choose where to take your career. 

Gaining a Cisco CCNP Collaboration certification demonstrates your prowess in collaboration solutions. Earning the CCNP Collaboration certification requires you to pass two exams: the first covering collaboration technologies and the second a collaboration concentration exam of your choice, so you're able to customize the certification to your technical are of focus.  
.
Headways made within the technology industry have enabled new collaboration applications and businesses that are connecting everything from people, devices, machines, and applications. Accompanied with intent-based networking – collaboration teams can take advantage of automation in scaling their infrastructure. However, to maximize these opportunities collaboration professionals need extensive skills and deeper focus in strategic technology areas. This certification program will provide you with exactly that breadth and depth.  
The CCNP Collaboration certification is designed to help you validate your skills in an ever-changing landscape of collaboration technologies. The certification covers core technologies and a collaboration focus area of your choice.  
The Cisco CCNP certification portfolio sets you apart from the rest, being among the industry's most widely recognized and respected certifications. It tells the world you know what you are doing. To add to that, completing any CCNP certification exam earns you a Cisco Specialist certification, so you get recognized for your accomplishments along the way.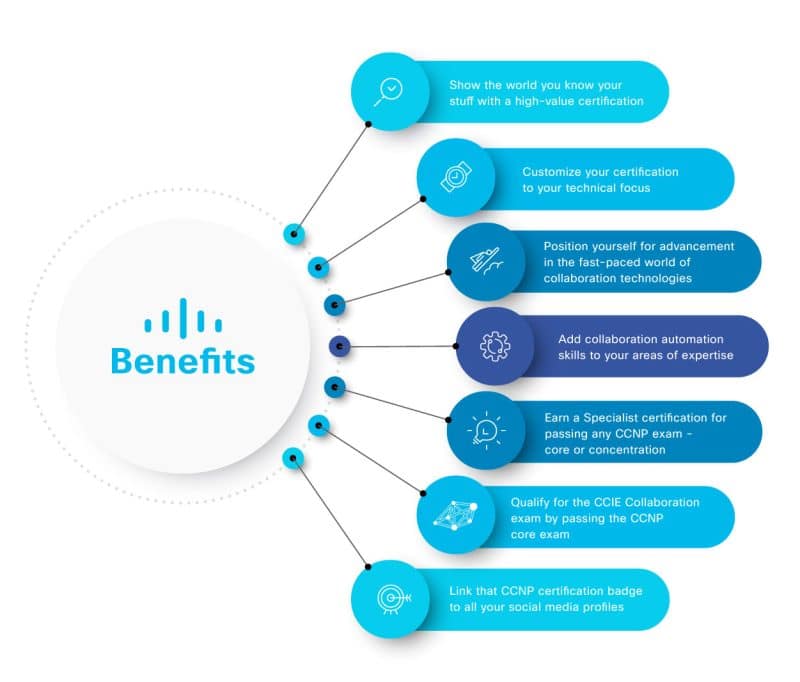 Obtaining your CCNP Collaboration certification  
The CCNP Collaboration certification helps prepare you for today's professional-level job roles in collaboration technologies. As one of the industry's top certifications, CCNP validates your core comprehension required, whilst providing the flexibility to choose a focus area.            
Exams and recommended training 
The CCNP Collaboration certification and training program provides real-world, job-focused skills in key areas. CCNP Collaboration validates the knowledge you need to excel in your job.
To earn CCNP Collaboration, you pass two exams: a core exam and a collaboration concentration exam of your choice. And now every exam in the CCNP Collaboration program earns an individual Specialist certification, so you get recognized for your accomplishments along the way.
The core exam focuses on your knowledge of collaboration infrastructure. The core exam is also the qualifying exam for CCIE Collaboration certification. Passing the core exam will qualify candidates to schedule and take the CCIE lab within the validity of their core exam.
Concentration exams focus on emerging and industry-specific topics. You can prepare for concentration exams by taking their corresponding Cisco training courses.
Required exam
Recommended training
350-801 CLCOR

Implementing and Operating Cisco

Implementing and Operating Cisco Collaboration Core Technologies (CLCOR)

 

This exam tests your knowledge of implementing core collaboration technologies, including:

Infrastructure and design
Protocols, codecs, and endpoints
Cisco IOS XE gateway and media resources
Call Control
QoS
Collaboration applications

The Implementing and Operating Cisco Collaboration Core Technologies (CLCOR) v1.0 course helps you prepare for advanced-level roles focused on implementation and operation of Cisco collaboration solutions. You will gain the knowledge and skills needed to implement and deploy core collaboration and networking technologies, including infrastructure and design, protocols, codecs, and endpoints, Cisco Internetwork Operating System (IOS®) XE gateway and media resources, call control, Quality of Service (QoS), and additional Cisco collaboration applications. This course earns you 64 Continuing Education (CE) credits towards recertification.

300-810 CLICA

Implementing Cisco Collaboration Applications 

Implementing Cisco Collaboration Applications (CLICA)

 

This exam tests your knowledge of collaboration applications, including: 

 

Single sign-on 

 

Cisco Unified IM and Presence 

 

Cisco Unity Connection and Cisco Unity Express  

 

Application clients

 

The Implementing Cisco Collaboration Applications (CLICA) v1.0 course shows you how to implement Single Sign-On (SSO), Cisco Unified IM and Presence, Cisco Unity Connection, and Cisco Unity Express. You will learn how to streamline communication procedures, strengthen compliance measures, and enhance your communication systems and devices. This course also earns you 40 Continuing Education (CE) credits towards recertification.

 

300-815 CLACCM

 

Implementing Cisco Advanced Call Control and Mobility Services 

Implementing Cisco Advanced Call Control and Mobility Services (CLACCM)

 

This exam tests your knowledge of advanced call control and mobility services, including:

Signaling and media protocols
CME/SRST gateway technologies
Cisco Unified Board Element
Call control and dial planning
Cisco Unified CM Call Control and
Mobility

The Implementing Cisco Advanced Call Control and Mobility Services (CLACCM) v1.0 course covers advanced call control and mobility services. You will learn how to use Cisco® Unified Communications Manager features to consolidate your communications infrastructure into a scalable, portable, and secure collaboration solution. Through a combination of lessons and hands-on experiences, you will also learn about a wealth of other features such as Globalized Call Routing, Global Dial Plan Replication, Cisco Unified Mobility, Cisco Extension Mobility, Device Mobility, Session Initiation Protocol Uniform Resource Identifier (SIP/ URI) call routing, Call Admission Control, Cisco Unified Communications Manager Express and Survivable Remote Site Telephony (SRST) gateway technologies, Cisco Unified Board Element Call deployments, signaling and media protocols, call coverage, and time of day routing.

300-820 CLCEI

 

Implementing Cisco Collaboration Cloud and Edge Solutions 

Implementing Cisco Collaboration Cloud and Edge Solutions (CLCEI)

 

This exam tests your knowledge of collaboration cloud and edge solutions, including:

 

Cisco Unified IM and Presence

 

Expressway configurations

 

Cisco WebEx Teams hybrid and emerging technologies

 

The Implementing Cisco Collaboration Cloud and Edge Solutions (CLCEI) v1.0 course provides you with knowledge about Cisco® Expressway Series solutions enabling business-to-business (B2B) calls, Cisco Mobile, remote access, authentication options, and additional Cisco Expressway Series features. Through a combination of lessons and hands-on labs, you will learn how to leverage collaborative technology to access secure, collaborative work supports including video, voice, content, and remote workloads. This course also prepares you for the 300-820 Implementing Cisco Collaboration Cloud and Edge Solutions (CLCEI) exam. This course also earns you 40 Continuing Education (CE) credits towards recertification.

300-825 CLCNF

 

Implementing Cisco Collaboration Conferencing 

Implementing Cisco Collaboration Conferencing (CLCNF)

 

This exam tests a candidate's knowledge of conferencing architecture, installation and configuration, integration, and troubleshooting.

The Implementing Cisco Collaboration Conferencing (CLCNF) v1.0 course focuses on Cisco® on-premises conferencing architecture and solutions. You will gain knowledge and skills to design and implement common conferencing deployment scenarios of Cisco Meeting Server, its integration with call control features such as Cisco Unified Communications Manager and Cisco Expressway, and other Cisco collaboration conferencing devices.

 

300-835 CLAUTO

 

Automating Cisco Collaboration Solutions 

Implementing Automation for Cisco Collaboration Solutions (CLAUI)

 

This exam tests your knowledge of implementing applications that automate and extend Cisco Collaboration platforms, including:

 

Programming concepts

 

APIs and automation protocols

 

Python programming

 

The Implementing Automation for Cisco Collaboration Solutions (CLAUI) v1.0 course teaches you how to implement Cisco® Collaboration automated, programmable solutions for voice, video, collaboration, and conferencing on-premises or in the cloud. Through a combination of lessons and hands-on labs, you will combine tools and processes to tackle communication challenges using key platforms including Cisco Unified Communications Manager, Cisco IP Phone Services, Cisco Unity® Connection, Cisco Finesse®, Cisco Collaboration Endpoints, Cisco Webex Teams™, and Cisco Webex® Meetings. You will also learn how to use Application Programming Interfaces (APIs) interfaces such as Representational State Transfer (REST) and Simple Object Access Protocol (SOAP), parsing data in Extensible Markup Language (XML) and JavaScript Object Notation (JSON) formats, and leverage frameworks such as Python.

 
The Cisco Continuing Education Program offers all active certification holders' flexible options to recertify by completing a variety of eligible training items. Learn more about how you can recertify via Continuing Education to retain your certification's active status by doing things the certified professionals' community already love to do: learn, keep skills sharp and evolve with the technology. 
Syazana Khan
A communications specialist and technology wordsmith with over 2 years experience in the IT and professional development training arena.