E-Book Series (2022): An IT executive's guide to automation
E-Book Series (2022): An IT executive's guide to automation
"Organizations across industries face unprecedented pressure to deliver services more quickly and securely than ever before." 
With organizations facing unparalleled pressures in delivering services at a much faster pace and more securely at ever before, your IT team plays the most crucial role in meeting these demands, but it could very easily become your pain point if you fail to keep up with the demands or if your infrastructures remain rigid.
Here are a few reasons 'why you need to consider transformative automation'
There are two obvious solutions to solve your problem in meeting demands – hire or automate. 
With technical talent shortages plaguing most organizations across various industries, as well as other issues such as budget restrictions, the adoption of automation software could help your workforce do more with what you have.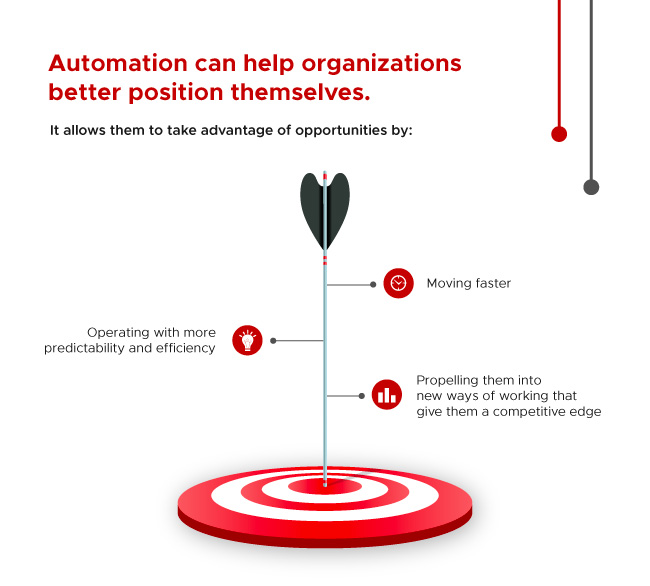 It's time to consider automation as a long-term strategy, not just a tool
"99%of decision makers report a variety of technology and business benefits from their firms' automation software investments."
With the fast paced technological landscape. IT executives require a long-term strategy more than merely a tool. A true automation could be the answer to this, contributing to the organization's overall digital transformation.
IT automation can aid organization's with the ability to do more with less, while scaling their infrastructure.
As organizations navigate the new realities of an ever-changing enterprise ecosystem, IT automation has become an imperative boardroom conversation.
The best tactics to have a successful automation rollout
Be a champion rather a sponsor
Align to business objective
Support change and collaboration
Encourage adoption by investing people
Find a middle ground
---
Trust Red Hat to help build skills and knowledge through flexible training options, real-world content and validation of skills through hands-on certification exams.
Red Hat certifications span our entire technology portfolio, bringing confidence to individuals and organizations alike. Whether it's enterprise architecture certifications, core Linux system administration skills, developer knowledge of specialized frameworks, or emerging technologies like Red Hat OpenShift containers and cloud, Red Hat knows the skills that are needed for success.
Maximize your team's skills and the impact of your organization's technology investments with Red Hat® Training and Certification courses:
Microsoft Windows Automation with Red Hat Ansible (DO417) teaches you how to automate administration on Windows Server to enable your DevOps workflow.
Advanced Automation: Ansible Best Practices (DO447) teaches you next-level Ansible skills, helping you design, operate, and scale Ansible Automation.
Learn how to use Red Hat Ansible Automation for Networking to remotely automate configuration of network devices and perform key tests and corrections.
Syazana Khan
A communications specialist and technology wordsmith with over 2 years experience in the IT and professional development training arena.