Your Guide to Navigate Red Hat Open Stack in 2022
Your Guide to Navigate Red Hat Open Stack in 2022

Background 
Today's ever-changing market conditions demand businesses to be agile to meet the needs of customers and market conditions. For the technical professionals of any organization, this means having to push new services out faster. But, in order to do so, they also require an IT infrastructure that is equally agile, scalable, cost-effective, consistent, and fast, and Red Hat OpenStack could be your answer to this.  
Red Hat OpenStack?
OpenStack is a collection of open-source projects that allows users to build and manage private and public clouds. The OpenStack platform is composed of tools called 'projects' which controls pools compute, storage, and networking resources, identity and image services throughout a datacenter through a dashboard. Red Hat OpenStack platform bands together with an open, community-driven innovation which in turn harnesses the maximum potential of individuals and organizations to deliver new and innovative applications and services, propelling their business forward.  
The pairing of the cloud infrastructure along with the Red Hat OpenStack Platform provides for a solid foundation to traverse through the critical workloads and pave the way forward for hybrid cloud, the edge and beyond.  
In virtualization, resources such as storage, CPU, and RAM are abstracted from a variety of vendor-specific programs and split by a hypervisor before being distributed as needed. OpenStack uses a consistent set of application programming interfaces (APIs) to abstract those virtual resources 1 step further into discrete pools used to power standard cloud computing tools that administrators and users interact with directly.
So, is OpenStack just a virtualization management platform?
Not quite. There are a lot of similarities, but they're not the same.
Yes, OpenStack and virtualization management platforms both sit on top of virtualized resources and can discover, report, and automate processes in vendor-disparate environments.
But while virtualization management platforms make it easier to manipulate the features and functions of virtual resources, OpenStack actually uses the virtual resources to run a combination of tools. These tools create a cloud environment that meets the National Institute of Standards and Technology's 5 criteria of cloud computing: a network, pooled resources, a user interface, provisioning capabilities, and automatic resource control/allocation.
OpenStack is essentially a series of commands known as scripts. Those scripts are bundled into packages called projects that relay tasks that create cloud environments. In order to create those environments, OpenStack relies on 2 other types of software:
Virtualization that creates a layer of virtual resources abstracted from hardware
A base operating system (OS) that carries out commands given by OpenStack scripts
Think about it like this: OpenStack itself doesn't virtualize resources, but rather uses them to build clouds. OpenStack also doesn't execute commands, but rather relays them to the base OS. All 3 technologies—OpenStack, virtualization, and the base OS—must work together. That interdependency is why so many OpenStack clouds are deployed using Linux®, which was the inspiration behind RackSpace and NASA's decision to release OpenStack as open source software.
What are the benefits of Red Hat OpenStack?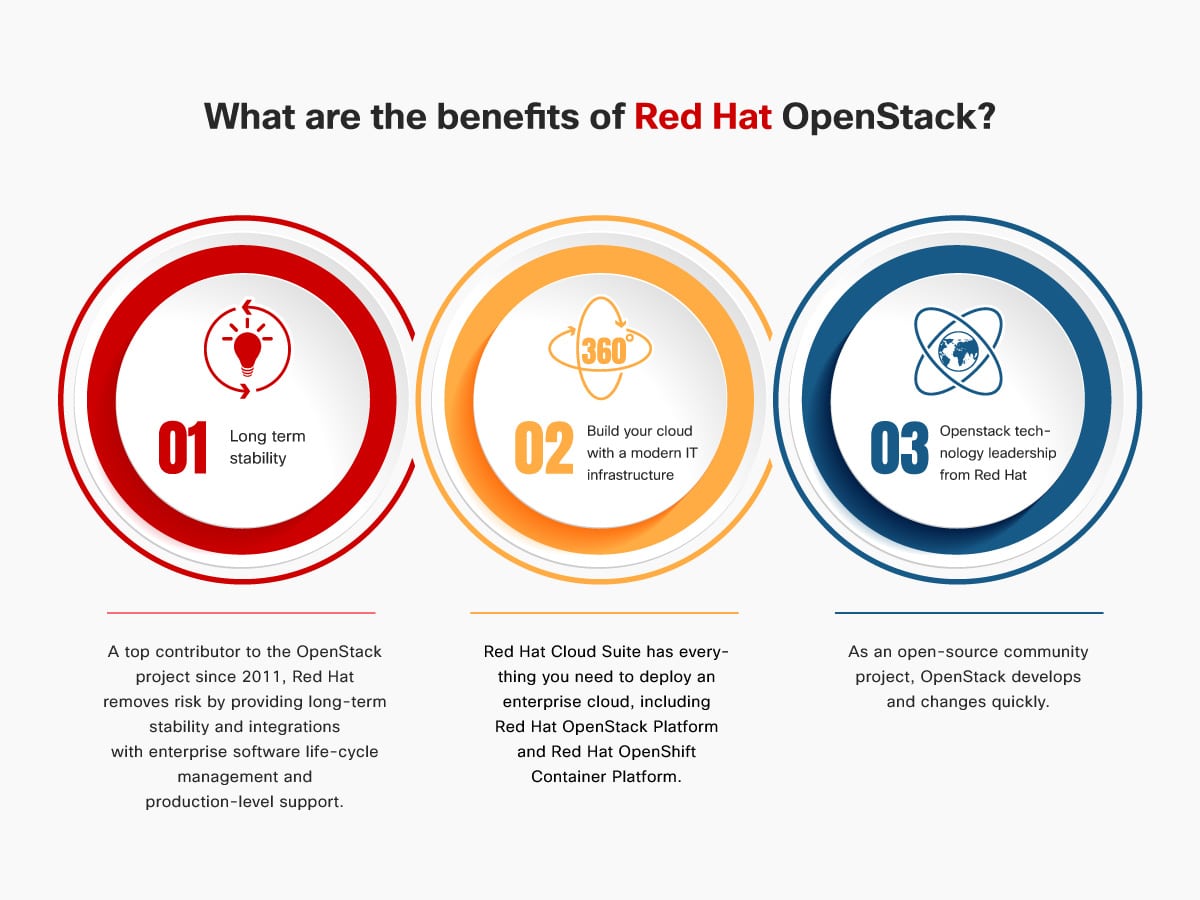 There is a demand for reliable cloud foundations providing essential elements like top-notch security features, operators, and administrators that are able to manage the adoption of OpenStack technology. Red Hat's training and certification are designed to help accelerate your career by helping you grow your OpenStack knowledge.  
Start your Red Hat OpenStack learning journey from top to bottom. 

We recommend these courses to have ensured you have a solid foundational knowledge of Red Hat products. 
 Red Hat OpenStack Technical Overview 
Gain a better understanding of the basics of cloud computing and Red Hat® OpenStack® Platform through a series of on-demand, online videos. This technical overview also includes use cases and online demonstrations.  
Gain knowledge in:  
Red Hat OpenStack Platform

 

Compute, storage, and network in relation to Red Hat OpenStack Platform

 

High availability with Red Hat OpenStack Platform

 

Deploying Red Hat OpenStack Platform

 
1) Red Hat OpenStack Administration I: Core Operations for Domain Operators 
Get the basics down on operating a Red Hat® OpenStack Platform private cloud and manage domain resources to secure and deploy modern, scalable cloud applications, networks, and storage.  
This course is intended to guide individuals on ways to operate and manage production of Red Hat OpenStack Platform (RHOSP) single site overcloud. Students will also be taught how to create secure project environments in which to provision resources and manage security privileges that cloud users need to deploy scalable cloud applications along with OpenShift integration with load balancers, identity management, monitoring, proxies, and storage. 
Gain knowledge in: 
Launch instances to satisfy various use case examples.

 

Manage domains, projects, users, roles, and quotas in a multitenant environment.

 

Manage networks, subnets, routers, and floating IP addresses.

 

Manage instance security with group rules and access keys.

 
Create and manage block, object and shared storage within OpenStack.

 

Perform instance launch customization with cloud-init.

 

Deploy scalable applications using stack templates.

 
2) Red Hat OpenStack Administration II: Day 2 Operations for Cloud Operators 
Achieve skills that help you perform Red Hat OpenStack Platform Day 2 operations and management of hybrid cloud infrastructure. 
This course is intended for cloud operators, service administrators, and automation engineers who operate and manage a full-featured hybrid and private cloud-computing environment using Red Hat OpenStack Platform. Individuals will be taught how to manage, monitor, troubleshoot and scale a Red Hat OpenStack Platform infrastructure along with other features like utilizing the OpenStack Client command-line user interface to configure metrics, policies, and architecture in order to support enterprise cloud applications and daily operations. 
Gain knowledge in: 
Managing to overcloud service containerization technology.

 

Providing metrics for performance tuning and governance.

 
Monitoring and troubleshooting Open Virtual Networking (OVN) network flow.

 

Configuring Identity service using an external Red Hat IdM store.

 

Managing the core control plane, including Pacemaker.

 

Customizing images, with techniques for multiple use cases.

 

Managing block and object storage back-ends.

 
Managing to compute nodes, including tuning and hyper-converged.

 

Troubleshooting Red Hat OpenStack Platform.

 
3) Red Hat OpenStack Administration III: Networking & Foundations of NFV 
The Red Hat OpenStack Administration III: Networking & Foundations of NFV guides network engineers, network operators, cloud operators, and cloud administrators on ways to handle and tune Red Hat® OpenStack Platform for network performance. Individuals will also learn how to manage the OpenStack networking service (Neutron) with network functions virtualization to strengthen network performance. Learn how to configure distributed virtual routers, Open vSwitch with Data Plane Development Kit datapath, and IPv6 networking in OpenStack and deploy software-defined networking with OpenDaylight. 
Gain knowledge in: 
Network functions virtualization (NFV)

 
Distributed virtual router (DVR)

 

Open vSwitch with Data Plane Development Kit (OVS-DPDK) datapath

 

IPv6 networking

 

Single-root I/O Virtualization (SR-IOV)

*

 

Software-defined networking (SDN) with OpenDaylight (ODL)

 
VLAN, VXLAN, and GRE networks

 
Syazana Khan
A communications specialist and technology wordsmith with over 2 years experience in the IT and professional development training arena.