Your Guide to Red Hat OpenShift in 2022
Your Guide to Red Hat OpenShift in 2022

The cadence of today's business landscape demands for organizations put speed and agility at the forefront of their software infrastructure. Organizations are also delivering applications faster than ever before. However, managing applications traversing various architectures and frameworks can be time-consuming but this is also made more complex when done in tandem with building new applications and modernizing existing ones.  
To make sense of these innovations, enterprises must adapt and adopt technologies that will in turn allow them to deliver digital products and services consistently and reliably. Modern applications are increasingly powered by containers which benefit by offering an infrastructure that is predictable, reproducible and has the speed to keep up with development and deployments. Containers have inherently paved a new way for applications to be configured, designed, developed and creates a more holistic experience from start to finish. IDC has also forecasted that the container platforms will double in deployments year over year on average and Red Hat OpenShift has the potential and industry recognition to drive your business success.  
What is Red Hat OpenShift?
Red Hat® OpenShift®  is an enterprise Kubernetes container platform that assists companies around the world to build, deploy, run, manage and secure innovative applications experiences across hybrid clouds. Red Hat OpenShift also provides multi-layer security structure, management and automation work across the infrastructure to support the handling of numerous applications spanning different architectures and frameworks whilst providing consistency to enable continuous scaling.  
Red Hat OpenShift delivers a complete application platform for both traditional and cloud-native applications, allowing them to run anywhere. Built on Red Hat Enterprise Linux and compatible with Red Hat Ansible Automation Platform, Red Hat OpenShift enables automation inside and outside your Kubernetes clusters.
OpenShift Container Platform product overview
Red Hat® OpenShift® Container Platform empowers organizations to modernize their applications and infrastructure, accelerating their digital transformation and fueling growth. OpenShift Container Platform is a single enterprise-ready Kubernetes application platform with a choice of deployment and consumption options that supports every app and environment. With the OpenShift Container Platform, organizations can build applications with speed, deploy, run, and manage applications anywhere, safely and at scale. This allows supporting a variety of use cases, such as artificial intelligence and machine learning (AI/ML) that handles big data, edge computing for IoT, 5G deployments, and application modernization initiatives, while delivering consistent management and operations of the underlying Kubernetes infrastructure in any environment.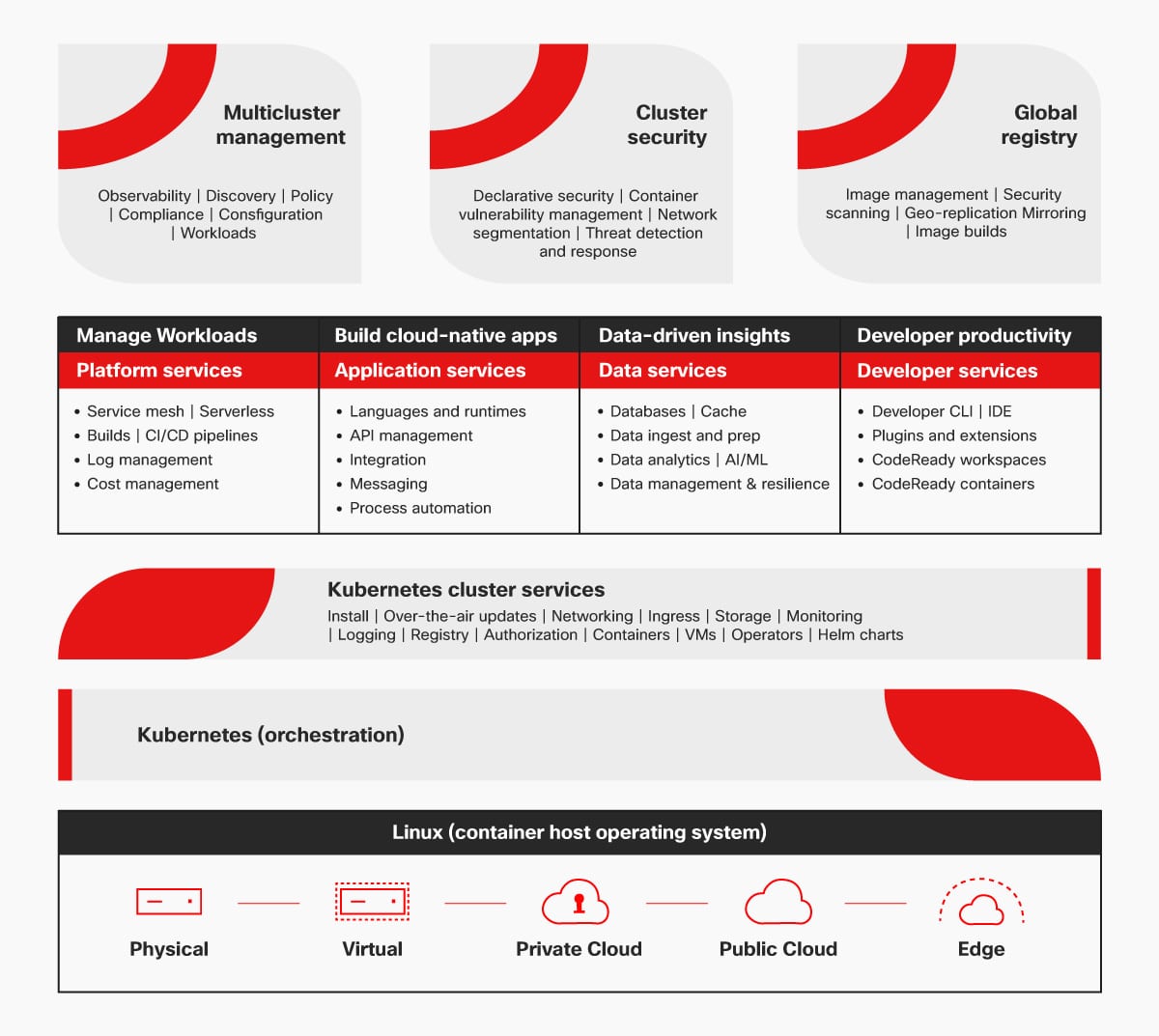 So, why choose

Red Hat OpenShift

?
1) Get more value from your cloud investment with managed services
By running Red Hat OpenShift you can minimize operational complexity, assist developers focus on building, launching and scaling applications faster.  
 Achieve value faster:

 Deploy applications in minutes and scale as needed across clouds and regions to focus on innovation, not infrastructure. 

 Reduce complexity, reliably:

 

Take advantage of enterprise container technology that is fully managed and backed by 24×7 expert site reliability engineering (SRE) support and 

a 99.95% service level agreement (SLA)

. 

Build your hybrid cloud:

 Obtain reliability via the OpenShift experience on your choice of major cloud providers.

 
2) Red Hat OpenShift is available in a variety of deployment models
Red Hat OpenShift managed services options are available and operated on a public cloud platform by Red Hat or jointly by Red Hat and a cloud partner such as, Red Hat OpenShift Service on AWS, Azure Red Hat OpenShift, Red Hat OpenShift on IBM and Red Hat OpenShift Dedicated – which runs on AWS and Google Cloud.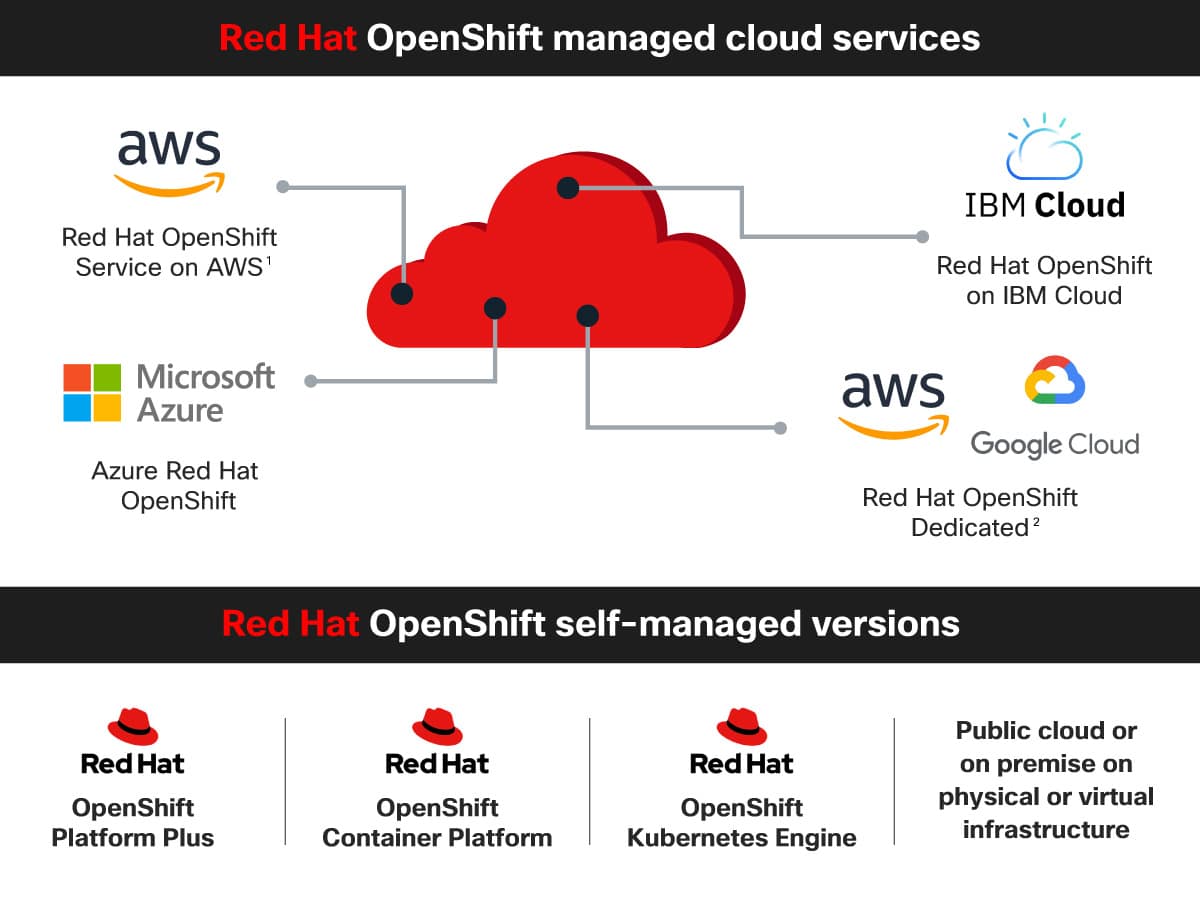 3) Be in control of your containers with self-managed Red Hat OpenShift 
With the self-managed version of Red Hat OpenShift there is more control and flexibility over OpenShift deployments. Deployment can be done via private or public cloud, bare metal or at the edge.  
Self-managed versions of Red Hat OpenShift include:
Red Hat OpenShift Kubernetes Engine 

is aimed at delivering 

fundamental level, the security-focused core competence of the enterprise Kubernetes on Red Hat Enterprise Linux CoreOS to run containers in hybrid cloud environments.

 
Red Hat OpenShift Container Platform

builds upon a full set of operations and developer services and tools, including Serverless, Service Mesh, and Pipelines. Organizations are able to adopt a hybrid cloud strategy and build cloud-native applications. 

 
Red Hat OpenShift Platform Plus

 harnesses the potential of OpenShift Container Platform using the advanced multicluster security features, day-2 management capabilities, and a global container registry. Organizations are also able to reliably protect and manage applications traversing open hybrid cloud environments and application life cycles.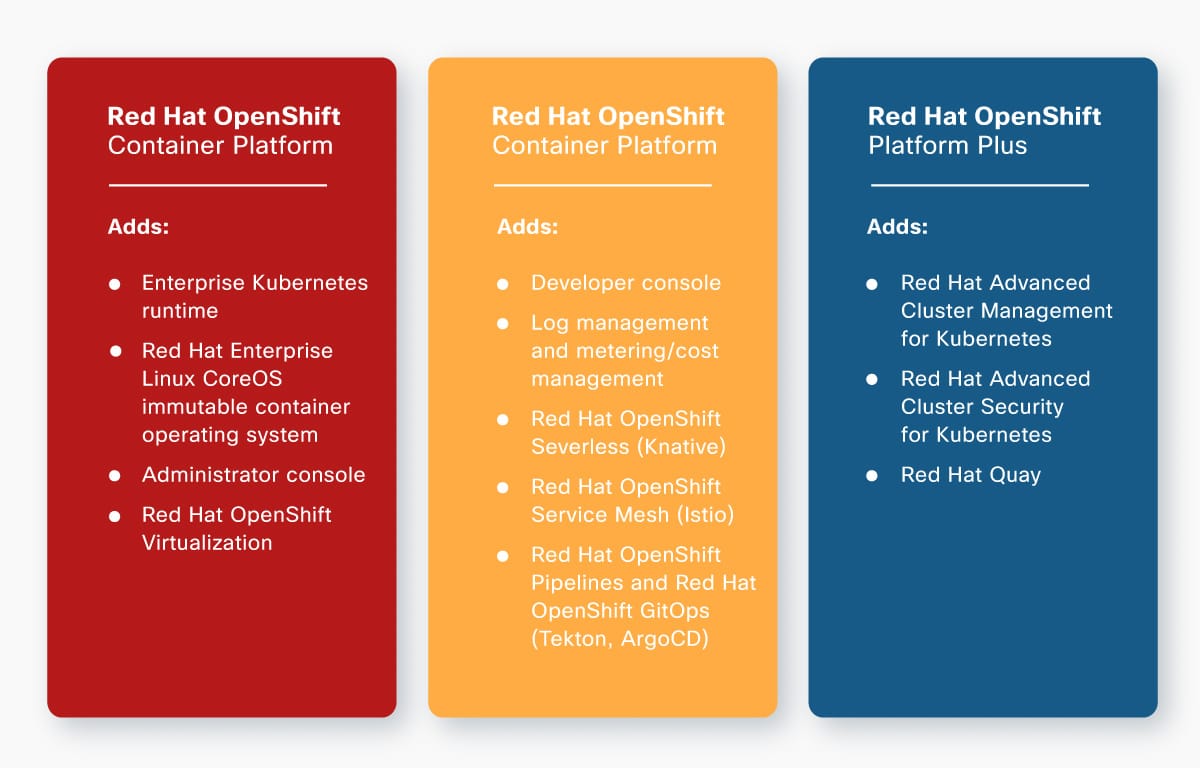 Harness the maximum potential of Red Hat OpenShift by getting trained and certified.  
 We recommend these courses to have ensured you have a solid foundational knowledge of Red Hat products. 
1) Containers, Kubernetes and Red Hat OpenShift Technical Overview – (DO080)
 This course is an introduction to containerization concepts.   
Containers, Kubernetes and Red Hat OpenShift Technical Overview (DO080) is a series of on-demand, online videos that introduces you to Linux® containers and container orchestration technology using Docker, Kubernetes, and Red Hat® OpenShift Container Platform.  
This course is based on Red Hat OpenShift Container Platform 4.1.         
2) Introduction to Containers, Kubernetes, and Red Hat OpenShift – (DO180) 
Strengthen your core knowledge in managing containers through hands-on experience with containers, Kubernetes, and the Red Hat OpenShift Container Platform. Gain the skill required to for roles such as developers, administrators and site reliability engineers.  
3) Red Hat OpenShift Container Platform Administration – (DO280) 
Discover ways to configure, troubleshoot and manage Red Hat OpenShift Container Platform. A hands-on, lab-based course that also demonstrates how to verify the successful installation of a cluster, the techniques required to manage it on a day-to-day basis and troubleshooting the deployment of containerized applications. 
 4) Red Hat OpenShift Administration II: High Availability – (DO380) 
 This course furnishes students with the skills that is needed to plan, implement, and manage OpenShift clusters in the enterprise. Students will also gain important insights on ways to support an increasing number of stakeholders, applications and users to achieve large scale deployments.  
Complement your Red Hat OpenShift skills with Red Hat Enterprise Linux training and certification.
Syazana Khan
A communications specialist and technology wordsmith with over 2 years experience in the IT and professional development training arena.