Microsoft Certified: Azure Stack Hub Operator Associate
Microsoft Certified: Azure Stack Hub Operator Associate

Unlock the power of cloud computing – no matter your location.
With Azure Stack Hub, you can now bring the productive power of cloud computing to your on-premises environment! Keep all data within reach with a hybrid solution that operates seamlessly across public and private clouds as well as edge locations. Experience agility, speed, and innovation while maintaining controlled access to sensitive data—all without requiring any connection to the Internet or Public Cloud. Thanks to Azure Stack Hub's autonomous capabilities; it truly is an extension of Azures' possibilities – making "the sky" no longer the limit for modern organizations. 
What is Azure Stack Hub?
With Azure Stack Hub, operators have the opportunity to flex their cloud muscles in an on-premise environment. Showcase your agility and reap the benefits of a hybrid cloud solution.  
For organizations striving for digital transformation, Azure Stack Hub provides a unique bridge between public cloud services and on-premises operations. It allows you to build apps leveraging modern architectures while keeping select workloads safe from technological or regulatory barriers in your own data center. With Microsoft's hybrid cloud capabilities, enterprises can now benefit from cloud innovation no matter where their data resides – whether it be the local environment or somewhere out there in the vast expanse of cyberspace.  
Azure Stack Hub gives you the power of Microsoft Azure, wherever and however you need it. By extending cloud computing's agility and fast-paced innovation to your on-premises environment, you can achieve transformative results for your business. 

The Azure Stack Hub role
You can now demonstrate your mastery of the cloud with an incredible new certification: Microsoft Certified Azure Stack Hub Operator Associate. This Azure credential proves your ability to manage a self-governed, independent cloud—whether it's offline or connected to public clouds. It also confirms you know how and when to limit access for greater control over data security! Start advancing as a top expert in strategy and execution today. 
As an Azure administrator or operator providing cloud services from within a customer's data center, you are part of the next generation of tech innovators. Your critical role in planning, deploying, packaging and updating ensures that your customers can take advantage of all the amazing features Azure Stack Hub has to offer. 
It's time to level up with Microsoft Azure Stack Hub Operator Associate
Gain the confidence to operate a cutting-edge cloud environment with Microsoft Azure Stack Hub. In this AZ-600T00: Configuring and Operating a Hybrid Cloud course, you'll take your skillset from novice operator to expert. Be empowered as you learn how to plan, deploy and package updates for an effective stack hub infrastructure. Plus acquire expertise in managing registration & maintaining system health through offering App Services & Event Hubs resource providers – all essential elements of successful hybrid cloud operations. 
Develop the skills to seamlessly integrate data centers, control user access and take your cloud infrastructure management game up a notch with this comprehensive 4-day certified Microsoft Azure Stack Hub Operator Associate course! Acquire hands-on experience in no time. 
What kind of knowledge and experience should you have?
Students who excel with Azure Stack Hub tend to be experienced professionals in IT, having a thorough understanding of operating systems and virtualization concepts as well as cloud infrastructure, storage structures and networking, in addition to:
Understanding of on-premises virtualization technologies, including VMs and virtual networking
Understanding of network configuration, including TCP/IP, Domain Name System (DNS), virtual private networks (VPNs), firewalls, and encryption technologies
Understanding of Active Directory concepts, including domains, forests, and domain controllers
If you are new to Azure and cloud computing, consider the following course:
 Not familiar with Azure networking? Check out the Microsoft Certified: Azure Network Engineer Associate certification.
Is this the right certification for you?
If you're an Azure administrator or operator looking to provide cloud services within a customer's data center, then Azure Stack Hub is the right tool for your needs. With it, you can easily plan and deploy virtual resources like IaaS & PaaS while also offering hybrid cloud options that meet their specific requirements – all while maintaining the infrastructure throughout its lifetime. 
If you are an experienced Azure Stack Hub practitioner with a thorough understanding of the latest Azure technologies, virtualization procedures and identity management best practices, this certification is definitely worth considering. Moreover, if you have experience in developing DevOps processes on Hybrid infrastructures – then your skillset may be perfectly suited for unlocking its potential.  
How can you get ready?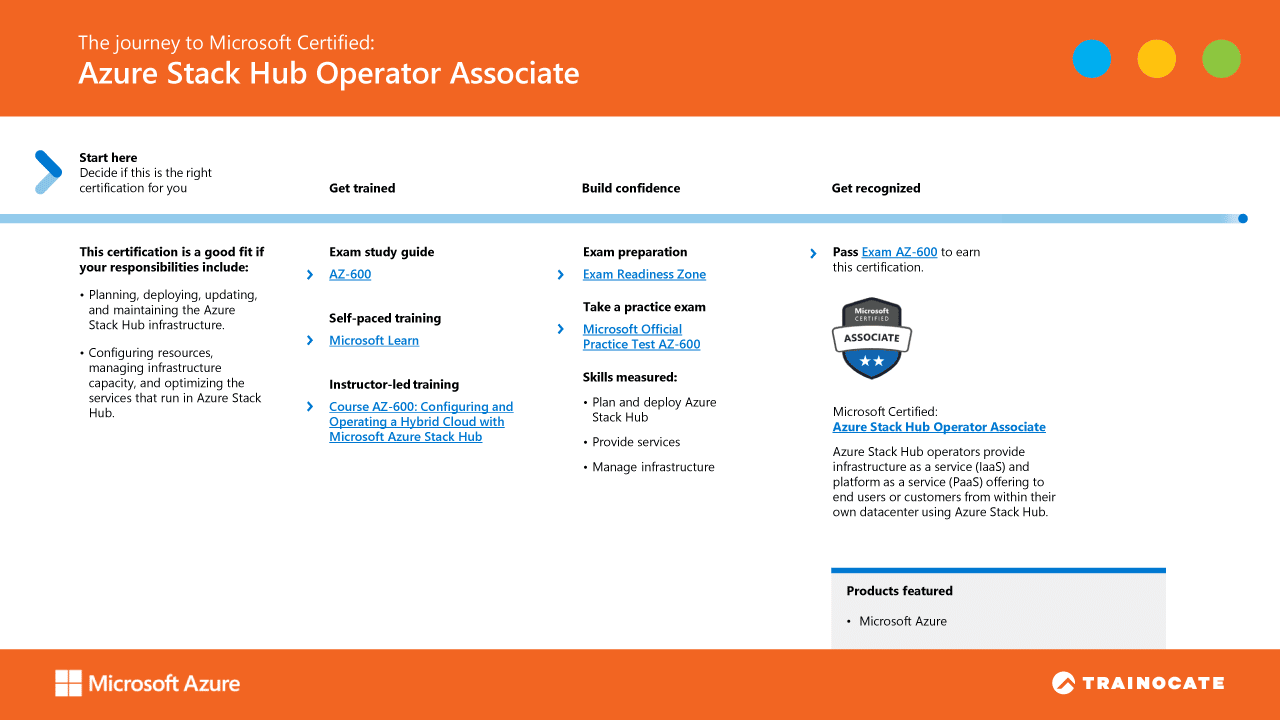 Skills Covered
After completing this module, students will be able to:
 Prepare for Azure Stack Hub deployment

 

 Manage infrastructure certificates for Azure Stack Hub

 

 Manage Azure Stack Hub registration

 

 Configure an Azure Stack Hub home directory

 

 Provision a service principal for Azure Stack Hub

 
---
Most Popular Questions About Azure Certifications  
1) Are Microsoft Azure certifications worth it?  
Azure certifications offer IT, professionals, an edge in this cloud-based and connected world. Job seekers and seasoned professionals alike can use Azure certifications to help advance their career—in their existing organization and role or in new ones—earn recognition, and validate their technical knowledge and abilities in current and future industry job roles and organizations can use certifications to identify the talent they need and build the technical skills of their workforce. 
2) How do Microsoft Azure certifications benefit me?  
Azure certifications are globally recognized and industry-endorsed. They're used both by job seekers (individuals) and by talent seekers (organizations) as a way to validate that a candidate has the skills to do the job. They're a powerful differentiator in the quest to match skilled talent to key jobs in the digital age.  
Whether you're looking to level up your career or to jump-start a new one, you can use Azure certifications to build and validate your technical knowledge and abilities in the modern cloud environment. In these unsettling times, earning your Microsoft Certification can help provide you with the edge you need with organizations that are seeking skilled talent.  
3) Why are Microsoft Azure certifications so important in today's landscape?  
Azure is the most widely used cloud computing platform, leading the cloud industry forward globally. A large majority of organizations and enterprises – small and big, have made the leap towards embracing cloud technology. This paradigm shift has also revealed that organizations want to remain competitive as the demand for cloud-based and centred solutions grows daily, directly affecting the need for technology professionals with cloud knowledge.  
Microsoft has been at forefront of ensuring that the global workforce is prepared to take on this substantial task by validating and certifying top applicants who are the best suited for a specific job position, according to Microsoft. Microsoft certifications can undoubtedly add value to a candidate's professional journey as most businesses now prefer to have prospective employees with certifications on tow.  
4) What are the available levels of Azure credentials?  
There are four levels of Microsoft certifications Azure Certification path levels, covering beginner to expert level azure cloud certification.  
Fundamentals

 – If you are a beginner, your Azure journey will start with 

Azure Fundamentals

 certification. Candidates with a non-technical backdrop can also step into cloud computing through these certifications. 

 

Associate

 – Candidates who have a fair idea of Azure can aim toward associate certifications. 

 

Expert

 

– You can obtain an expert certification if you have experience, a solid comprehension of the subject, and associate-level familiarity with Azure. 

 

Specialty

 

– It is the highest level Azure certification. Candidates can opt for this Azure certification if they want to apply for roles like Azure IOT Developer Specialty and Azure for SAP Workloads. 

 
5) Will Azure work for my industry?   
Azure provides solutions for all industries, through proven combinations of cloud products and services. Address your industry-specific business challenges today, and prepare for the future by innovating with Azure solutions.   
6) How does Azure compare to other clouds?   
Azure is the only consistent hybrid cloud, that delivers unparalleled developer productivity, provides comprehensive, multilayered security, including the largest compliance coverage of any cloud provider, and you'll pay less for Azure as AWS is five times more expensive than Azure for Windows Server and SQL Server.   
7) What is the role of an Azure Stack Hub Operator?
Azure Stack Hub Operators plan, deploy, package, update, and maintain the Azure Stack Hub infrastructure. Responsibilities also include offering hybrid cloud resources and requested services and managing infrastructure as a service (IaaS) and platform as a service (PaaS). Professionals in this role work with teams that support datacenter infrastructure, teams that manage identity, and teams that consume Azure Stack Hub resources, including developers, DevOps engineers, and virtual infrastructure administrators.
8) Why use Azure Stack Hub?
Azure provides a rich platform for developers to build modern apps. However, some cloud-based apps face obstacles like latency, intermittent connectivity, and regulations. Azure and Azure Stack Hub unlock new hybrid cloud use cases for both customer-facing and internal line-of-business apps:
Edge and disconnected solutions. Address latency and connectivity requirements by processing data locally in Azure Stack Hub and then aggregating it in Azure for further analytics, with common app logic across both. You can even deploy Azure Stack Hub disconnected from the internet without connectivity to Azure. Think of factory floors, cruise ships, and mine shafts as examples.
Cloud apps that meet varied regulations. Develop and deploy apps in Azure with full flexibility to deploy on-premises with Azure Stack Hub to meet regulatory or policy requirements. No code changes are needed. App examples include global audit, financial reporting, foreign exchange trading, online gaming, and expense reporting.
Cloud app model on-premises. Use Azure services, containers, serverless, and microservice architectures to update and extend existing apps or build new ones. Use consistent DevOps processes across Azure in the cloud and Azure Stack Hub on-premises to speed up app modernization for core mission-critical apps.
9) What are the recommended certifications upon completion of Azure Stack Hub Operator?
---
Microsoft Certifications
With experience being a huge asset when competing in the job market, having something to prove your knowledge and capabilities stands out even more. Microsoft Certifications are highly desirable qualifications that reflect current industry skill expectations – giving you an edge over other contenders. 
Achieving success isn't a matter of chance – building your skills and gaining certification will open the door to new opportunities. From fundamental, associate or expert-level certifications in whatever role you choose, Microsoft Certification exams give you the recognition that speaks for itself: shareable digital badges prove what you know.  
Ready to prove your skills? 

Syazana Khan
A communications specialist and technology wordsmith with over 2 years experience in the IT and professional development training arena.