MDEC | MyWiT: MyDigitalWorkforce Work in Tech | Bolstering Malaysia's Top Talent
MDEC | MyWiT: MyDigitalWorkforce Work in Tech | Bolstering Malaysia's Top Talent

Digital Skills training, certification and bolstering Malaysia's top talent.  
Training and certifications play a pivotal role in careers across most job roles, helping in enhancing skills, capabilities and the knowledge of individuals in carrying out their respective job roles efficiently. Training also has a heavy hand in molding the mindset and outlook of current and prospective employees, leading to them to be able to churn out quality performance and put out great work. What has been made evident in recent times is that upskilling is something that is continuous and never-ending in nature, especially with technology becoming the central focus of most companies.  
Companies that support and instill continuous learning into the DNA of their organization also tended to birth both successful innovations and innovators. By being able to conjure up quality solutions to various problems that could potentially arise, companies have equipped themselves to embrace and adapt to changes. Priming your team with the knowledge and skills they need will also help them to be able to leverage the latest technologies out there and implement best practices to streamline and improve processes which could result in the growth of the organization. This trait is imperative in the fast-paced business landscape we are currently in, otherwise there is a risk of getting left in the dust.  
Besides the aforementioned benefits, there is one other – often overlooked – benefit in embracing the ideals of lifelong learning, and that is – attracting quality talent into your organization. A survey conducted by Ranstad Malaysia revealed that "21% of respondents wanting to reskill and upskill so as to enter a different industry."  
Similarly, "More than nine in 10 local respondents (91%) have the intention to upskill or re-skill in the next 12 months, a local survey revealed." Which shows that training and certifications are high on the priority list for most job seekers when looking for companies that align with their needs, especially post pandemic.  
If your organization has been struggling to recruit good job candidates into your organization, maybe it's time to rethink your recruitment strategy. Positioning training and certifications as a central draw whilst recruiting could draw in candidates that are committed to learning and growing alongside your organization.  
Ruby Kaur, the Country Manager of Trainocate Malaysia shares that, many employers in Malaysia are increasingly favoring hiring candidates with industry recognized credentials. Whilst on the opposite side of the coin, more candidates are on the lookout for organizations that include training and certification as a part of the job package before accepting the offer. By partaking in programmes like MDEC's MYWiT, employers will look more attractive to good candidates and those candidates will also be more fulfilled and empowered by having the right skill to give their all in their prospective roles.  

 
About the MDEC MyDigitalWorkforce Work in Tech (MYWiT) 
The MyDigitalWorkforce Work in Tech (MYWiT) is an initiative to incentivize employers to hire Malaysians for digital tech and services via digital upskilling and reskilling programmes. 
MDEC MYWiT aims to support companies to employ digital talent through salary and training incentives. This initiative consists of the following programmes: Digital Business Services (DBS) and Digital Tech Apprenticeship (DTA).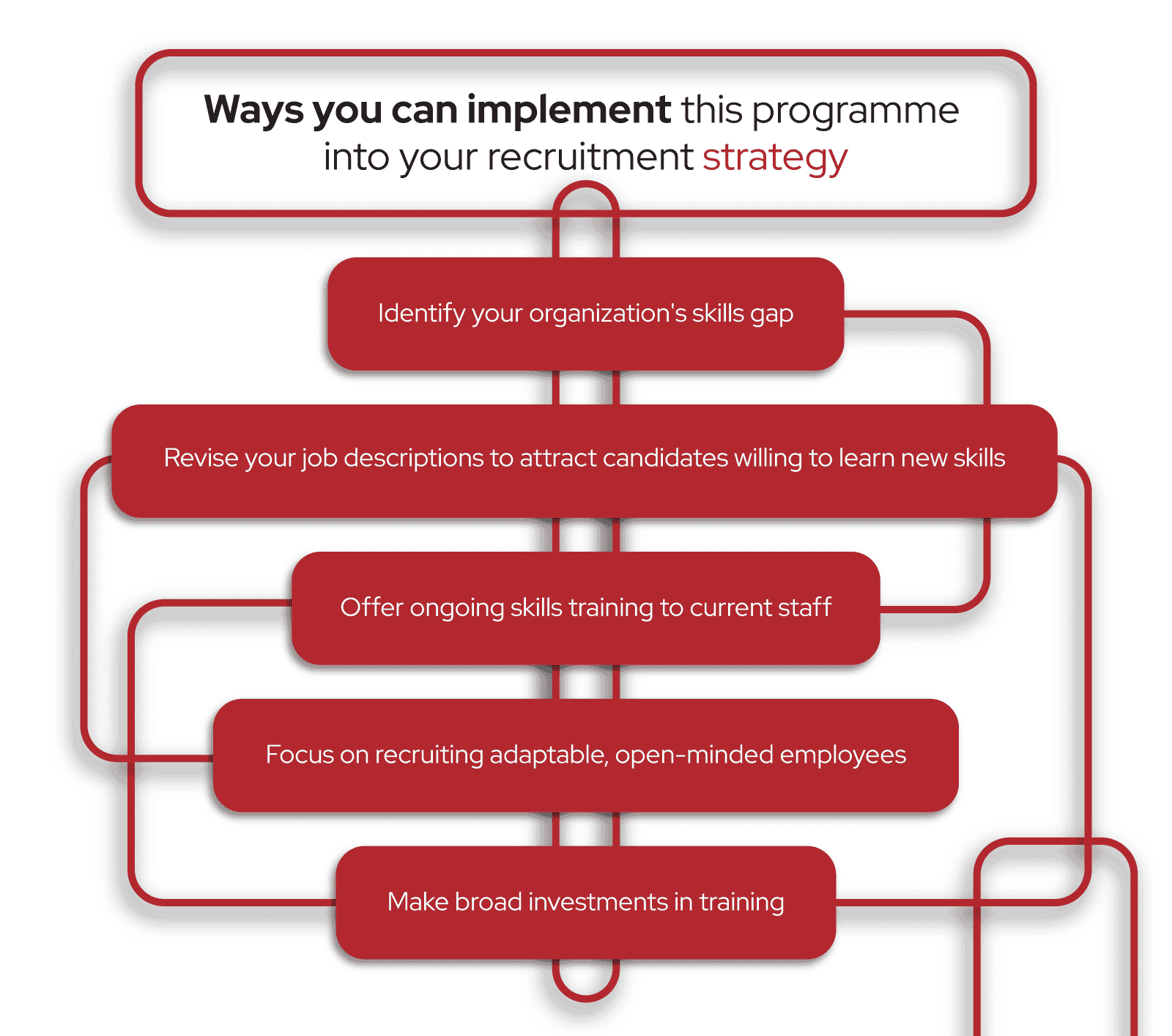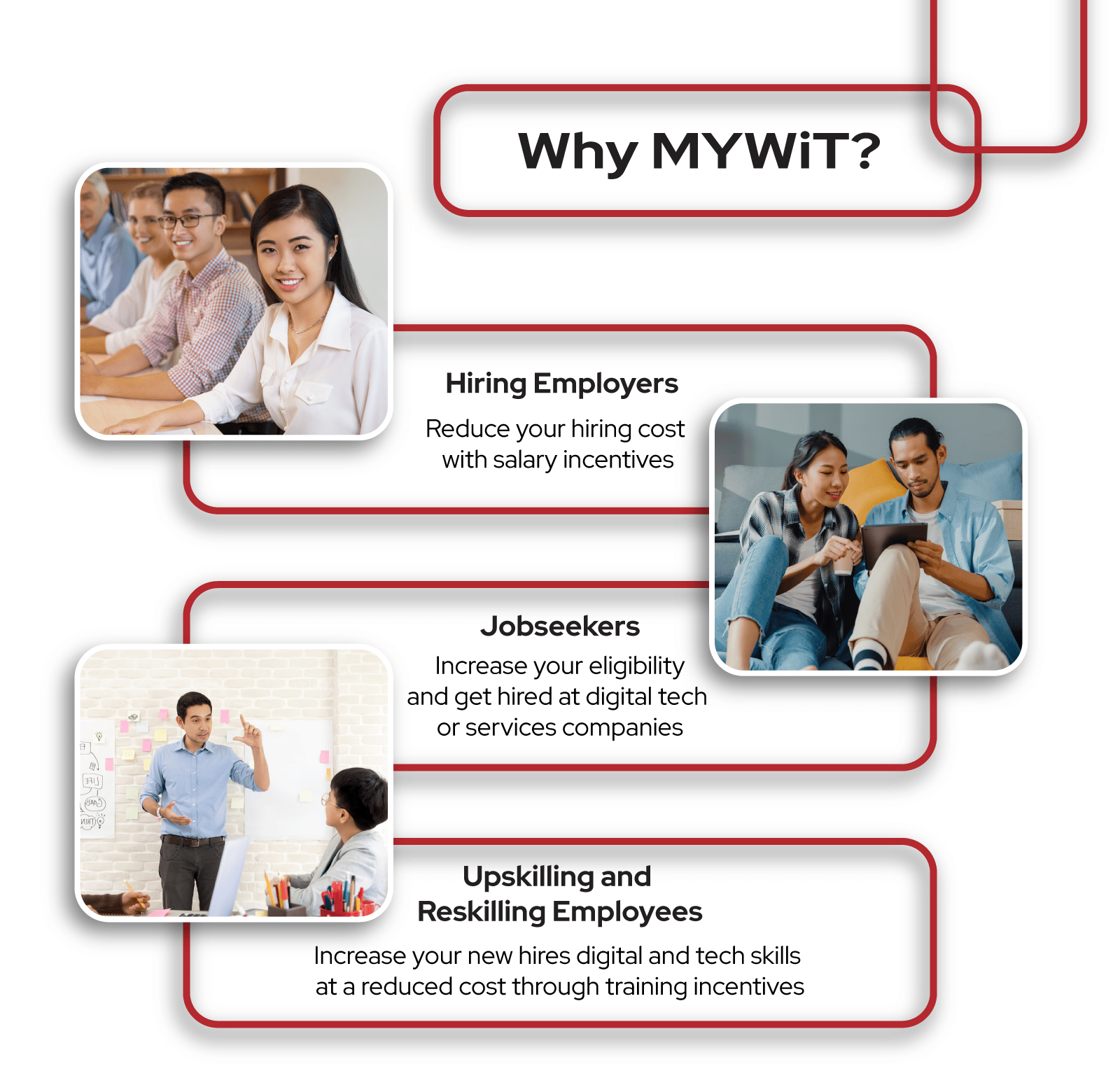 ---
Hire the nation's best talent through these recommended training courses.
---
Alibaba Certified Cloud Computing Professional
Alibaba Cloud. Explore endless possibilities using products designed for complex and dynamic environments.
Alibaba Cloud professional certifications cover the complete portfolio of products and solutions for major domains within the IT industry. In order to validate and demonstrate a user's ability to work in each domain, the professional certifications prepare you to tackle the industry's toughest positions for you to reach your full potential.
AWS Certified Developer – Associate
Learn how to develop secure and scalable cloud applications.
Grow your technical skills in developing cloud applications on AWS as you learn about cloud developer and serverless fundamentals, containers, and more. Learn how to use the AWS SDK to develop secure and scalable cloud applications in this 3-days expert-led AWS developer training.
AWS Certified Solutions Architect – Associate
Start your AWS Solutions Architect training journey today.
Learn how to design resilient, high-performing, secure, and cost-optimized architectures. Earn industry-recognized AWS credentials with AWS Solutions Architect – Associate and AWS Solutions Architect – Professional certifications.
AWS Certified SysOps Administrator – Associate
Build cloud expertise to design, deploy, and manage AWS Cloud systems.
Learn how to configure, deploy, maintain, and troubleshoot your AWS environments during this 3-days AWS Certified SysOps Administrator – Associate certification. Gain expertise required to automate resource deployment using AWS services such as AWS CloudFormation and AWS Service Catalog as well as managing permissions and track activity in your cloud environment using AWS services such as AWS CloudTrail and AWS Config during this AWS Systems Operator course.
Certified Blockchain Solution Architect
Master the skills needed to design, develop and test Blockchain Applications in this 3-days official Blockchain Training Alliance course.
This training is designed to help both developers and non-developers understand the entire blockchain system so they can make informed decisions throughout blockchain projects.
In a World Full of Auditors, be a CISA.
The CISA certification by ISACA is world-renowned as the standard of achievement for those who audit, control, monitor and assess an organization's information technology and business systems. The recent quarterly IT Skills and Certifications Pay Index (ITSCPI) from Foote Partners ranked CISA among the most sought-after and highest-paying IT certifications. This certification is a must have for entry to mid-career IT professionals looking for leverage in career growth.
Certified Information Security Manager
Become a Strategic Enterprise Security Leader.
ISACA's Certified Information Security Manager (CISM) certification indicates expertise in information security governance, program development and management, incident management and risk management. If you are a mid-career IT professional aspiring to senior management roles in IT security and control, CISM can get you the visibility you need.
The CISM Exam Preparation course is an intensive, four-day review program to prepare individuals who are planning to sit for the Certified Information Security Manager (CISM) exam. 
Concise, relevant, framework agnostic.
ISACA's Certified in the Governance of Enterprise IT (CGEIT) is unique and framework agnostic. It is the only IT governance certification that can give you the mindset to assess, design, implement and manage enterprise IT governance systems aligned with overall business goals. Get visibility at the executive level with CGEIT!
Certified in Risk and Information Systems Control
The only globally accepted IT risk management certification for professionals with three or more years of experience.
Propel your career with ISACA CRISC certification and build greater understanding of the impact of IT risk and how it relates to your organization.
Certified Information System Security Professional Prep Course
CISSP – The World's Premier Cybersecurity Certification.
Earning the CISSP credential proves you have what it takes to effectively design, implement and manage a best-in-class cybersecurity program. With a CISSP, you validate your expertise and become an (ISC)² member, unlocking a broad array of exclusive resources, educational tools, and peer-to-peer networking opportunities.
This course is an intensive, five-day examination preparation program to prepare individuals who are planning to sit for the Certified in Information Systems Security Professional (CISSP) exam. 
Certified Penetration Tester (CPT)
In the professional world, almost every skill-set has some levels of certification to evidence expertise, experience and proficiency. Most times, it is not enough to say that you are an expert in a particular field.
The Certified Penetration Tester certification is a proof that an acclaimed tester is certified and has the required knowledge to carry out a pen-test. The certification serves as an evidence that the tester has gone through the required training.
CompTIA A+ is the industry standard for establishing a career in IT and proves IT pros can perform critical IT support tasks in the moment.
This official CompTIA certification training covers mobile devices, networking technology, hardware, virtualization and cloud computing and network troubleshooting as well as installing and configuring operating systems, expanded security, software troubleshooting and operational procedures.
CompTIA A+ is the only industry recognized credential with performance-based items to prove pros can think on their feet to perform critical IT support tasks in the moment. 
CompTIA Security+ certification opens the door to your cybersecurity career!
The CompTIA Security+ credential is a global cybersecurity certification that validates the baseline skills necessary to perform core security functions and pursue an IT security career. It is the first security certification a candidate should earn. It establishes the core knowledge required of any cybersecurity role and provides a springboard to intermediate-level cybersecurity jobs.
CompTIA® Cybersecurity Analyst
As attackers have learned to evade traditional signature-based solutions, such as firewalls and anti-virus software, an analytics-based approach within the IT security industry is increasingly important for organizations and this is where CompTIA CySA+ comes in.
CompTIA Cybersecurity Analyst (CySA+) is an IT workforce certification that applies behavioral analytics to networks to improve the overall state of security through identifying and combating malware and advanced persistent threats (APTs), resulting in an enhanced threat visibility across a broad attack surface and validates an IT professional's ability to proactively defend and continuously improve the security of an organization.
This course covers the duties of cybersecurity analysts who are responsible for monitoring and detecting security incidents. 
Google Certified Professional Cloud Architect
Learn to design, develop and manage robust, secure, scalable, and dynamic solutions.
Professional Cloud Architects enable organizations to leverage Google Cloud technologies. With a thorough understanding of cloud architecture and Google Cloud, they design, develop, and manage robust, secure, scalable, highly available, and dynamic solutions to drive business objectives.
Microsoft Certified: Azure Data Scientist Associate
Level up with Microsoft Certified: Azure Data Scientist Associate.
Ready to prove your experience and skills in this in-demand role? Take the exam, earn your Azure Data Scientist Associate Certification, and roll up your sleeves to help your organization navigate the fast pace of IT transformation. As a data scientist, you'll bring the agility, resilience, and actionable insight of AI and Azure Machine Learning to deliver insights, innovation, and results.
Oracle Cloud Infrastructure Architect Associate
Oracle Cloud Infrastructure (OCI) provides an infrastructure that matches the performance, control, and governance of enterprise datacenters, while delivering the scale, elasticity, and cost-savings of public clouds. Enable the transformation of your technology infrastructure to the cloud with OCI training.
The Oracle Cloud Infrastructure Architect Associate Certification provides cloud architects with an understanding of Oracle Cloud Infrastructure services, and provides a competitive edge for industry professionals.
Red Hat Certified Specialist in OpenShift Administration
Learn to build and manage container images, administrate an OpenShift cluster, and troubleshoot applications running on Kubernetes.
The Containers, Kubernetes, and Red Hat OpenShift Administration II (DO285) helps you gain core knowledge in building and in configuring and managing Red Hat® OpenShift® Container Platform. This immersive and intensive, hands-on course shows you how to deploy applications to a local container engines and OpenShift clusters, manage the cluster on a day-to-day basis, and troubleshoot the deployment of containerized applications.
Rocheston Certified Cybersecurity Engineer
Cybersecurity is a constantly evolving and highly volatile space in the contemporary world.
Packed with fascinating possibilities, this is a domain that is waiting to explode into the world any moment now. To face the various emerging threats in the cyberworld, we need to prepare ourselves with adequate knowledge and expertise; the Rocheston cybersecurity certifications will enable you to become certified specialists in the various fields within the budding discipline of cybersecurity.
The RCCE Level 1 covers the foundational concepts of hacking. This course will give you a detailed, in-depth knowledge and hands-on labs. You will have mastery over hacking technologies and tools and RCCE Certification is accredited by ANSI, which means the RCCE credential is now internationally recognized around the world.
UiPath Certified RPA Associate (Uirpa)
Lead the future of work. Automate end-to-end with the UiPath Platform.
Become a UiPath Certified Professional and prove your expertise with an industry-leading RPA robotic process automation certification.
This course offers comprehensive knowledge and professional-level skills focused on developing and deploying software robots. It starts with the basic concepts of Robotic Process Automation. 
Interested to attract the top talents into your organization and propel your organizational growth further? Click on the link below and find out how the MDEC MyWiT programme works.
Frequently Asked Questions
What are MYWiT's benefits for companies and employers?
MYWiT offers an opportunity for companies/employers to hire unemployed, fresh graduate and retrenched Malaysians and train them according to their needs at a subsidized salary and training cost.
What is MYWiT?
MYWiT is an incentive programme under the Malaysian Government's Kumpulan Wang COVID-19 to spur job creation and reduce unemployment among Malaysians.
What are MYWiT's benefits for companies and employers?
MYWiT offers an opportunity for companies/employers to hire unemployed, fresh graduate and retrenched Malaysians and train them according to their needs at a subsidized salary and training cost.
What are MYWiT's benefits for jobseekers?
MYWiT offers jobseekers the opportunity to secure a digital job with fast growing companies and get trained for in-demand digital skills.
Can my company submit multiple applications?
The hiring company may submit multiple applications upon receive the MYWiT application status email for first/previous application.
How long does it take to receive approval upon submission of MYWiT application form?
The application status will correspond within 35 working days after the completed MYWiT application form is submitted.
Syazana Khan
A communications specialist and technology wordsmith with over 2 years experience in the IT and professional development training arena.