Top IT Skills 2022: Google Professional Cloud Architect
Top IT Skills 2022: Google Professional Cloud Architect
The technological transformation impacted various parts of our lives; the way we work and live and allow for unprecedented levels of virtual collaboration at a global scale, and the centre of all the paradigm shifts sits cloud technology.

.
Build what's next. Better software. Faster with Google Cloud Platform.  
Let's first define what Cloud computing is. Cloud computing is essentially the on-demand availability of computing resources as services over the internet. It eliminates the need for enterprises to procure, configure, or manage resources themselves, and they only pay for what they use. 
Cloud computing has become one of the fastest growing industries in recent times, accelerated with the increasing competition within business to scale and grow utilizing the latest technology. Making the investment in developing your cloud skills great for your career and your business objectives, whilst helping you stay relevant in any industry you decide to venture into.  
Leading companies across industries are choosing Google Cloud to solve their toughest challenges. The reason for this span far and wide, but mainly comprises of the flexibility, efficiency, strategic value, security and cost-effectiveness that it Cloud technology provides. A core pillar of Google Cloud's appeal was providing enterprises access to the same technologies that Google itself uses. Google Cloud wants businesses to perceive them as toolset to make them better. 
Now you can accelerate your technological transformation with Google Cloud. Build apps faster, make smarter business decisions, and connect people anywhere. 
Why choose Google Cloud? 
Use Google's core infrastructure, data analytics, and machine learning

 

Secure and fully featured for all enterprises

 

Committed to open source and industry-leading price-performance

 
Google Cloud Training and Certification  
Google Cloud training builds the cloud skills you need to elevate your career and solve challenges of the future. Validate your expertise and showcase your ability to transform businesses with Google Cloud technology with Google Cloud certifications.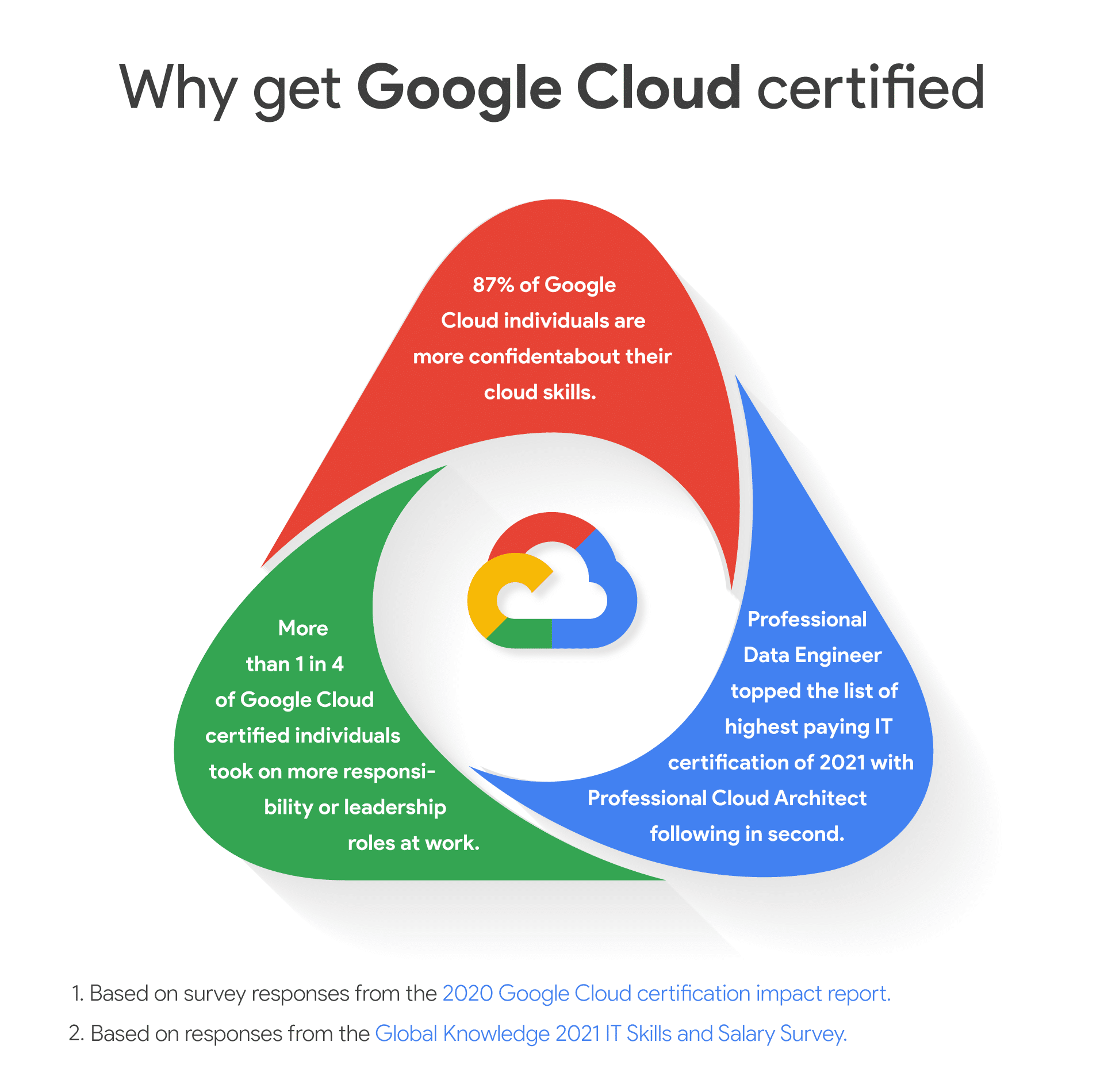 Google Cloud Architect learning path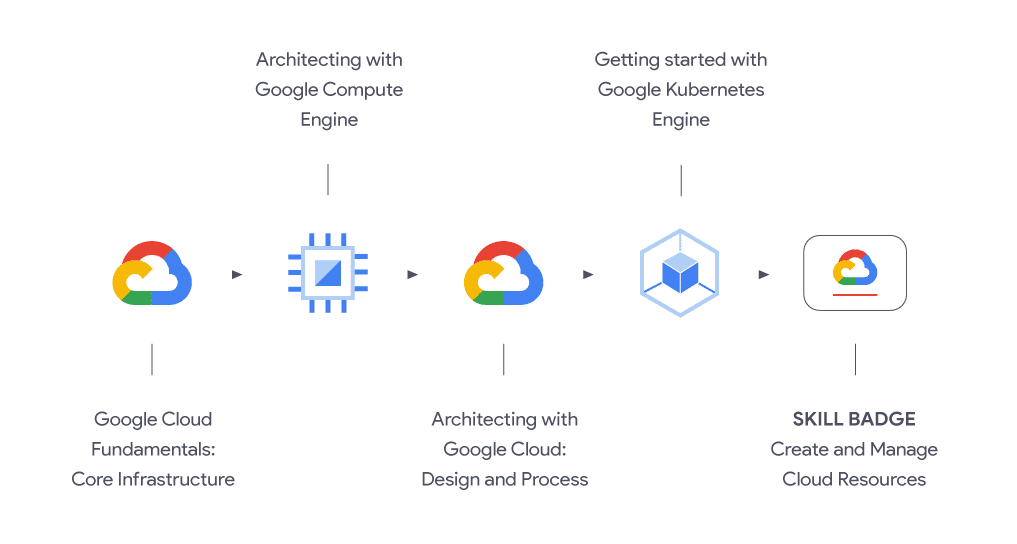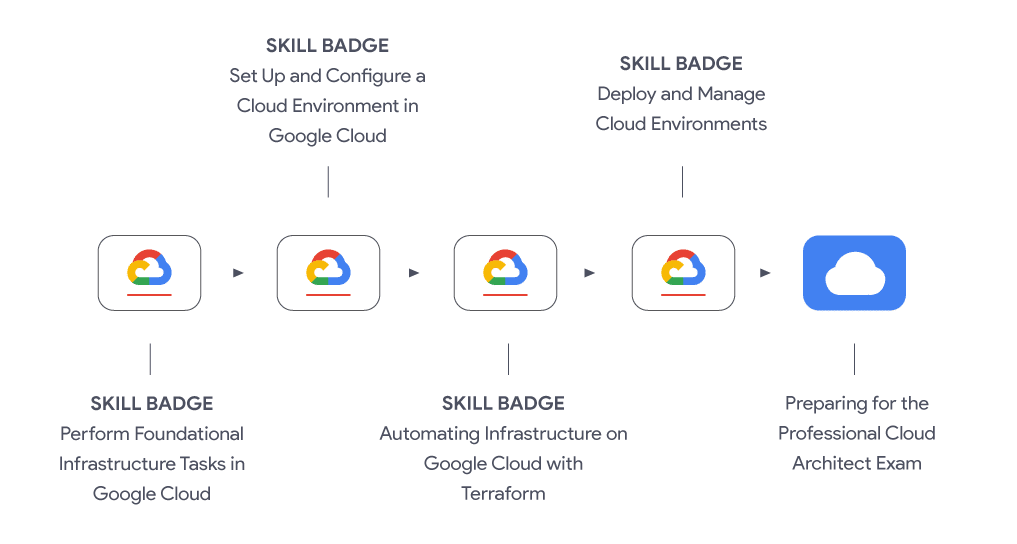 Cloud Architects design, develop, and manage robust and scalable cloud architecture solutions. In both 2019 and 2020, the Google Cloud Professional Cloud Architect certification was named the highest IT paid certification. The Google Cloud Architect learning path prepares learners for the Professional Cloud Architect certification.
Professional Cloud Architects enable organizations to leverage Google Cloud technologies. With a thorough understanding of cloud architecture and Google Cloud, they design, develop, and manage robust, secure, scalable, highly available, and dynamic solutions to drive business objectives.
The Professional Cloud Architect certification exam assesses your ability to:
Design and plan a cloud solution architecture
Manage and provision the cloud solution infrastructure
Design for security and compliance
Analyze and optimize technical and business processes
Manage implementations of cloud architecture
Ensure solution and operations reliability
PRO Tip: Google Professional Cloud Architect certification recommends learners to have at least 3+ years experience including 1+ years on Google Cloud. Do consider opting for the Google Associate Cloud Engineer certification if you do not have the recommended experience required for Architect level certification.
Course: Google Cloud Fundamentals: Core Infrastructure
Learn about Google Cloud's computing and storage services available, including Compute Engine, Google Kubernetes Engine, App Engine, Cloud Storage, Cloud SQL, and BigQuery. This course also introduces important resource and policy management tools, such as the Resource Manager hierarchy and Cloud Identity and Access Management. 
Course: Architecting with Google Compute Engine
Explore and deploy infrastructure components such as networks, systems, and applications services with Compute Engine. This course covers deploying practical solutions, including securely interconnecting networks, customer-supplied encryption keys, security and access management, quotas and billing, and resource monitoring. 
Course: Architecting with Google Cloud: Design and Process
Learn to design Google Cloud deployments that are reliable and secure and to operate Google Cloud deployments in a highly available and cost-effective manner. This course is a great introduction to site reliability engineering, or SRE. 
Course: Getting Started with Google Kubernetes Engine
Explore how to implement solutions using Google Kubernetes Engine (GKE). In this course, you'll build, schedule, practice load balancing, and monitor your workloads. You'll also learn how to manage role-based access control and security, and provide persistent storage to your cloud applications. 
For a more comprehensive understanding of Kubernetes, try the Architecting with Google Kubernetes Engine training. 
SKILL BADGE: Create and Manage Cloud Resources 
Discover Google Cloud's fundamental tools and services. Learn how to run Cloud Shell commands and deploy your first virtual machine, run applications on Google Kubernetes Engine or with load balancing. You'll have the opportunity to earn a skill badge upon completion. 
SKILL BADGE: Perform Foundational Infrastructure Tasks in Google Cloud 
Dive into Cloud Storage and other key application services like Stackdriver and Cloud Functions and develop valuable skills that are applicable to any Google Cloud initiative. You'll have the opportunity to earn a skill badge upon completion. 
SKILL BADGE: Set Up and Configure a Cloud Environment in Google Cloud 
Get practice with the services that appear on the Google Cloud Associate Cloud Engineer certification exam. You'll explore IAM, networking, Google Kubernetes Engine deployment and be able to earn a skill badge upon completion. 
SKILL BADGE: Automating Infrastructure on Google Cloud with Terraform 
Learn how to automate your infrastructure on Google Cloud using Terraform, an open source solution for infrastructure deployment. Complete this quest for the opportunity to receive a Google Cloud skill badge. 
SKILL BADGE: Deploy and Manage Cloud Environments 
Learn how to effectively deploy, manage, and monitor your applications using Google Kubernetes Engine, Spinnaker, and Cloud Monitoring. Complete this quest for the opportunity to receive a Google Cloud skill badge. 
Course: Preparing for the Professional Cloud Architect Certification Exam
Prepare for the Google Cloud Professional Cloud Architect certification exam by analyzing use cases, identifying technical watchpoints, and developing proposed solutions. You can test your abilities with hands-on labs and with sample questions similar to those on the exam. 
Enroll in our next Google Cloud class. You are just a few steps away from getting certified.
Ready to boost your cloud career? With Google Cloud Professional Certificates, you can strengthen your cloud knowledge, earn a digital certificate, and start preparing for an industry-recognized Google Cloud certification.

Interested to transform business objectives into tangible configurations, policies, and security practices as they relate to their organization's users, content, and integrations? Do check out our pick for Google's Top IT Skills for 2022. The Google Cloud Collaboration Engineer use tools, programming languages, and APIs to automate workflows and enable efficient and secure communication and data access.
Syazana Khan
A communications specialist and technology wordsmith with over 2 years experience in the IT and professional development training arena.