What IT Training is Most In-Demand 2022? Google Professional Data Engineer
What IT Training is Most In-Demand 2022? Google Professional Data Engineer
Tech, today. 
There is no denying that the future of jobs is digital. With work at every level including some element of technology. Navigating the terrains of rapid transformations required companies to do two things – adopt and adapt. Reluctant business leaders were pushed into adopting new technologies and adapting their operational practices accordingly whilst early adopters were constantly testing out new technology to further fortify their business against volatile impacts. This year was expected to be an improvement from the last but still presented challenges. This, yet again, tested the resilience of organizational plans and risk mitigation strategies.  
There were several technologies that saw a high percentage of take up to soften the blows of transitions, one such was cloud computing. Cloud allowed for the smooth progression of businesses going remote and moving on virtual platforms, perpetually changing the perception of work. 
 
In a report by IDC, "by 2024, 50% of organizations will use applications built on abstraction provided by managed services including cloud-native technologies to enable consistency in running in any and many locations." 
Why Google Cloud? 
Google Cloud is recognized by independent experts for its leadership.  
For the fourth consecutive year, Google Cloud was named a Leader in the Gartner Magic Quadrant for Cloud Infrastructure and Platform Services. The Forrester Wave for AI  Infrastructure placed Google at the topmost position, a testament to Google's investments in tomorrow's AI-first world.  
Google Cloud also won the HPC Wire Editor's Choice award for the best use of HPC in the cloud.     
Why get Google Cloud certified?
1) Google Cloud certified professionals have the real-world cloud skills businesses need 
In a survey conducted by Google, "78 percent of survey participants are satisfied with how accurately Google Cloud certifications validated their skills for a particular role."  To add to that "when comparing Google Cloud certifications to other cloud certifications, more than 1 in 4 survey respondents say Google Cloud certifications more accurately validated skills for a particular role." 
2) Organizations modernize faster and increase business impact with certified individuals 
71 percent of Google Cloud Certified individuals report becoming certified enabled or will enable their employer to get more business, increase work with existing customers, or help scale up their business. 
3) Certifications help with promotions, raises, and career changes 
The majority of those who pursued a certification, did so with the intention to increase opportunities in their current job, which materialized for most. More than 1 in 4 Google Cloud certified individuals took on more responsibilities or leadership roles while almost 1 in 5 received a raise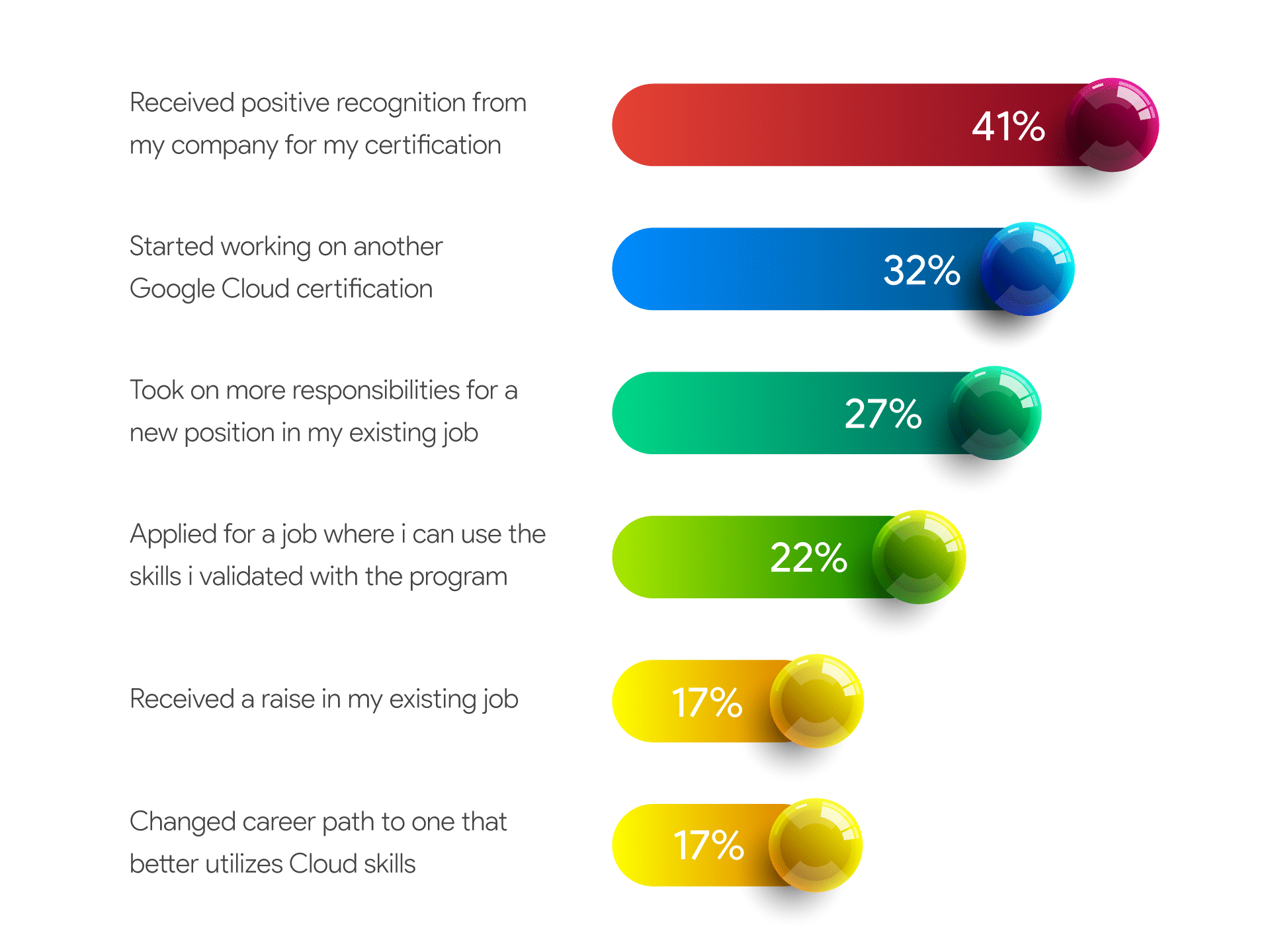 All you need to know about the Data Engineering and Analytics Learning Path  
Data Engineers design solutions that ensure maximum flexibility and scalability, while meeting all required security controls.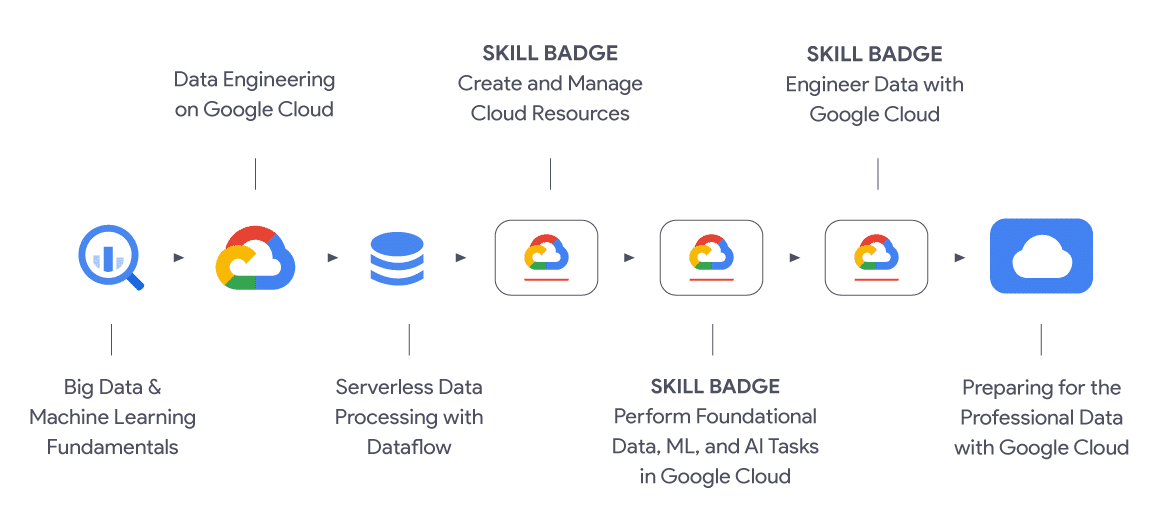 The need for data analysis skills grew by 86% from 2013 to 2018. Become data-driven with Google Cloud. Leverage data and gain real-time insights that improve your decision-making and accelerate innovation. Learn how to design and build data processing systems. 
COURSE 1: Big Data & Machine Learning Fundamentals
Get started with big data and machine learning. This course provides an introduction to Google Cloud capabilities and a deeper dive of the data processing capabilities. 
COURSE 2: Data Engineering on Google Cloud Platform
Get an introduction to designing data processing systems, building end-to-end data pipelines, and analyzing data. You'll learn how to lift and shift Hadoop workloads using Dataproc, process batch and streaming data on Dataflow, manage data pipelines with Data Fusion and Cloud Composer, and more. 
COURSE 3: Serverless Data Processing with Dataflow 
Advance your data processing applications by expanding your understanding of Dataflow. Learn how you can convert your business logic into data processing applications that can run on Dataflow. Review topics such as foundations, developing pipelines, and operations while covering the most important lessons for operating a data application on Dataflow. 
SKILL BADGE: Create and Manage Cloud Resources 
Gain essential skills you can apply to your first Google Cloud project. You'll learn how to write Cloud Shell commands, deploy your first virtual machine, and run applications on Kubernetes Engine or with load balancing. You'll have the opportunity to earn a Google Cloud skill badge upon completion. 
SKILL BADGE: Perform Foundational Data, ML, and AI Tasks in Google Cloud 
Get started with big data, machine learning, and artificial intelligence. Take your first steps with Google Cloud tools like BigQuery, Cloud Speech API, and AI Platform. You'll have the opportunity to earn a Google Cloud skill badge upon completion. 
SKILL BADGE: Engineer Data with Google Cloud 
From BigQuery, to Dataprep, to Cloud Composer & Tensorflow, this quest is composed of specific labs that will put your Google Cloud data engineering knowledge to the test. 
COURSE 4: Preparing for the Professional Data Engineer Examination
Start preparing for your Professional Data Engineer certification exam and further your ability to collect, transform, and publish data to help organizations make data-driven decisions as a Data Engineer with this course. 
This course will help you prepare for Google Cloud's Professional Data Engineer certification exam. This session uses lectures, quizzes, and discussions to help you become familiar with the structure and format of the exam. You'll take part in exam question reasoning and case comprehension, get tips from certified experts, and review topics from the Data Engineering curriculum. At the end of the course, you'll take an ungraded practice exam and then a graded practice exam that will simulate the exam-taking experience.
With the right data skills, the sky's the limit.
It is imperative for businesses to take leverage of everything the latest cloud technology has to offer, organizations must be able to find people with the right combination of skills. When organizations invest in Google Cloud certifications for their employees, they cost-effectively create the skilled workforce they need to meaningfully transform their business with Google Cloud technology. When people invest in earning their Google Cloud certifications, they develop the latest, in-demand cloud skills they need to take their career to the next level. 
---
Check out when our next classes are and be on your way to getting Google Cloud Certified.
Leverage data and gain real-time insights to improve decision-making and accelerate innovation. Design and build data processing systems on Google Cloud.
Take your pick from data analyst, data engineer and database engineer pathways.
Syazana Khan
A communications specialist and technology wordsmith with over 2 years experience in the IT and professional development training arena.