Level Up with Red Hat Enterprise Linux (RHEL) 9
Level Up with Red Hat Enterprise Linux (RHEL) 9
Just launched: Red Hat Enterprise Linux 9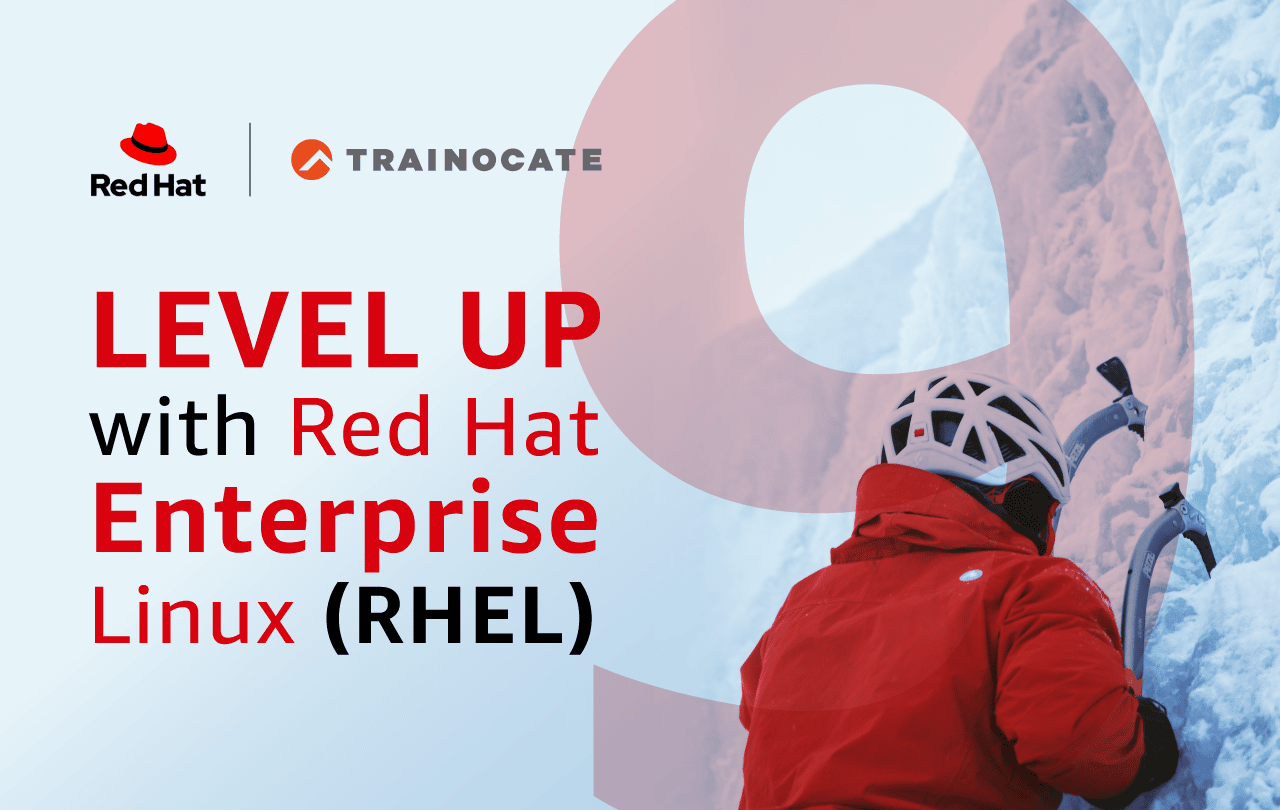 Red Hat Enterprise Linux 9 (RHEL) 9, the latest release of the world's leading enterprise Linux platform, was launched in May 2022 providing a more flexible and stable foundation to support hybrid cloud innovation and a faster, more consistent experience for deploying applications and critical workloads across physical, virtual, private and public cloud and edge deployments.
What's new?
RHEL 9 includes features and enhancements to help achieve long-term IT success by using a common, flexible foundation to support innovation and accelerate time to market.
Here are a few highlights of what's included in RHEL 9.
A new platform for developers today and in the future
Completing the migration to Python 3, version 3.9 will be the default Python for the life of RHEL 9. Python 3.9 brings several new enhancements, including timezone-aware timestamps, the recent string prefix, suffix methods and dictionary union operations to help developers modernize existing apps.
RHEL 9 is also built with GCC 11 and the latest versions of LLVM, Rust and Go compilers. RHEL 9 is based on glibc 2.34 for 10+ years of enterprise-class platform stability.
And finally, for the first time in RHEL, Link Time Optimization (LTO) will be enabled by default in userspace for deeper optimization of application code to help build smaller, more efficient executables.
Easy contribution path to future versions of RHEL
Organizations can now develop, test and contribute to a continuously-delivered distribution that tracks just ahead of RHEL. CentOS Stream, an upstream open source development platform, provides a seamless contribution path to the next minor release. RHEL 9 is the first RHEL major release built from CentOS Stream, and the RHEL 9 Beta was first available as CentOS Stream 9. All future RHEL 9 releases will be built from CentOS Stream.
Next-generation application streams
Building on the introduction of application streams and module packaging in RHEL 8, all packaging methods in RHEL 9 are incorporated into application streams, including modules, SCLs, Flatpacks and traditional RPMs, making them much easier to use.
Continuing commitment to multiple architecture support
Open source software gives users greater control over their digital future by preventing workloads from being locked into a specific vendor. RHEL extends this control beyond the source code by enabling diverse CPU architectures for users that need an evolving business environment. Whether you're running your workload on x86_64, aarch64, IBM POWER9, Power10, or IBM Z, we have you covered.
Skills for any IT challenge
With the general availability of RHEL 9, our Red Hat courses and exams have been updated to reflect changes in the Red Hat product portfolio, so that learners are able to access training relevant to the version of Red Hat software that is used in their own working environment.
So, what does this mean for current learners and candidates vying to get Red Hat certified? Red Hat recognizes that modernization is an evolutionary process, and customers need training material that is applicable to their work, regardless of the version that is running in their environment. Whether you are training on RHEL 8, RHEL 9, or somewhere in between, our official Red Hat training and certification offerings have got you covered.
As learners begin their training journey, they are given the opportunity to select which release they would like to train on. As always, the gateway to the entirety of the Red Hat portfolio is Red Hat System Administration I (RH124) and Red Hat System Administration II (RH134). Both of these courses have been updated to include a training experience specific to RHEL 9, with minor changes to accommodate the differences in software version.
Discover Red Hat System I (RH124)
Red Hat System Administration I (RH124) equips you with Linux® administration "survival skills" by focusing on foundational Linux concepts and core tasks. You will learn how to apply command-line concepts and enterprise-level tools, starting you on your journey toward becoming a full-time Linux system administrator.
Discover Red Hat System Administration II (RH134)
Red Hat System Administration II (RH134) serves as the second part of the RHCSA training track for IT professionals who have taken Red Hat System Administration I (RH124). The course goes deeper into core Linux system administration skills in storage configuration and management, installation and deployment of Red Hat® Enterprise Linux®, management of security features such as SELinux, control of recurring system tasks, management of the boot process and troubleshooting, basic system tuning, and command-line automation and productivity. Experienced Linux administrators looking for rapid preparation for the RHCSA certification should instead start with RHCSA Rapid Track (RH199).
[/fusion_table]
For those who have already begun their training journey with a version of RHEL 8, don't jump ship quite yet — your training experience will still be applicable regardless of the version you selected. Red Hat's flagship credential, the Red Hat Certified System Administrator, is version agnostic and can be earned on RHEL 8 or RHEL 9, so there is no immediate need to switch learning paths.
Here's what's new in RHEL 9 that you can now find covered in Red Hat Training courses:
Installation and Registration
Simple Content Access changes subscription management, removing many tasks related to preparing registered systems.
Cloud Access methods, images and registration training content have been created to aid in the understanding of how to deploy simple RHEL instances to the cloud.
Kickstart has been simplified and enhanced, with training updated to conform to new procedures and syntax.
Software Management
Training courses will start using DNF commands to replace YUM commands. YUM is still supported.
Networking
Network teams are deprecated. The teamd service and the libteam library are deprecated in RHEL 9 and will be removed in the next major release. Our courses will revert to teaching network bonding instead.
All firewall infrastructure based on iptables has been removed. The ability to migrate iptables configurations to NFT has been removed. Our courses will teach the standard NFT structures and methods.
Security
SSH root access is now disabled by default. RHEL 9 adds the following new options to the root password configuration screen:

Lock root account: To lock the root access to the machine
Allow root SSH login with password: To enable password-based SSH root logins.

Support for disabling SELinux through /etc/selinux/config has been removed. With this release, support for disabling SELinux through the SELINUX=disabled option in the /etc/selinux/config file has been removed from the kernel. When you disable SELinux only through /etc/selinux/config, the system starts with SELinux enabled but with no policy loaded.
Storage
The exFAT filesystem is now supported in RHEL 9. This filesystem is used for external USB storage and interoperability and data exchange with other operating systems, especially Windows.
VDO management is now built into LVM. Volume management discussions will be updated to new syntax.
Containers
Containers and tools were added in the most recent update to RH134, and the content remains valid. Podman now supports secure short names, which can be used in our examples.
Validate your Red Hat Enterprise Linux skills
Red Hat® Training and Certification offers training on Red Hat Enterprise Linux® for individuals of all experience levels. Our  comprehensive Linux curriculum delivers real-world skills development, built using customer user cases and input from Red Hat's support team and field personnel
Business value of Red Hat training
365% return on investment (ROI) over three years
Savings to US$1.25 million over three years
Boost DevOps team productivity 44%
Boost IT infrastructure team productivity 34%
Deploy new IT resources 59% faster
Source: Red Hat Blog

Kevin Boey
Kevin is the Head of Marketing & IT for Trainocate with over 17 years of working experience with Malaysia's largest EdTech provider specializing in Information Technology & Human Development Competency solutions.