Level Up your Red Hat OpenShift skills to run Kubernetes at enterprise scale
Level Up your Red Hat OpenShift skills to run Kubernetes at enterprise scale
Red Hat OpenShift: Container technology for hybrid cloud.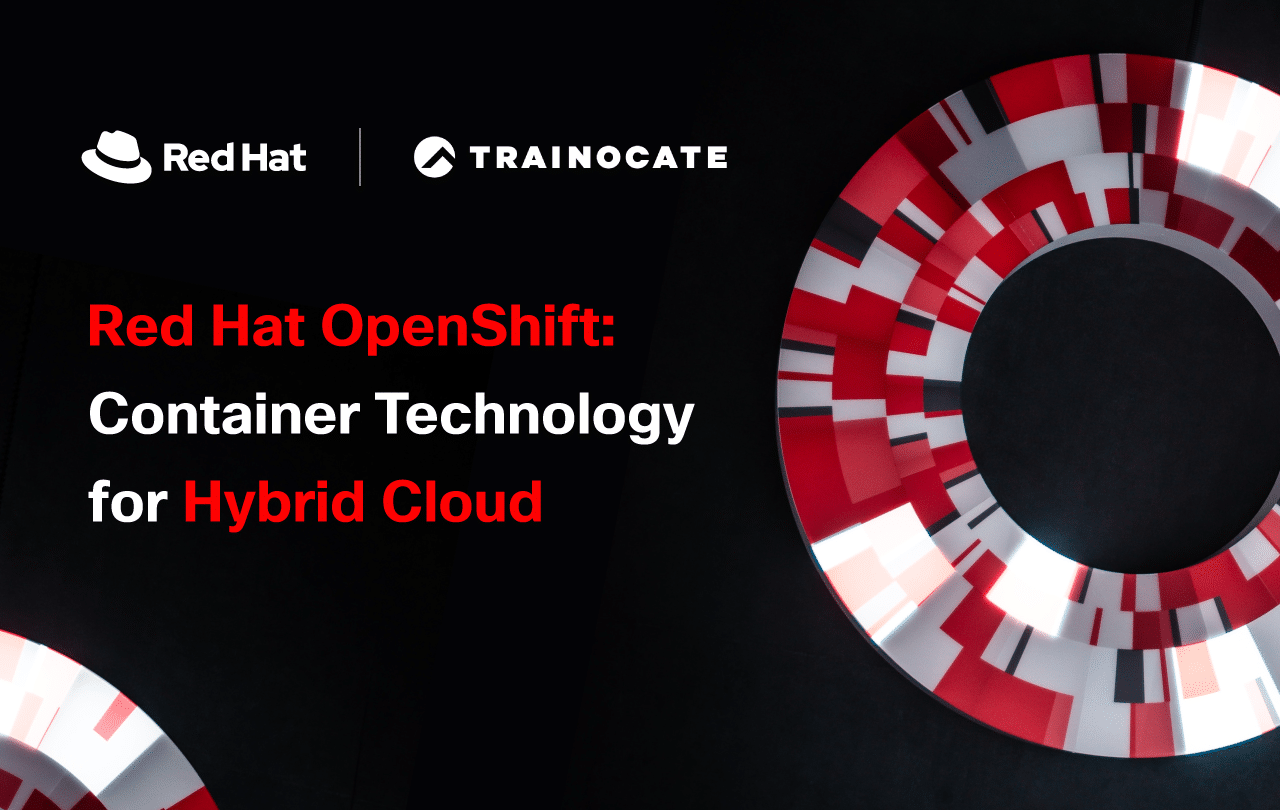 Organizations need to deliver and transform applications faster than ever, but managing an application portfolio spanning different architectures and frameworks—while also building new applications and modernizing existing ones—can be challenging and time-consuming. Cloud platforms play a key role in establishing a balance between application innovation and operational efficiency.
As organizations expand their footprint within cloud-native architectures, Red Hat OpenShift and Red Hat products that extend its functionality become key to scaling infrastructure to manage more workloads and applications.
Red Hat OpenShift is an enterprise Kubernetes container platform that helps companies around the world build, deploy, run, manage, and secure innovative application experiences across hybrid clouds. Managing a mix of applications across architectures and frameworks is challenging, but Red Hat OpenShift provides multiple layers of security, management, and automation work across infrastructures to provide consistency for continuous innovation at scale.
With Red Hat OpenShift, developers and operations teams have the tools and services they need to help organizations competitively meet today's business needs and build for the future.
Get more value from your cloud investment with managed services
Running Red Hat OpenShift as a managed service reduces operational complexity, helping developers focus on building, launching, and scaling valuable applications faster.
Achieve value faster: Deploy applications in minutes and scale as needed across clouds and regions to focus on innovation, not infrastructure.
Reduce complexity, reliably: Take advantage of enterprise container technology that is fully managed and backed by 24×7 expert site reliability engineering (SRE) support and a 99.95% service level agreement (SLA).
Build your hybrid cloud: Access a consistent OpenShift experience on your choice of major cloud providers.
Red Hat offers an extensive portfolio of training and certifications to teach the skills required for these advanced Red Hat OpenShift capabilities and have recently launched advanced OpenShift training courses to help teams and individuals looking to increase self-sufficiency in Red Hat OpenShift administration and there's even more in the pipeline moving forward.
Outcomes of using Red Hat OpenShift
Consistency across any infrastructure
Red Hat OpenShift provides a consistent application platform for the management of existing, modernized, and cloud-native applications that runs on any cloud.
Red Hat OpenShift also provides a common abstraction layer across any infrastructure to give both developers and operations teams commonality in how applications are packaged, deployed, and managed. This allows you to run applications where it makes the most sense, without creating different operational models because of the host environment.
Develop innovative applications faster
Develop faster with a complete enterprise Kubernetes platform to build, test, deploy, and run applications. Red Hat OpenShift includes self-service access to developer tools, a browser-based IDE, a broad selection of coding languages, data and storage services, and full CI/CD services for automating application delivery and supporting a DevOps process.
Red Hat OpenShift also gives you the ability to integrate and use public cloud services such as AI/ML or analytics, and access to a commercial ISV software marketplace for the platform.
Run and manage applications anywhere
With Red Hat OpenShift, sysadmins and operations teams can manage applications, virtual machines, and containers from a single control plane. Regardless of where Red Hat OpenShift is installed the interface remains the same for administrators and developers, allowing you to control clusters, services, and roles for multiple teams from a central administrative console.
Automate Kubernetes operations with OpenShift Operators and standardize automation in application delivery using built-in CI/CD tools.
Let's take a look at some of the new Red Hat OpenShift courses in this post.
Equipping project teams for with tools for success
Red Hat OpenShift Data Foundation, Red Hat OpenShift Virtualization, and Red Hat Advanced Cluster Management for Kubernetes can help enterprises run and manage Kubernetes at scale. Red Hat OpenShift adoption can introduce teams to a collaborative DevOps culture and promote innovation, but new advanced training from Red Hat enables teams to leverage the scalability and flexibility afforded by these offerings.
How can using cloud native infrastructure, Red Hat OpenShift add-ons and Red Hat Training benefit your organization?
Cloud provider portability – Skills developed through Red Hat Training can help prepare students to manage containerized applications across public or private cloud infrastructure, regardless of deployment on-premise or cloud.
Innovate faster – Fully embracing cloud-native architectures using Red Hat OpenShift Virtualization and Red Hat Advanced Cluster Management for Kubernetes can help accelerate  time to market and allow you to scale with business demands.
Maintain reliable infrastructure – Improve the performance of your data by operating Kubernetes infrastructure that is scalable and reliable.
New Red Hat OpenShift training courses
Cluster administrators, cluster engineers, and site reliability engineers can now participate in training that teaches the installation and customization of Red Hat OpenShift (DO322: Red Hat OpenShift Installation Lab), the migration of apps to the latest release (DO326: Red Hat Openshift Migration Lab), and the efficient scaling of Kubernetes deployments (DO380: Red Hat OpenShift Administration II: High Availability).
As of September 2021, a new training course focusing on Red Hat OpenShift Data Foundation is available to cloud storage administrators and senior OpenShift engineers and architects around the world. Enterprise Kubernetes Storage with Red Hat OpenShift Data Foundation (DO370: Enterprise Kubernetes Storage with Red Hat OpenShift Data Foundation) teaches the essential skills required to design, implement, and manage an OpenShift Data Foundation cluster and perform day-to-day Kubernetes storage management tasks.
What's next?
Even more advanced Red Hat OpenShift training offerings are slated for release this year, including a course on scaling and managing across clusters with Red Hat Advanced Cluster Management and another on virtualization in Kubernetes environments.
The Red Hat Advanced Cluster Management course will teach the skills required to manage a fleet of containerized applications and Kubernetes clusters; automate compliance with security, governance, and other organization policies; and implement DevOps practices. The Red Hat Virtualization course will demonstrate how to create and manage virtual machines on OpenShift using the Red Hat OpenShift Virtualization operator.
Whether your instance of Red Hat OpenShift is self-managed, managed, or dedicated, it's nearly impossible to customize and scale to the enterprise level without tailored expertise. Red Hat Training and Certification evolves with product offerings, so you can always feel confident that you are learning the most up-to-date curriculum developed by experts in the field.
Find your path
If you're not sure where to begin on your Red Hat Training and Certification journey, check out the Red Hat OpenShift skills path for inspiration. If you're interested in expanding your knowledge of the entire portfolio, Red Hat Learning Subscription provides unlimited access to the comprehensive Red Hat Training curriculum. Sign up for a seven-day no-cost trial to preview the first chapter of any course and get an hour of lab time.


Kevin Boey
Kevin is the Head of Marketing & IT for Trainocate with over 17 years of working experience with Malaysia's largest EdTech provider specializing in Information Technology & Human Development Competency solutions.