Microsoft Certified: Azure Fundamentals
Microsoft Certified: Azure Fundamentals

Gain the edge in your career by getting up to speed with Azure cloud technology.
This Azure foundation certificate will give you an excellent opportunity to launch into new heights.
Get ready to dive into the cloud with Azure! Explore this exciting field – regardless of whether you're a newbie or an experienced professional. Microsoft Certified: Azure Fundamentals certification can help hone your capabilities and build self-assurance in your expertise. Take advantage of all that technical potential now. 
Showcase your cloud computing prowess – demonstrate an understanding of the different models such as public, private and hybrid clouds; highlight familiarity with infrastructure as a service – IaaS, platform as a service – PaaS and software as a service – SaaS technologies. Lastly prove expertise on how Azure provides security measures for trust and compliance standards. 
Microsoft Azure 
Solutions do the work for you 
With Azure, you can power through any business challenge. Quickly scale up a cost-efficient solution that leverages your current investments and seamlessly integrates DevOps, IoT capabilities & analytics to provide answers at lightning speed! 
From tackling today's challenges to pioneering tomorrow's innovations, the Azure cloud platform offers more than 200 products and services designed for creating powerful new solutions.  With its ability to build, run and manage applications on multiple clouds, on-premises or at the edge – all with your favourite tools and frameworks – Microsoft Azure empowers you every step of the way.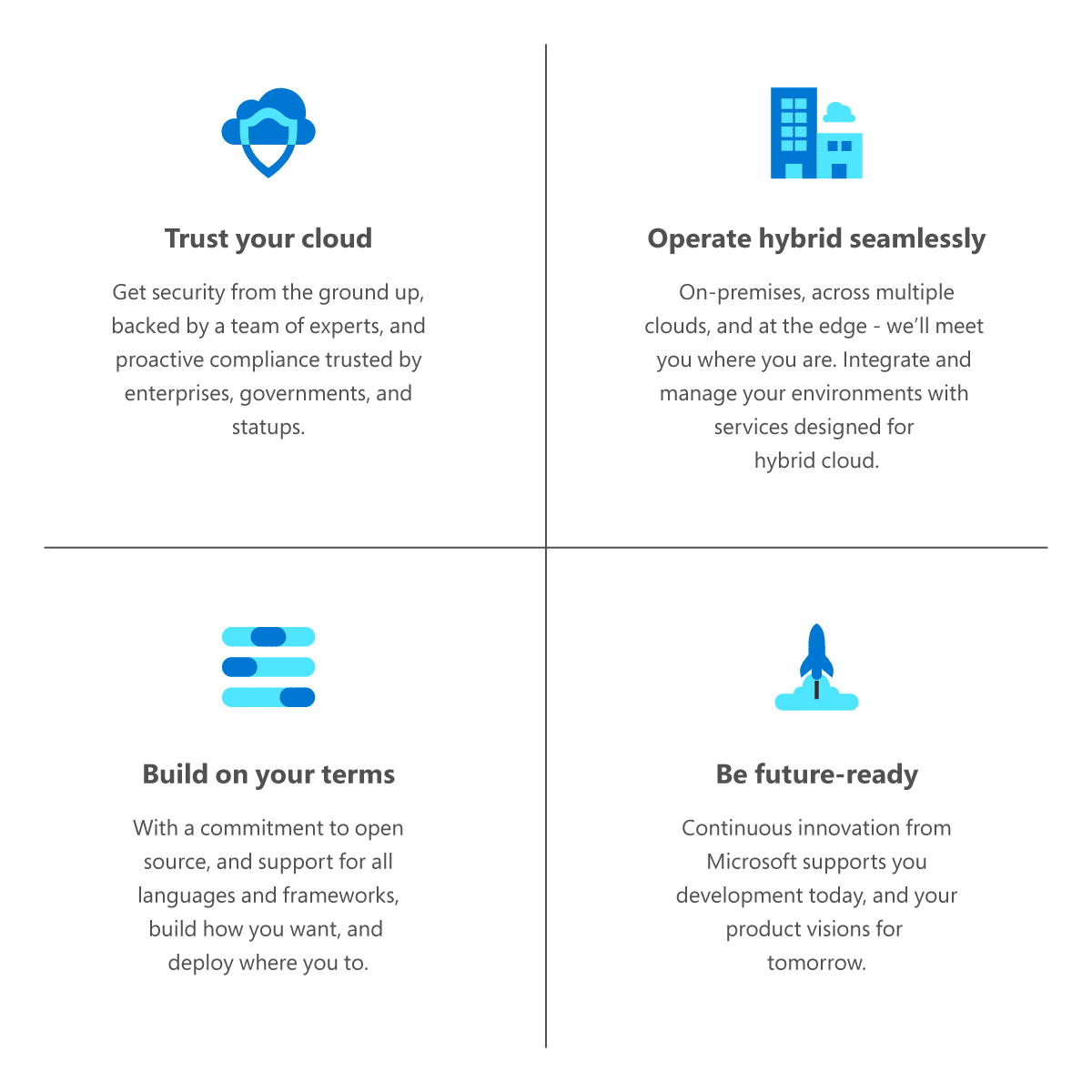 It's time to level up.  
All you need to know about the Microsoft Azure Fundamental certification.
Microsoft Azure is your key to unlocking the doors of opportunity in today's cloud computing field. Take charge of your career and master the basics – you'll be better prepared than ever before for tackling those complex challenges that make a real impact. With an Azure certification, you can show employers that your skills are up to date with current cloud and IT trends. You'll possess an understanding of core concepts surrounding tech workloads, security provisions, pricing models and more – all backed by this official industry recognition. 
The Microsoft Certified: Azure Fundamentals certification could be a great fit for you if you'd like to:
Prove your knowledge of cloud computing concepts, models, and services, such as public, private, and hybrid cloud, in addition to infrastructure as a service (IaaS), platform as a service (PaaS), and software as a service (SaaS).

 

Show your expertise on how Azure supports security, privacy, compliance, and trust.

 
The Azure Fundamentals certification provides a strong foundation of knowledge to help you get the most out of your other role-based and specialty certifications. With an understanding of networking, storage, compute, application support and development – even if not required for any specific credential – you'll be well equipped to make meaningful progress towards becoming an expert. 
Get ready to broaden your knowledge on all things Azure! This 1-day course takes you through the fundamentals of cloud architecture and how it applies to Microsoft's segmentation. You'll gain insight into core services, solutions and management tools as well as an understanding of security features protecting data privacy and governance compliance in the cloud. And don't forget – there will be hands-on labs that allow attendees to apply what they've learned with a complimentary Azure pass while exploring its depths.  
Skills Covered
After completing this module, students will be able to: 
Define cloud computing and its key advantages.

 

Explain public, private, and hybrid cloud models.

 

Explain IaaS, PaaS, and SaaS cloud services.

 

Identify core Azure architectural components, such as regions, geographies, and resource groups.

 

Identify usage cases for Azure core services and products, such as virtual machines and storage.

 
Prior knowledge?
There are no prerequisites for taking this course. However, the more technical knowledge a student has, the more they will understand the cloud. 
---
Most Popular Questions About Azure Certifications  
1) Are Microsoft Azure certifications worth it?   
Azure certifications offer IT, professionals, an edge in this cloud-based and connected world. Job seekers and seasoned professionals alike can use Azure certifications to help advance their career—in their existing organization and role or in new ones—earn recognition, and validate their technical knowledge and abilities in current and future industry job roles and organizations can use certifications to identify the talent they need and build the technical skills of their workforce   
2) How do Microsoft Azure certifications benefit me?   
Azure certifications are globally recognized and industry-endorsed. They're used both by job seekers (individuals) and by talent seekers (organizations) as a way to validate that a candidate has the skills to do the job. They're a powerful differentiator in the quest to match skilled talent to key jobs in the digital age.   
Whether you're looking to level up your career or to jump-start a new one, you can use Azure certifications to build and validate your technical knowledge and abilities in the modern cloud environment. In these unsettling times, earning your Microsoft Certification can help provide you with the edge you need with organizations that are seeking skilled talent.   
3) Why are Microsoft Azure certifications so important in today's landscape?   
Azure is the most widely used cloud computing platform, leading the cloud industry forward globally. A large majority of organizations and enterprises – small and big, have made the leap towards embracing cloud technology. This paradigm shift has also revealed that organizations want to remain competitive as the demand for cloud-based and centred solutions grows daily, directly affecting the need for technology professionals with cloud knowledge.   
Microsoft has been at forefront of ensuring that the global workforce is prepared to take on this substantial task by validating and certifying top applicants who are the best suited for a specific job position, according to Microsoft. Microsoft certifications can undoubtedly add value to a candidate's professional journey as most businesses now prefer to have prospective employees with certifications in tow.   
4) What are the available levels of Azure credentials?   
There are four levels of Microsoft certifications Azure Certification path levels, covering beginner to expert level azure cloud certification.   
Fundamentals

 – If you are a beginner, your Azure journey will start with 

Azure Fundamentals

 certification. Candidates with a non-technical backdrop can also step into cloud computing through these certifications.  

 

Associate

 – Candidates who have a fair idea of Azure can aim toward associate certifications.  

 

Expert

 – You can obtain an expert certification if you have experience, a solid comprehension of the subject, and associate-level familiarity with Azure.  

 

Specialty

 – It is the highest level of Azure certification. Candidates can opt for this Azure certification if they want to apply for roles like Azure IOT Developer Specialty and Azure for SAP Workloads.  

 
5) Will Azure work for my industry?    
Azure provides solutions for all industries, through proven combinations of cloud products and services. Address your industry-specific business challenges today, and prepare for the future by innovating with Azure solutions.    
6) How does Azure compare to other clouds?    
Azure is the only consistent hybrid cloud, that delivers unparalleled developer productivity, provides comprehensive, multilayered security, including the largest compliance coverage of any cloud provider, and you'll pay less for Azure as AWS is five times more expensive than Azure for Windows Server and SQL Server.    
7) What is next after getting Azure Fundamentals certified?
Whether you're a technical professional, student, or business professional, a fundamentals certification is designed to help you accelerate your progress, boost your career, and stay current with evolving technology trends. It can be the first step on your journey for role-based or specialty certifications namely:
8) What is covered in the AZ-900 certification exam? 
Candidates for this exam should have foundational knowledge of cloud services and how those services are provided with Microsoft Azure. The exam is intended for candidates who are just beginning to work with cloud-based solutions and services or are new to Azure. The AZ-900 exam measures your ability to describe the following: cloud concepts; Azure architecture and services; and Azure management and governance.
Jumpstart your career and progress further into the realm of Azure opportunities with an in-depth exploration of Microsoft's foundational elements. Unlocking these fundamentals will set you up for continued success, no matter where you are on your professional journey. 
Explore different IT skills and certifications through our latest blog posts!
Check out our list of the 7 "Top IT Skills in 2023" to stay updated with the rapidly evolving technology industry and boost your career prospects.
If you're new to IT and looking for a beginner-friendly guide, head over to our blog post on the "Top IT Certifications for Beginners." This comprehensive guide will help you kickstart your journey into the world of IT certifications.
Take advantage of these informative blogs to enhance your IT career. Happy learning!
Syazana Khan
A communications specialist and technology wordsmith with over 2 years experience in the IT and professional development training arena.