Top 5 IT Trends to Watch in 2022 – Part 1
Top 5 IT Trends to Watch in 2022 – Part 1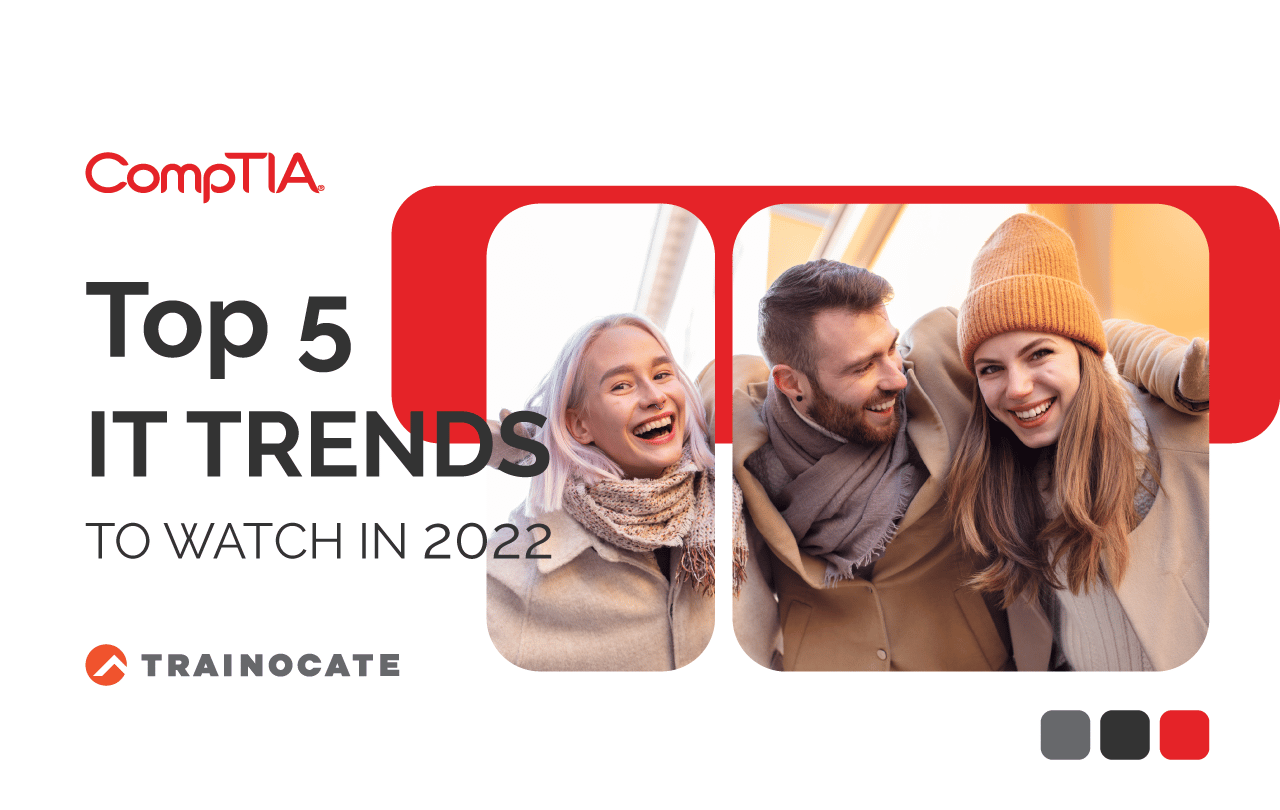 Keep your eyes peeled for these IT trends in 2022 
It's fair to say that predicting the course of your business' future has been tough over the last two years. The overwhelming feeling of unpredictability and uncertainty has ruled the world, leaving may companies and their workers on unfamiliar territory and unsure footing. This resulted in many firms sidelining their broader strategies and goals as means to stay afloat. They remained in tactical mode to ensure certain basic outcomes: Keep the lights on, pay your people, hold onto your customers, and, at minimum, maintain status quo revenue intake. Bide your time, in other words. 
However, history has taught us that staying in bunker mode is unsustainable and some point you will have no choice but to climb out of those fortified walls. Reassuringly, there are many sign that are pointing upwards and onwards as we began our exit and head into a post pandemic future in 2022. Holding onto cautious optimism, we navigate the evolved technology industry. The attitude lift is happening at both the IT professional level and among those in the business of technology – channel firms, vendors, distributors and the like. Similarly, tech budgets have been forecasted to increase in 2022, some to the heftier pre pandemic levels and beyond. This also means that expanded opportunities to hire and fill in skills gap that have held many businesses back from quite a number of ambitious pursuits in the last two years.
Along those lines, companies are beginning once again to talk up their plans to continue with or dive into emerging technologies or to fast-track digital transformation projects. On the channel side, firms are embracing the pivot to new business models to ensure both continued industry relevance, competitive differentiation and innovation in the years ahead. There's no doubt some firms took a hit in the last couple of years, and we can't discount still-looming concerns related to the global economy, the pandemic and the state of public affairs. And yet, 2022 is shaping up to be a year of not just recovery, but of acceleration and innovation. The new year brings us a return to strategy. 
This blog will highlight the top 5 trends to keep a close eye on. This will a two part series, done to ensure we get all the details down to the tee.  
---

The Who? What? Where and the How?
These questions are increasingly being bombarded by workforce operations across companies all over the globe as we enter the transition period out of the pandemic. The crux of the issue is that the what we have come to know as the workplace has changed – and quite possibly, for good.
The abrupt move from the orthodox office-based work to full-time work from home has revealed some upsides as well as downsides that companies will have to juggle and find a balance in the year ahead. Many employees are going to be taking into consideration factors that span across the psychological to the technological realm. As in the case of former, workplace studies over the last 18 months it has shown that many employees that have adjusted to working remotely for an extended period are demanding different requirements from their employers in how they approach post-pandemic normalcy.
Many have indicated that they prefer to remain 100% remote, whilst others have suggested a hybrid mode – alternating between remote and in office or any flexible arrangement that capitalizes on the fact technology enables many of them to work virtually from anywhere. From a technology perspective. remote work has placed new priorities on IT departments that have grown accustomed to managing a main headquarters with some satellites to a spider's web of residential homes. Many firms have also developed stand-up solutions to accommodate the impact of the pandemic and are now making them permanent for their employees. On the brighter side, channel firms have found renewed opportunity in selling hardware and edge-based security during the work-from-home mass migration, whilst managed service providers were summoned to help oversee the plethora of residential-based nodes on the networks.
One of the major shifts that occurred during the global catastrophe is the large digital transformation efforts that many decision makers had in their backburner for years.  A McKinsey Global Survey of executives found that companies have sped the digitization of their customer relations, supply chains and internal operations by three to four years. All these developments have shaken up the traditional workplace for many "office workers." These changes are said to continue well into 2022, and shows no signs of slowing down. 

Business travel has been a staple of the technology industry for decades.
Large scale conferences, coast-to-coast sales meetings, frequent business trips overseas, routine visits to the headquarters, you pretty much name it and a some corporate executive out there is probably having breakfast in Paris and dinner in Copenhagen, well, until the pandemic struck. The literal and figurative grounding was disorienting for some and liberating for a handful of others. Companies were forced to pivot overnight, and look for alternative solutions to, hence the omnipresent dings of Zoom calls, and Teams meetings, allowing us to see each other whilst working online.
During the long stretch of work-from-home setups, some epiphanies had occurred. Just as many office employees discovered that they could be just as productive at home as they were at the office, many also realized that business travels were not that essential either – at least not at the scale and frequency at which it had been occurring before. That's not to say that the desire to get back on the road has been quashed by all, but that there has not been any particularly distinctive business benefits that stems from having in-person meeting and conferences.
A Harvard Business Review Analytics Services and Egenice study from 2020, found that 60% of business leaders felt in-person collaboration is very important to innovation and delivering new products and services for their organization. The study touted having a strong travel culture. That said, business travel will be looking different in 2022 and beyond. Some of the changes that might occur included using ROI in making business travel decision, smaller, regional conferences will see a significant rise, and employees might get more empowered to say 'no' to travel requests. That being said, there has been a fairly large shared consensus that in person collaboration is imperative for innovation and in delivering new products and services for their organization.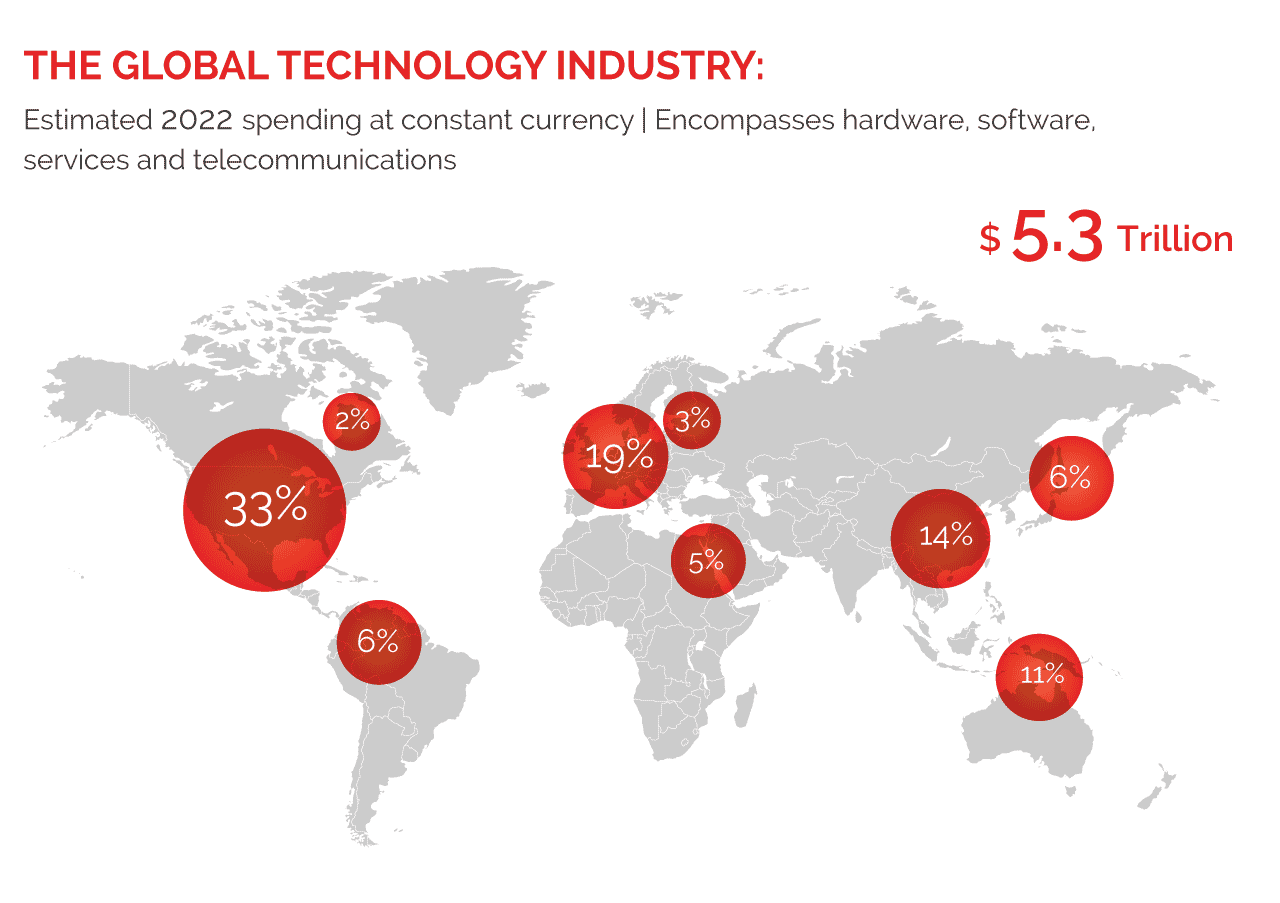 Regulation has been hovering over the tech industry for some time now.
With technology transforming society, tech firms have become an unprecedented behemoths across industry, this has in turn increased focus on curbing monopolistic practices and protecting consumer privacy. The introduction of new laws could become complicated for two reasons. The first is antitrust concepts – and even general business practices – differ from country to country. With technology able to cross borders more readily than any industry in the past, these cultural and philosophical differences get highlighted in new ways.  
The second is regulatory policy that often focuses on issues that may not be present in the digital economy. For example, laws that are built to address price gouging, are not necessarily applicable for free internet services. With all the complications, regulatory reform will likely be a slow process, and it will be critical for organizations to stay ahead of the curve so that they understand any potential impacts on operations. In the meantime, though, the ongoing debates between government and tech firms will add fuel to an old fire. Techlash has faded as a buzzword, but the sentiment is still very real (See Appendix for data on current techlash attitudes).  
Across the political spectrum, consumers and clients both continue to have concerns about the market power of tech giants and the way data is being handled. As regulation plays out on a public stage, the defensive arguments provided by tech firms may contribute to mistrust of technology. The challenge for everyone involved is to fully comprehend the unintended consequences of technology.  

One of the common IT narratives over the past several years has been the shrinking of the IT budget.
A great deal of Chief Information Officers (CIOs) are familiar with executing more, with less and this problem can be traced back to how IT was viewed traditionally, or back in the day. At the infancy of enterprise technology, IT was viewed as a tactical endeavor that was founded on the notion of providing a necessary foundation of high value business activity. From a fiscal standpoint, IT was seen as a cost center, where companies want to either maintain their existing capabilities with lower budgets or improve their capabilities whilst keeping the budget low to zero. This tactical approach has placed constant pressure on the IT budget, but businesses today must also think about technological strategically, which will alter the thinking surrounding technology related investments.
Introducing newfound capabilities can lead to product innovation or broader customer reach, and these capabilities come through new spending, not belt-tightening. However, new financial largesse may not always appear inside the budget of the IT department. Stealth IT, where business units procure their own technology, is one reason why overall technology budgets can be hard to track. Taking the concept one step further, technology can often be an embedded component of business solutions, and the technology portion may not be explicitly defined. 

For decades, the corporate mindset around cybersecurity had two primary characteristics.
The first was the notion of the secure perimeter. With IT assets all collocated, it made sense that companies would plan to protect the corporate network with a firewall and individual endpoints with antivirus. In recent years, there has been plenty of discussion about the erosion of this secure perimeter as companies have moved to cloud systems and mobile devices.  
The second characteristic was what led to a secure perimeter in the first place: a defensive approach. Businesses held several assumptions about cyber-attacks—they came from outside the organization, they were easily identifiable, they were relatively uncommon—and so these firms put all their energy and investment into building a strong defense. Those assumptions are no longer valid (if they ever were). It is clear now that cybersecurity breaches can remain on corporate networks for long periods of time, can be incredibly hard to detect, and can happen constantly. Even worse, the vulnerabilities that allowed the breaches in the first place might be unknown. While companies have taken several steps toward augmenting their secure perimeter, such as data loss prevention or identity and access management, moving toward a proactive mindset has taken longer.  
Momentum is building, though. Penetration testing has become a distinct role within cybersecurity team structure, and companies are seeking out new options such as cyber range exercises for training both red team (offense) and blue team (defense). Organizations are starting to realize that either internal resources or outside partners are needed to probe systems and find any weak spots. The biggest challenge is that offensive measures do not simply take the place of defensive measures. Both are necessary, and part of changing the cybersecurity mindset is accepting that intentional strategy and new investments will be required to create a modern security posture. 
---
CompTIA certifications are industry-leading credentials to start and grow your IT career. Whether you're looking for an entry-level IT certification to get your first IT job, or you want to boost your IT career with an advanced IT certification — such as in cybersecurity — CompTIA can help.
Source: CompTIA IT Industry Outlook 2022
Syazana Khan
A communications specialist and technology wordsmith with over 2 years experience in the IT and professional development training arena.