Microsoft Certified: Azure for SAP Workloads Specialty
Microsoft Certified: Azure for SAP Workloads Specialty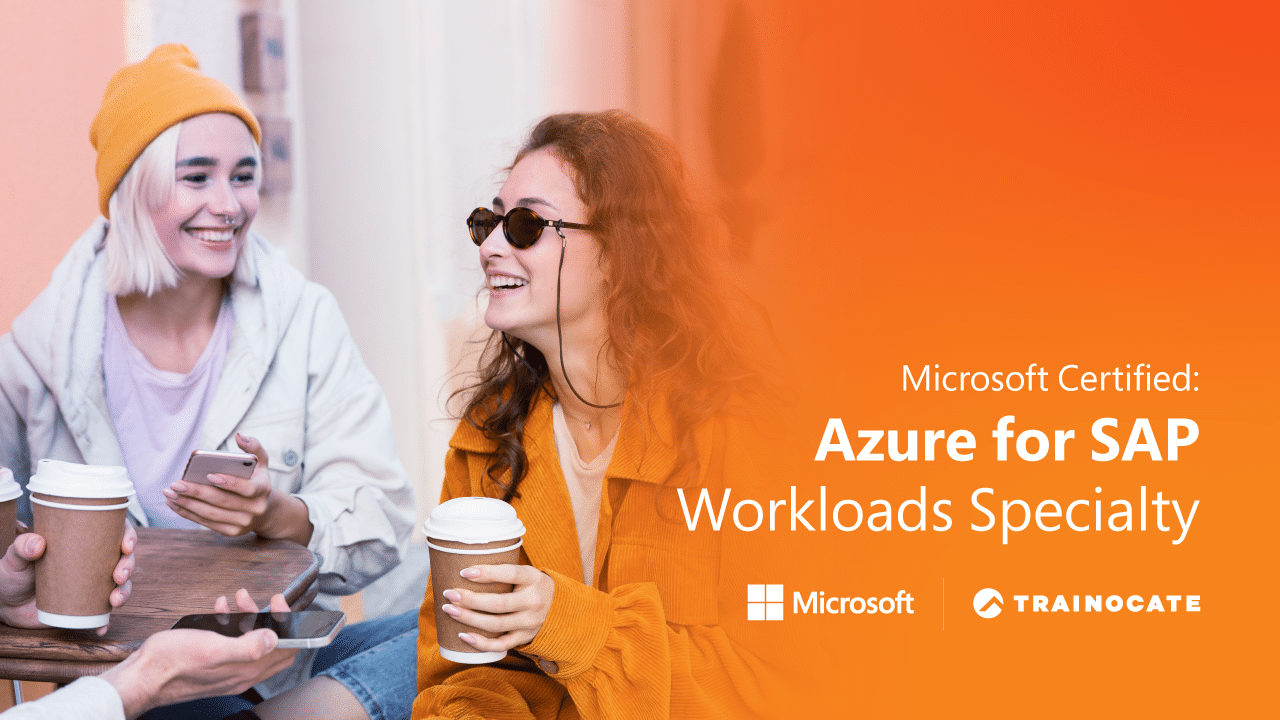 Gain the expertise that's key to the successful implementation, integration and extended operation of your SAP solution on Microsoft Azure.
Azure for SAP Workloads professionals boasts an unparalleled capability in the realm of SAP systems and associated industry standards. 
Unlock the potential of your organization with SAP solutions on Microsoft Azure. By leveraging the scalability, flexibility and cost savings offered by Azure, you can help organizations drive success. Show them how innovative you really are – become an architect or engineer certified in Azure for SAP workloads today. With this certification under your belt, demonstrate just how much value it is possible to bring to any team. 
If you're looking for an Azure certification that can help, take your professional responsibilities to the next level, this could be it. It allows you to confidently provide recommendations on services and adjust resources, so they are resilient enough to meet changing performance demands – all while connecting with cloud administrators, database admins and clients alike in order to bring solutions to fruition. 
Before we get into the details, let us first get a sense of what SAP is on Azure.  
SAP on Azure
Take the leap to business prowess with Azure and SAP. Harness their powers of intelligence, security, and reliability for your applications- all in one convenient cloud package.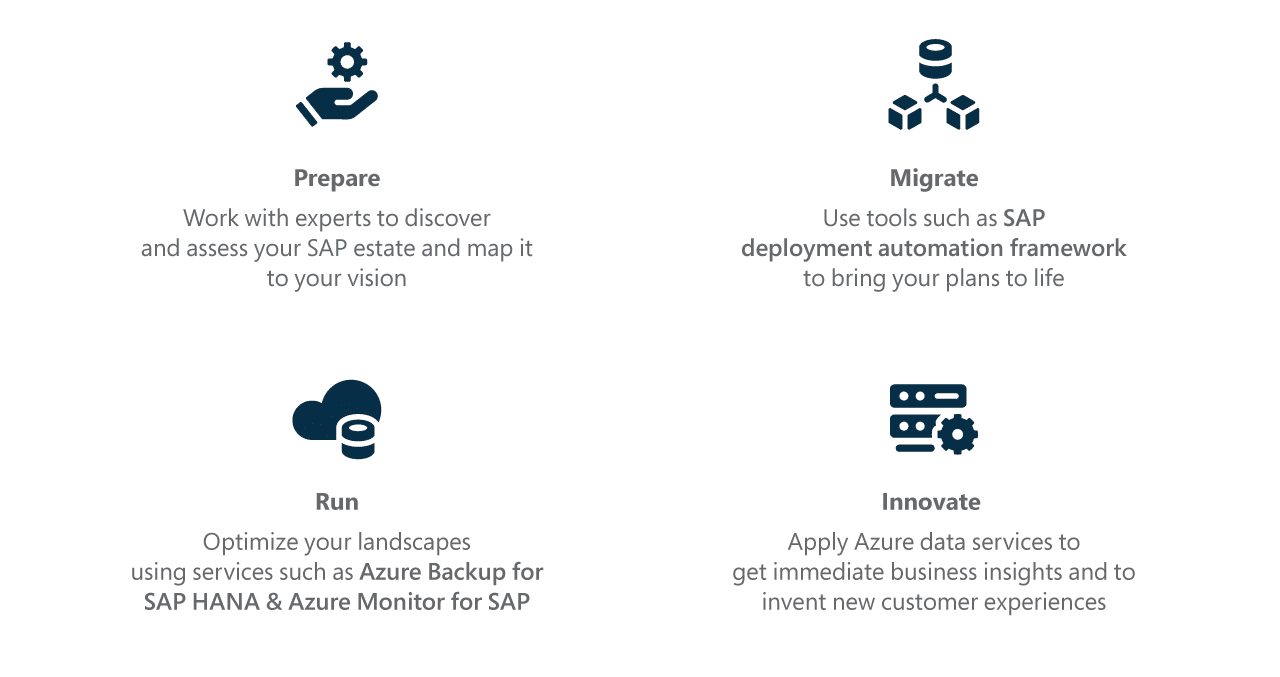 The need for more business flexibility and resilience has never been greater. Together, SAP and Microsoft are helping to accelerate the transformation of businesses of all shapes and sizes into intelligent and frictionless enterprises and to run in the cloud with confidence.  
"The case for digital transformation has never been more urgent. By bringing together the power of Azure and Teams with SAP's solutions, we will help more organizations harness the power of the cloud so they can more quickly adapt and innovate going forward." 

– Satya Nadella, CEO and Member of the Board of Directors, Microsoft Corp 
It's time to level up with Microsoft
Azure for SAP Workloads Specialty
Move your SAP workloads to the cloud with confidence. In this intensive course, experienced IT Professionals gain an in-depth understanding of how Azure resources can be applied for the successful planning and administering of Microsoft Azure for SAP solutions. You'll learn firsthand by diving into key concepts, scenarios, procedures and hands-on labs that cover virtual machines, networks storage accounts & more – empowering you to manage hybrid identities utilizing best practices as well as migration & operations on Azure. 
Looking to get the most out of Azure? Get equipped with tailored guidance on subscriptions, efficient virtual machine creation and scaling capabilities, optimized storage solutions, crafted virtual networking configs for maximum speed, dependable data backups & sharing tools, seamless interlinking between Azure and the locations of your on-site site, precise network traffic management techniques implementing cutting edge security measures such as Azure Active Directory. And don't forget about the comprehensive monitoring services so you can be assured that your solution is running like a well-oiled machine.  
What kind of knowledge and experience should you have?
This certification is designed for experienced professionals in SAP solutions, from the Azure portal to database systems. Candidates must demonstrate expertise across a range of key topics like virtualization and high availability design as well as deep knowledge on S/4HANA, BW/4HANA and other relevant cloud technology solutions. Those who hold this certification will have proven their mastery of these important industry toolsets and technologies. 
To obtain this certification, candidates must demonstrate their mastery as an Azure administrator and be familiar with Azure solutions architecture. For those looking to bolster their credentials even further, our recommended training can give them a jumpstart in the right direction. 
How can you get ready?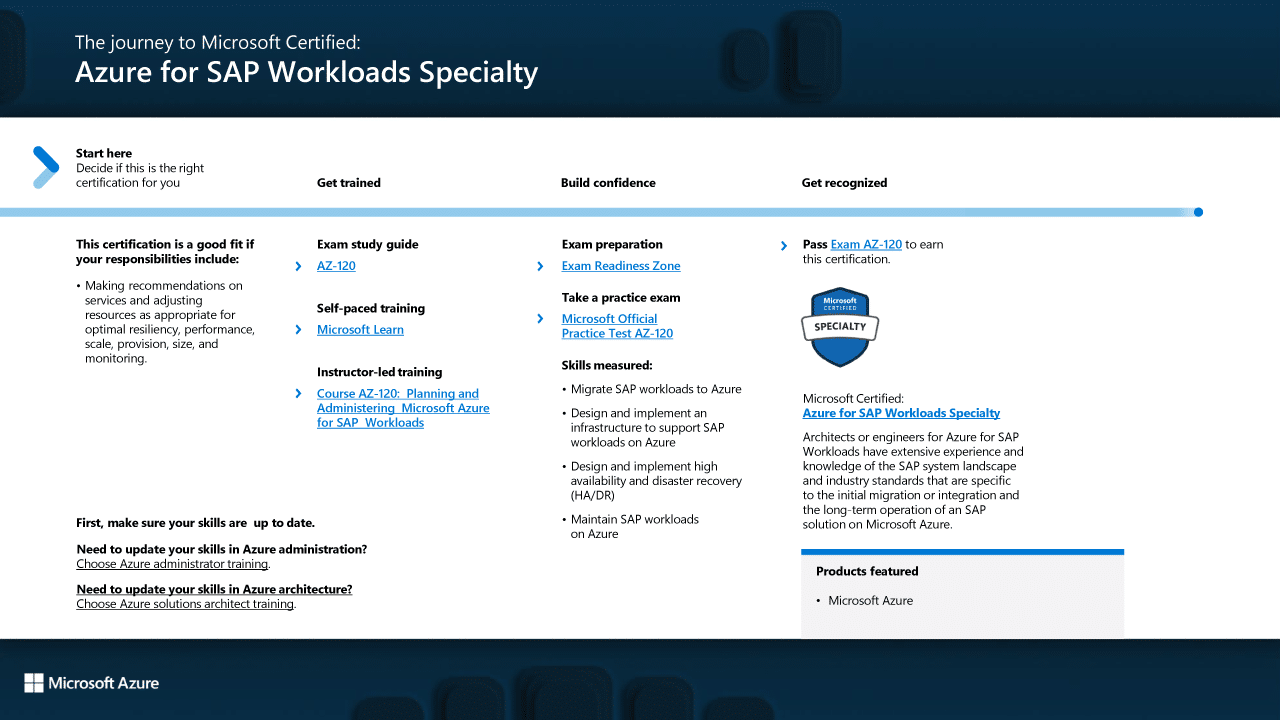 To help you plan your Azure certification journey forward, check out our infographic.  The journey to Upskill with Azure certifications. 

Skills Covered
After completing this course, students will be able to: 
Migrate and manage SAP applications (SAP HANA, S/4HANA, SAP NetWeaver) on Azure

 

Leverage Azure Portal, Cloud Shell, Azure PowerShell, CLI, Resource Manager, and Resource Manager Te

 

Use intersite connectivity features including VNet Peering, VNet-to-VNet connections, Site-to-Site C

 

Work with Azure Active Directory (AD), Azure AD Connect, and Azure AD Join, and Azure AD Identity

 
---
Most Popular Questions About Azure Certifications  
1) Are Microsoft Azure certifications worth it?  
Azure certifications offer IT, professionals, an edge in this cloud-based and connected world. Job seekers and seasoned professionals alike can use Azure certifications to help advance their career—in their existing organization and role or in new ones—earn recognition, and validate their technical knowledge and abilities in current and future industry job roles and organizations can use certifications to identify the talent they need and build the technical skills of their workforce  
2) How do Microsoft Azure certifications benefit me?  
Azure certifications are globally recognized and industry-endorsed. They're used both by job seekers (individuals) and by talent seekers (organizations) as a way to validate that a candidate has the skills to do the job. They're a powerful differentiator in the quest to match skilled talent to key jobs in the digital age.  
Whether you're looking to level up your career or to jump-start a new one, you can use Azure certifications to build and validate your technical knowledge and abilities in the modern cloud environment. In these unsettling times, earning your Microsoft Certification can help provide you with the edge you need with organizations that are seeking skilled talent.  
3) Why are Microsoft Azure certifications so important in today's landscape?  
Azure is the most widely used cloud computing platform, leading the cloud industry forward globally. A large majority of organizations and enterprises – small and big, have made the leap towards embracing cloud technology. This paradigm shift has also revealed that organizations want to remain competitive as the demand for cloud-based and centred solutions grows daily, directly affecting the need for technology professionals with cloud knowledge.  
Microsoft has been at forefront of ensuring that the global workforce is prepared to take on this substantial task by validating and certifying top applicants who are the best suited for a specific job position, according to Microsoft. Microsoft certifications can undoubtedly add value to a candidate's professional journey as most businesses now prefer to have prospective employees with certifications on tow.  
4) What are the available levels of Azure credentials?  
There are four levels of Microsoft certifications Azure Certification path levels, covering beginner to expert level azure cloud certification.  
Fundamentals

 – If you are a beginner, your Azure journey will start with 

Azure Fundamentals

 certification. Candidates with a non-technical backdrop can also step into cloud computing through these certifications. 

 

Associate

 – Candidates who have a fair idea of Azure can aim toward associate certifications. 

 

Expert

 

– You can obtain an expert certification if you have experience, a solid comprehension of the subject, and associate-level familiarity with Azure. 

 

Specialty

 

– It is the highest level Azure certification. Candidates can opt for this Azure certification if they want to apply for roles like Azure IOT Developer Specialty and Azure for SAP Workloads. 

 
5) Will Azure work for my industry?   
Azure provides solutions for all industries, through proven combinations of cloud products and services. Address your industry-specific business challenges today, and prepare for the future by innovating with Azure solutions.   
6) How does Azure compare to other clouds?   
Azure is the only consistent hybrid cloud, that delivers unparalleled developer productivity, provides comprehensive, multilayered security, including the largest compliance coverage of any cloud provider, and you'll pay less for Azure as AWS is five times more expensive than Azure for Windows Server and SQL Server.   
7) What is covered in the AZ-120 certification exam?
Candidates for this exam have extensive experience with and knowledge of the SAP system landscape and industry standards that are specific to the initial migration or integration and the long-term operation of an SAP solution on Microsoft Azure. This exam measures your ability to accomplish the following technical tasks: migrate SAP workloads to Azure; design and implement an infrastructure to support SAP workloads on Azure; design and implement high availability and disaster recovery; and maintain SAP workloads on Azure.
8) What is the role of architects/engineers for Azure for SAP workloads?
Responsibilities for architects or engineers for Azure for SAP workloads include making recommendations on services and adjusting resources as appropriate for optimal resiliency, performance, scale, provision, size, and monitoring.
Architects or engineers for Azure for SAP workloads partner with cloud administrators, cloud database administrators, and clients to implement solutions.
---
Microsoft Certifications: A competitive advantage you should consider
With a Microsoft Certification, professionals are equipped with the cutting-edge knowledge needed to thrive in today's digital and cloud business landscape. With its global recognition across industries, it can provide those who have earned their credentials an invaluable competitive edge when advancing professionally. 
Now's your chance to take the next step in career advancement with Microsoft Certifications. Unlock new opportunities and gain industry-recognized credentials – you have everything to gain. 
Syazana Khan
A communications specialist and technology wordsmith with over 2 years experience in the IT and professional development training arena.