Microsoft Certified: Azure Solutions Architect Expert
Microsoft Certified: Azure Solutions Architect Expert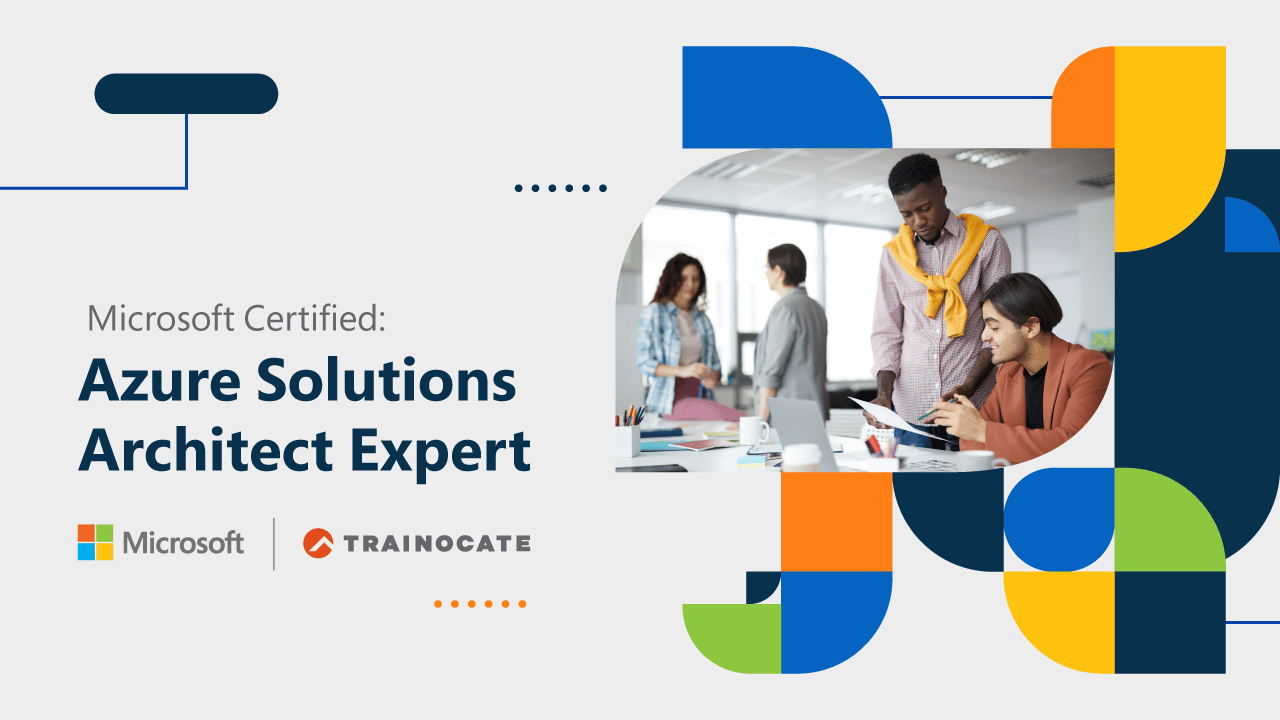 No longer are organizations at the whims of traditional IT solutions – cloud computing has revolutionized how work gets done. This new era brings incredible opportunities, though it also requires businesses to adjust their strategies in order to meet the modern challenges that come with this shift. From automated deployments and secure data protection against malicious actors, to building robust applications capable of handling traffic spikes or recovering from failure scenarios- any organization seeking success must be prepared for a transformed digital landscape.  
As organizations strive for success, it's essential to balance risk and cost with capabilities that continue to drive business value. Microsoft Azure solutions architects possess the expertise needed when shifting from traditional IT infrastructure models—like migrating an existing system or building a new one—and leveraging cloud-based architecture in order to ensure resource efficiency and security compliance. The power of the cloud has revolutionized how businesses can tackle their technology needs while improving agility, scalability, reliability, performance 
The Azure solutions architect is one of the most essential players in achieving success with cloud solutions. To further equip them for their role, an updated certification better reflects modern demands and provides architects with a greater potential to thrive. 
Prior knowledge – yes, or no?
For all the ambitious IT, developer and data pros out there – Azure Solutions Architect Certification is your ticket to reign over end-to-end cloud solutions. Fusing infrastructure needs with apps & security considerations – this expert-level certification will be sure to test every bit of knowledge you possess! This cutting-edge qualification should not be underestimated though; it requires an in-depth understanding of administration, and DevOps processes as well as app and data design/architecture skills depending upon which side you're coming from – so don't forget to brush up on those weaker areas before applying.  
With knowledge and confidence in your administrative and development background, you can reach the next level of IT operations. Unlock expertise by mastering Azure networking, virtualization, identity security systems, and business continuity initiatives for disaster recovery plans better than ever before – plus data platform administration know-how to boot. Execute properly informed decisions that produce an optimized overall solution from every area. 
How can you get ready?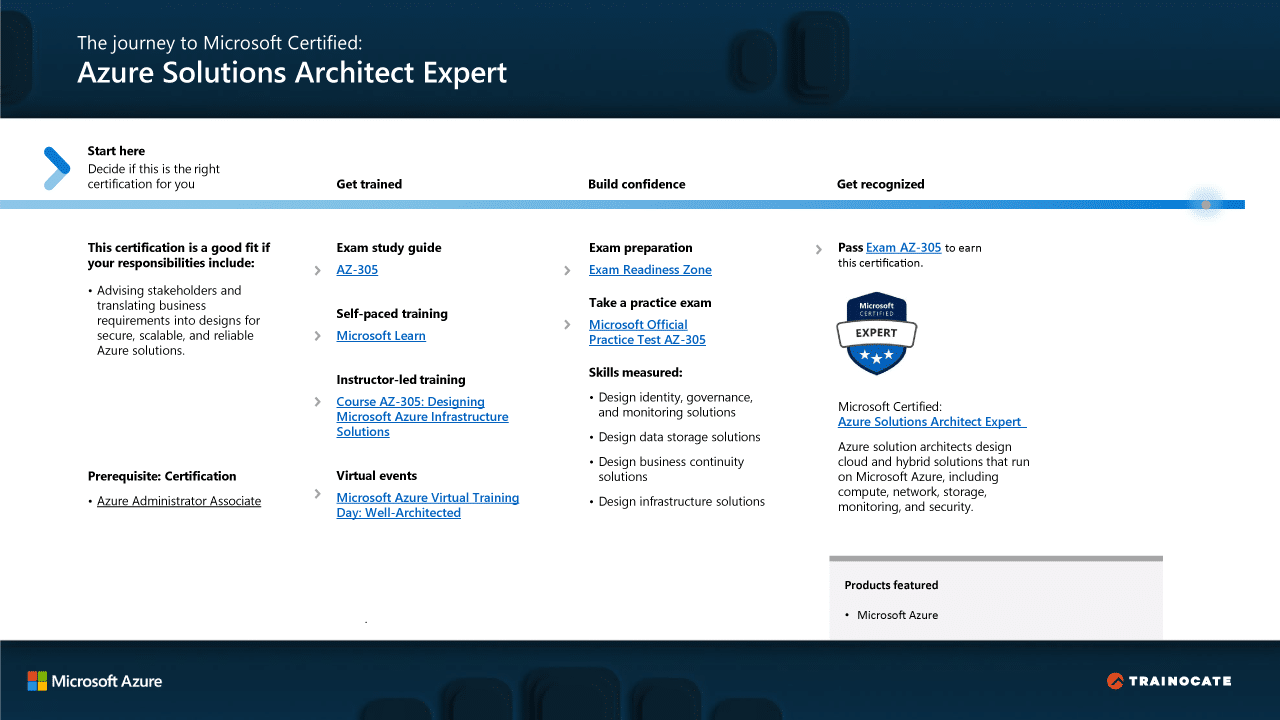 Your paths to earning the Azure Solutions Architect Expert certification
Whether you're well along on your certification journey or you're just starting out, to become a Microsoft Certified: Azure Solutions Architect Expert, candidates need to earn or have a current Microsoft Certified: Azure Administrator Associate certification and pass the AZ-305: Designing Microsoft Azure Infrastructure Solutions exam.
To help you plan your journey, check out our infographic, The journey to Microsoft Certified: Azure Solutions Architect Expert.   
Skills Covered
Design a governance solution.

 

Design a compute solution.

 

Design an application architecture.

 

Design storage, non-relational and relational.

 

Design data integration solutions.

 
Skills measured
Design identity, governance, and monitoring solutions (25-30%)
Design data storage solutions (25-30%)
Design business continuity solutions (10-15%)
Design infrastructure solutions (25-30%)
---
Most Popular Questions About Azure Certifications 
1) Are Microsoft Azure certifications worth it?  
Azure certifications offer IT, professionals, an edge in this cloud-based and connected world. Job seekers and seasoned professionals alike can use Azure certifications to help advance their career—in their existing organization and role or in new ones—earn recognition, and validate their technical knowledge and abilities in current and future industry job roles and organizations can use certifications to identify the talent they need and build the technical skills of their workforce  
2) How do Microsoft Azure certifications benefit me?  
Azure certifications are globally recognized and industry-endorsed. They're used both by job seekers (individuals) and by talent seekers (organizations) as a way to validate that a candidate has the skills to do the job. They're a powerful differentiator in the quest to match skilled talent to key jobs in the digital age.  
Whether you're looking to level up your career or to jump-start a new one, you can use Azure certifications to build and validate your technical knowledge and abilities in the modern cloud environment. In these unsettling times, earning your Microsoft Certification can help provide you with the edge you need with organizations that are seeking skilled talent.  
3) Why are Microsoft Azure certifications so important in today's landscape?  
Azure is the most widely used cloud computing platform, leading the cloud industry forward globally. A large majority of organizations and enterprises – small and big, have made the leap towards embracing cloud technology. This paradigm shift has also revealed that organizations want to remain competitive as the demand for cloud-based and centred solutions grows daily, directly affecting the need for technology professionals with cloud knowledge.  
Microsoft has been at forefront of ensuring that the global workforce is prepared to take on this substantial task by validating and certifying top applicants who are the best suited for a specific job position, according to Microsoft. Microsoft certifications can undoubtedly add value to a candidate's professional journey as most businesses now prefer to have prospective employees with certifications on tow.  
4) What are the available levels of Azure credentials?  
There are four levels of Microsoft certifications Azure Certification path levels, covering beginner to expert level azure cloud certification.  
Fundamentals

 – If you are a beginner, your Azure journey will start with 

Azure Fundamentals

 certification. Candidates with a non-technical backdrop can also step into cloud computing through these certifications. 

 

Associate

 – Candidates who have a fair idea of Azure can aim toward associate certifications. 

 

Expert

 

– You can obtain an expert certification if you have experience, a solid comprehension of the subject, and associate-level familiarity with Azure. 

 

Specialty

 

– It is the highest level Azure certification. Candidates can opt for this Azure certification if they want to apply for roles like Azure IOT Developer Specialty and Azure for SAP Workloads. 

 
5) Will Azure work for my industry?   
Azure provides solutions for all industries, through proven combinations of cloud products and services. Address your industry-specific business challenges today, and prepare for the future by innovating with Azure solutions.   
6) How does Azure compare to other clouds?   
Azure is the only consistent hybrid cloud, that delivers unparalleled developer productivity, provides comprehensive, multilayered security, including the largest compliance coverage of any cloud provider, and you'll pay less for Azure as AWS is five times more expensive than Azure for Windows Server and SQL Server.   
7) What is the role of an Azure Solution Architect?   
An Azure solutions architect partners with developers, administrators, and other roles responsible for implementing solutions on Azure. Responsibilities for this role include advising stakeholders and translating business requirements into designs for secure, scalable, and reliable Azure solutions.
8) What are the topics covered in the AZ-305 exam? 
This exam measures your ability to accomplish the following technical tasks: design identity, governance, and monitoring solutions; design data storage solutions; design business continuity solutions; and design infrastructure solutions.
---

---
It's time to level up!
Microsoft Azure Solutions Architect Expert certification is the key to unlocking a world of possibilities for your career.
Earning a Microsoft Certification can validate your skills and help you stay ahead of the curve with today's technology. Plus, there are many other benefits to becoming certified, like job satisfaction and even a salary increase. Check out our blog post for 10 good reasons to earn your Microsoft certification in 2023.
Ready yourself for the ever-evolving world of business and rise to be a leader by getting certified in Azure Solutions Architecture. Demonstrate your value to an organization with secure, reliable solutions that use best practices – built on Azure technology that will stand strong today, as well as into tomorrow's future. 
Syazana Khan
A communications specialist and technology wordsmith with over 2 years experience in the IT and professional development training arena.