How you benefit from AWS Certifications and Training in 2022
How you benefit from AWS Certifications and Training in 2022
Introducing you to AWS Cloud Computing 
Let us first start by introducing you to the AWS Cloud Computing universe. Amazon Web Services (AWS) is the world's most comprehensive and broadly adopted cloud platform, offering over 200 fully featured services from data centers globally. Millions of customers—including the fastest-growing startups, largest enterprises, and leading government agencies—are using AWS to lower costs, become more agile, and innovate faster.  
Why choose AWS Cloud Computing?  
1) Most functionality 
AWS has significantly more services, and more features within those services, than any other cloud provider–from infrastructure technologies like compute, storage, and databases–to emerging technologies, such as machine learning and artificial intelligence, data lakes and analytics, and Internet of Things. This makes it faster, easier, and more cost effective to move your existing applications to the cloud and build nearly anything you can imagine. 
2) Largest community of customers and partners 
AWS has the largest and most dynamic community, with millions of active customers and tens of thousands of partners globally. Customers across virtually every industry and of every size, including startups, enterprises, and public sector organizations, are running every imaginable use case on AWS. The AWS Partner Network (APN) includes thousands of systems integrators who specialize in AWS services and tens of thousands of independent software vendors (ISVs) who adapt their technology to work on AWS. 
3) Most secure 
AWS is architected to be the most flexible and secure cloud computing environment available today. Our core infrastructure is built to satisfy the security requirements for the military, global banks, and other high-sensitivity organizations. This is backed by a deep set of cloud security tools, with 230 security, compliance, and governance services and features. AWS supports 90 security standards and compliance certifications, and all 117 AWS services that store customer data offer the ability to encrypt that data. 
4) Fastest pace of innovation 
With AWS, you can leverage the latest technologies to experiment and innovate more quickly. We are continually accelerating our pace of innovation to invent entirely innovative technologies you can use to transform your business. For example, in 2014, AWS pioneered the serverless computing space with the launch of AWS Lambda, which lets developers run their code without provisioning or managing servers. And AWS built Amazon SageMaker, a fully managed machine learning service that empowers everyday developers and scientists to use machine learning–without any previous experience. 
5) Most proven operational expertise 
AWS has unmatched experience, maturity, reliability, security, and performance that you can depend upon for your most important applications. For over 15 years, AWS has been delivering cloud services to millions of customers around the world running a wide variety of use cases. AWS has the most operational experience, at greater scale, of any cloud provider. 
Make this year your year to catapult your organization towards cloud fluency
Businesses are increasingly needing individuals with cloud skills to help transform their organizational practices. AWS Training and Certification helps you build and validate your skills so you can get more out of the cloud. Our content is created by experts at AWS and updated regularly so you can keep your cloud skills fresh.
Whether you are just starting out, building on existing IT skills, or sharpening your cloud knowledge, AWS Training and Certification can help you be more effective and do more in the cloud. 
Learn what AWS customers and partners are saying about AWS Training and Certification, and what it means to their business and careers. 
What is the Value of Being AWS Certified?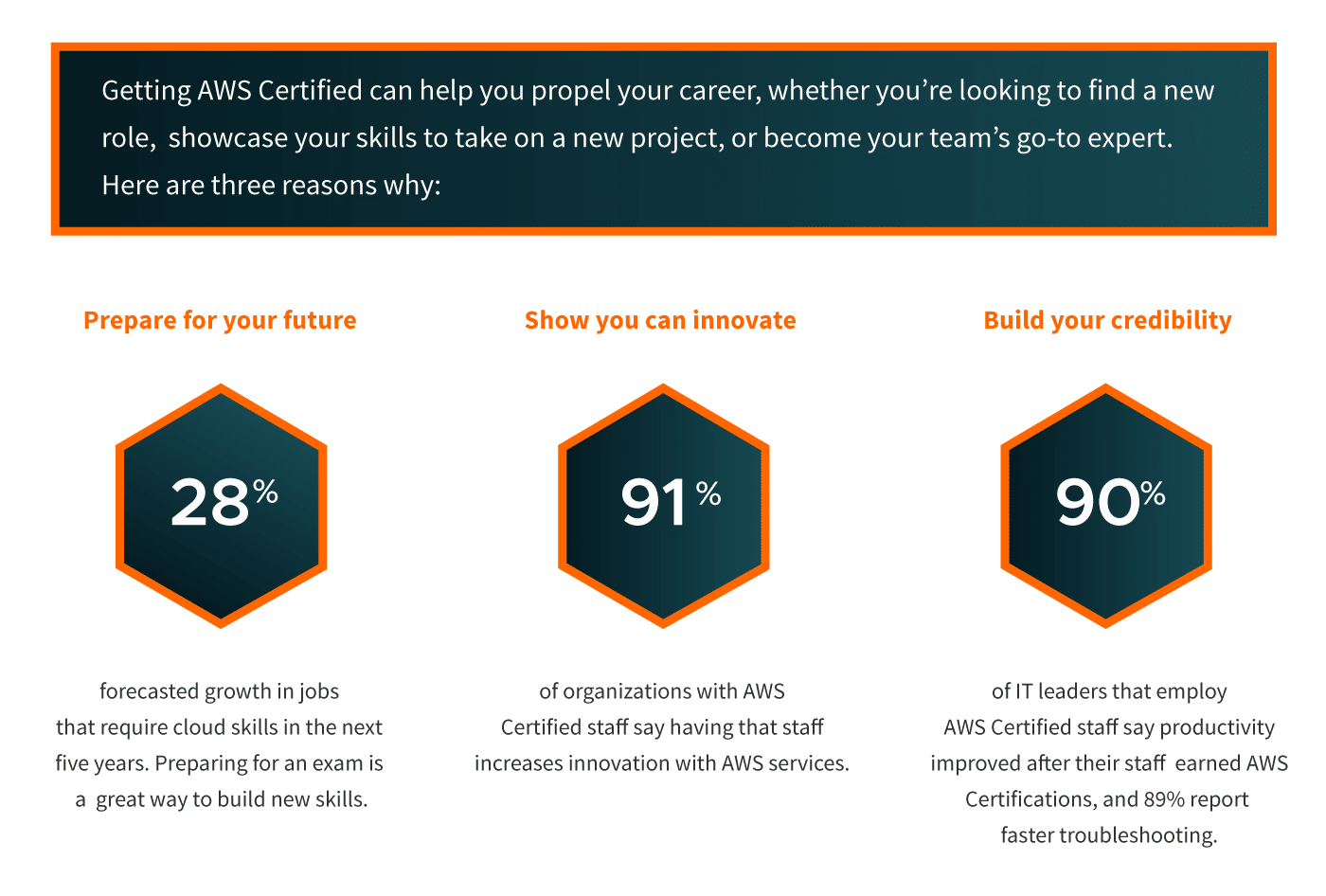 .
AWS Associate Level  
1) AWS-ARC: Architecting on AWS 
Architecting on AWS is for solutions architects, solution-design engineers, and developers seeking an understanding of AWS architecting. In this course, you will learn to identify services and features to build resilient, secure, and highly available IT solutions on the AWS Cloud. 
2) AWS-SYSOPS: Systems Operations on AWS 
Learn how to configure, deploy, maintain, and troubleshoot your AWS environments. Gain expertise required to automate resource deployment using AWS services such as AWS CloudFormation and AWS Service Catalog as well as managing permissions and track activity in your cloud environment using AWS services such as AWS CloudTrail and AWS Config. 
Grow your technical skills in developing cloud applications on AWS as you learn about cloud developers and serverless fundamentals, containers, and more. 
Learn how to use the AWS SDK to develop secure and scalable cloud applications in this 3-days expert-led AWS training. 
AWS Professional Level 
4) AWS-ADVARC: Advanced Architecting on AWS 
Advanced Architecting on AWS is intended for individuals who are experienced with designing scalable and elastic applications on the AWS platform. Building on concepts introduced in Architecting on AWS, this course covers how to build complex solutions that incorporate data services, governance, and security on AWS. 
5) AWS-ADV-DEV: Advanced Developing on AWS 
This three-day course covers advanced development topics such as architecting for a cloud-native environment, deconstructing on-premises legacy applications, and repackaging them into cloud-based, cloud-native architectures. It also covers how to apply the tenets of the Twelve-Factor Application methodology. 
6) AWS-DEVOPS: DevOps Engineering on AWS 
DevOps Engineering on AWS teaches you how to use the combination of DevOps cultural philosophies, practices, and tools to increase your organization's ability to develop, deliver, and maintain applications and services at high velocity on AWS. This course covers Continuous Integration (CI), Continuous Delivery (CD), infrastructure as code, microservices, monitoring and logging, and communication and collaboration. 
Ramp Up with AWS in 2022 
You can benefit from a wide range of expert insights, resources, and programs as you progress toward achieving AWS Cloud Certification. Whether you are just starting out or adding another certification, AWS can help you effectively validate your cloud expertise. 
What better way than to welcome the year of the tiger signifying ambition, drive, and progress by getting certified and jumpstarting your career? We would like to help kickstart your learning journey with our Chinese New Year Promo Deals.  
---
You can benefit from a wide range of expert insights, resources, and programs as you progress toward achieving AWS Certification. Whether you're just starting out or adding another certification, AWS can help you effectively validate your cloud expertise.
Learn the fundamentals and start building on Amazon Web Services
Syazana Khan
A communications specialist and technology wordsmith with over 2 years experience in the IT and professional development training arena.