Are AWS Certifications Worth It in 2023?
Are AWS Certifications Worth It in 2023?
The Crucial Role of AWS Certifications
The past decade has seen an explosion in the use of the public cloud. This is no surprise; with its ability to enable the quicker deployment, more agile resource management and access to innovative services, all underpinned by flexible pricing models, it's clear why so many organizations are turning towards clouds for their IT infrastructure. As cloud computing skills are being listed as one of the top IT skills in 2023, what they must also realize though is that such a shift demands IT teams capable of adapting how they manage these resources as they move away from traditional infrastructure towards the world of cloud computing.
Organizations wishing to thrive in a cloud-first IT landscape would have the opportunity to provide their staff with an indispensable advantage with AWS Certifications. With these credentials, teams can confidently demonstrate that they possess the necessary knowledge and expertise for success on quick digital transformation journeys powered by AWS solutions.
Amazon Web Services certifications are often in question in terms of their ability to help individuals obtain jobs. Some believe that their AWS certifications were vital in helping them to stand out amongst other applicants. Others believe their AWS certificates to have been largely insignificant.
So, what's the real answer? Are AWS certifications worth it in 2023? We're going to discuss that question in detail below, helping you decide whether you should become AWS certified.
Why Get AWS Certified in 2023?
There are a number of reasons to obtain AWS certification. Here are some of the most prominent of these reasons.
Cloud Computing Is Growing By the Day
Many businesses and organizations are turning to cloud computing solutions to improve their operations and reduce their IT costs. The global cloud computing market is expected to continue growing in the coming years, driven by factors such as the increasing adoption of cloud services by small and medium-sized businesses, the growing demand for big data and analytics, and the increasing use of mobile devices.
With cloud computing on the rise, having expertise in Amazon Web Services (AWS) is sure to give you a professional edge. According to Fortune Business Insights, this field will see rapid expansion over the next decade with an impressive CAGR of 19.9% predicted by 2029; creating an abundance of job opportunities within this sector for those who are prepared!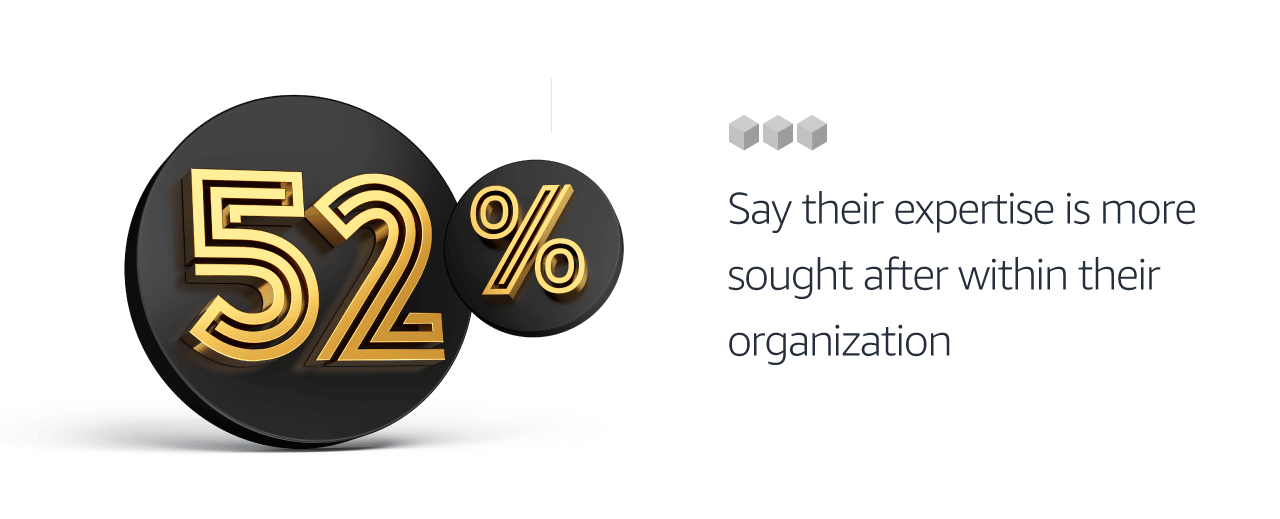 Credit: Amazon Web Services
You'll Learn Vital Cloud Skills
Cloud skills are in demand and organizations need teams with cloud skills. According to LinkedIn's The Skills Companies need most in 2019, cloud computing is the #1 hard skill companies need.
As cloud-based technologies grow ever more popular, the need for engineers who can keep up is higher than ever and employers are searching far and wide to find those with expertise in this vital pursuit.
You'll Demonstrate Expertise of Cloud Computing
An AWS certification can be a game-changer when it comes to landing the job of your dreams especially for roles related to AWS cloud. Earning one proves that you have an in-depth understanding of cloud computing, giving employers confidence and assurance when making their hiring decisions. Acquiring this credential also demonstrates that you put forth the effort needed for success – something potential employers will find highly desirable!
You'll Unlock Your Financial Potential
If you're looking to increase your income potential, earning an AWS certificate will give you that edge in the job market. With more employers embracing cloud computing, having a proven ability with AWS technologies and showcasing to potential employers that you have the skillset of operating and managing on this platform will give them confidence in your ability – setting yourself far ahead of other applicants for those exceptionally rewarding positions!
AWS Is the Leading Cloud Computing Platform
The last reason to obtain an AWS certification is that AWS is the leading cloud computing platform. More users use AWS than any other cloud computing platform in existence. This is so not only because of Amazon's sterling reputation but because the AWS platform is easy to use and only requires you to pay for the amount of data that you utilize.
In all likelihood, AWS will continue to lead the way for cloud computing over the next decade and perhaps even beyond as well. Therefore, if your profession involves cloud computing, you should have a thorough understanding of AWS.
AWS Certification Types
There are 4 core AWS certifications in existence. There are also a handful of specialty certifications. We'll discuss the specifics of each below.
Foundational Certification
The foundational certification covers an overall understanding of the AWS ecosystem and is intended for individuals who seek an overall understanding of the AWS Cloud, independent of specific technical roles. It provides a detailed overview of cloud concepts, AWS services, security, architecture, pricing, and support.
The target audiences for this course includes sales, legal, marketing, and finance professionals; business analysts; project managers; and learners in other IT-related roles.
Associate-level Certification
AWS Associate-level certifications validate the skills and knowledge required for specific roles critical for organizations with workloads running on AWS. Candidates for these role-based, Associate-level certifications should have at least one year of hands-on experience.
There are currently 3 Associate-level credentials namely:
AWS Certified Solutions Architect – Associate: Earning AWS Certified Solutions Architect – Associate shows you have the skills to design and implement distributed systems on AWS. Highlight your ability to design resilient, high-performing, secure, and cost-optimized architectures.
AWS Certified Developer – Associate: Earning AWS Certified Developer – Associate shows you have the skills to develop, deploy, and debug cloud-based applications using AWS. Highlight your ability to write applications with AWS service APIs, AWS Command Line Interface (CLI), and SDKs, use containers, and deploy with a CI/CD pipeline.
AWS Certified SysOps Administrator – Associate: Earning AWS Certified SysOps Administrator – Associate shows you have the skills to support and maintain AWS workloads. Highlight your experience in AWS optimization strategies, network configuration, and security implementation and compliance policies.
Professional Certification
Next up the totem pole is the AWS Professional-level certification. These credentials shows expertise in the AWS platform and indicates that those who've earned it are able to perform high-complexity tasks such as systemization and automation.
Before working to obtain this certification, you're advised to have 2 years of experience in the AWS platform. If you don't have this level of experience, you'll likely struggle to perform the necessary tasks.
Note that there are two types of Professional certifications:
AWS Certified DevOps Engineer – Professional: This credential demonstrates your expertise in continuous delivery, security controls, governance, compliance, monitoring, metrics, and logging as well as automated operational processes. Highlight your ability to increase velocity and agility with automated testing and deployment.
AWS Certified Solutions Architect – Professional: This credential validates your expertise in the design, deployment, and evaluation of applications on AWS that are dynamically scalable, highly available, secure, cost-optimized, fault-tolerant, resilient, and reliable. Highlight your ability to design solutions that meet diverse, complex requirements.
Specialty Certification
AWS Specialty certifications validate skills in specific technical areas. These credentials are meant to highlight areas of focus and unique expertise to complement role-based skills and are targeted at professionals who intend to obtain deep expertise within a specific topic area.
There are 5 AWS Specialty certifications currently offered by AWS:
AWS Certified Advanced Networking – Specialty: This credential validates expertise in designing and maintaining network architecture for the breadth of AWS services.
AWS Certified Data Analytics – Specialty: This credential validates expertise in using AWS data lakes and analytics services to get insights from data.
AWS Certified Database – Specialty: This credential validates expertise in recommending, designing, and maintaining optimal AWS database solutions.
AWS Certified Machine Learning – Specialty: This credential validates expertise in building, training, tuning, and deploying machine learning models on AWS.
AWS Certified Security – Specialty: This credential validates expertise in securing data and workloads in the AWS Cloud
AWS Certifications can serve as milestones on your journey, as external validation of your progress, and as a straightforward way to signal to your network the expertise you are building. So while this may be one of many steps on your toward your goal – getting AWS Certified can help you chart that path and communicate your progress.
Looking for certifications for beginners?
If you're new to the IT field and seeking certifications that don't focus around cloud computing, we have exactly what you need! Explore our blog post on "Top IT Certifications for Beginners" to find a variety of certification options that focus on areas other than cloud technology.
Make the most of these informative resources to kickstart your journey into the world of IT certifications. Happy learning!

Kevin Boey
Kevin is the Head of Marketing & IT for Trainocate with over 17 years of working experience with Malaysia's largest EdTech provider specializing in Information Technology & Human Development Competency solutions.