Stand out in the IT job market with these Top 8 Developer Certification courses
Stand out in the IT job market with these Top 8 Developer Certification courses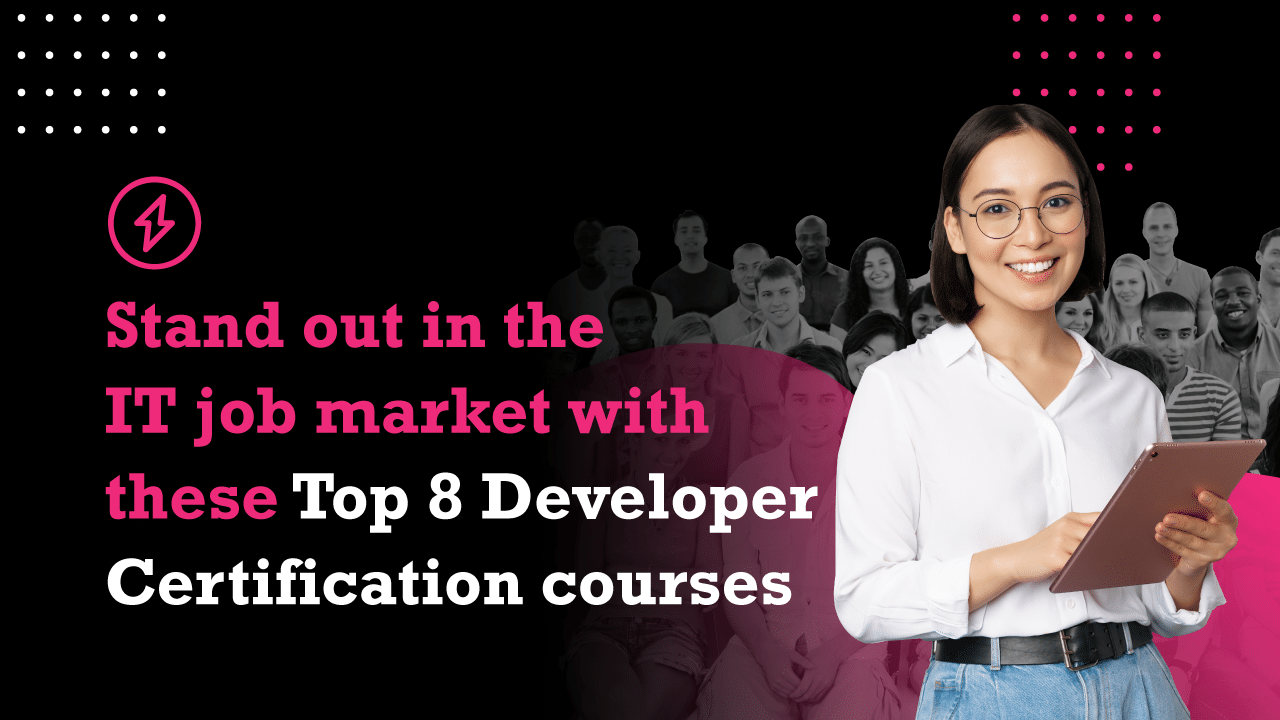 Explore The Top 8 Developer Certification Courses
In today's competitive IT job market, it can be challenging for developers to stand out from the crowd and land their dream job. Even with years of experience and a strong skill set, many employers now require certification to prove a candidate's knowledge and expertise.
Fortunately, there are many top developer certifications available that can give professionals a competitive edge and help them achieve their career goals.
In this article, we'll explore the benefits of eight popular developer certifications and why they are worth considering.
Here are three key points why investing in developer certification is worthwhile:
1. Competitive edge:
Earning a developer certification can give you a competitive edge over other professionals in your field. It demonstrates to potential employers that you have a higher level of expertise and knowledge in your area of specialty, which can make you stand out in the job market.
2. Career advancement:
Developer certification can help you advance in your career by opening up new job opportunities, expanding your skill set, and increasing your earning potential. Certification can be particularly valuable if you are looking to move into a leadership or management role.
3. Professional development:
Investing in developer certification is a way to invest in your own professional development. Certification programs offer structured learning opportunities that can help you stay up-to-date with the latest trends and best practices in your industry. Additionally, the process of studying for and earning a certification can help you develop new skills and gain a deeper understanding of your field.
Invest in Your Career Growth
with
These 8 Highly Recommended Courses:
This AWS Certified Developer – Associate certification course showcases knowledge and understanding of core AWS services, uses, and basic AWS architecture best practices, and proficiency in developing, deploying, and debugging cloud-based applications by using AWS. Preparing for and attaining this AWS certification gives certified individuals more confidence and credibility. Organizations with AWS Certified developers have the assurance of having the right talent to give them a competitive advantage and ensure stakeholder and customer satisfaction.
This Microsoft Certified: Azure Developer Associate certification course teaches developers how to create end-to-end solutions in Microsoft Azure. Students will learn how to implement Azure compute solutions, create Azure Functions, implement and manage web apps, develop solutions utilizing Azure storage, implement authentication and authorization, and secure their solutions by using KeyVault and Managed Identities.
The Google Cloud Professional Cloud Developer certification is designed for developers who design, build, and deploy applications on the Google Cloud platform. This certification validates the developer's ability to use Google Cloud technologies to build scalable, reliable, and highly available applications. By earning this certification, developers can demonstrate their expertise with Google Cloud to potential employers, and gain access to a community of Google Cloud professionals.
Software development is core to the digital transformation in organizations around the world. Companies are investing in evolving technology such as Power Platform, and they need devs who understand the next generation of automation. If you have a passion for designing, developing, securing, and extending Microsoft Power Platform solutions, this Microsoft Certified: Power Platform Developer Associate certification could be for you.
The Certified Secure Developer certification is designed for developers who want to learn how to build secure software applications. This certification aims to help developers become skilled in writing secure code, regardless of the programming language they use. Many developers have a desire to write secure code but lack the necessary knowledge to do so. This course is designed to bridge that knowledge gap and turn developers into secure developers.
Python is a powerful programming language that is widely used in many different industries today. Python is known for its ease of use and readability, making it a great choice for beginners. Python is also very versatile, with libraries and tools available for data science, machine learning, web development, and more. Because of its popularity and versatility, Python is a great language to learn if you're starting your coding journey.
The PCEP – Certified Entry-Level Python Programmer certification shows that the individual is familiar with universal computer programming concepts like data types, containers, functions, conditions, loops, as well as Python programming language syntax, semantics, and the runtime environment.
The Salesforce Certified Platform Developer 1 course on Udemy is designed for professionals who want to become experts in Salesforce development. The course covers the fundamentals of Salesforce development, including Apex programming language, Visualforce markup language, and Lightning components.
The course consists of video lectures, quizzes, and hands-on exercises that help participants develop practical skills in Salesforce development. By completing this course and passing the Salesforce Certified Platform Developer 1 exam, participants can demonstrate their expertise in Salesforce development and increase their value in the job market.
The Java EE Fundamentals course on Udemy is designed for professionals who want to learn the basics of Java Enterprise Edition (Java EE) and how to develop enterprise-level applications using Java EE. The course covers the key concepts and components of Java EE, including servlets, Java Server Pages (JSP), Java Server Faces (JSF), Enterprise JavaBeans (EJB), and Java Persistence API (JPA).
Enhancing Your Career with IT Certifications
In addition to validating a developer's skills and knowledge, earning a certification can offer several other valuable benefits. Discover how IT certifications can enhance your career and open up new opportunities in the rapidly evolving technology industry.
1.Increased earning potential
Many employers offer higher salaries or bonuses to developers who hold certifications, as they demonstrate a commitment to ongoing learning and professional development.
2. Enhanced credibility
Certifications are recognized as a mark of expertise in a particular area and can enhance a developer's professional credibility and reputation.
3. Access to exclusive communities and resources
Many certification programs offer access to online communities, networking opportunities, and other resources that can be valuable for professional development and career growth.
4. Validation of knowledge and skills
By earning a certification, developers can demonstrate to themselves and others that they have the knowledge and skills required to perform their job effectively, which can boost confidence and job satisfaction.
In conclusion
Earning a developer certification can provide many benefits for IT professionals, including increased earning potential, career advancement opportunities, enhanced credibility, access to exclusive resources, and validation of knowledge and skills. With so many top certifications available, including the eight highlighted in this article, developers have many options to choose from and can find the program that best fits their career goals and interests. So, if you are an IT professional looking to boost your career and stand out in the job market, consider earning a developer certification and take the first step towards achieving your goals.
Why choose Trainocate as your IT training provider?
Trainocate offers a wide range of courses to help individuals enhance their skills and knowledge in the IT industry, making it an excellent choice for IT training.
Their team of experienced and knowledgeable instructors delivers engaging and practical training sessions to ensure that learners get the most out of their courses. Trainocate also provides flexible training options, including on-site, virtual, and self-paced training, making it easy for learners to fit training into their busy schedules.
In addition, Trainocate offers industry-recognized certifications that can help learners advance their careers in the IT field. Overall, choosing Trainocate as your IT training provider is a wise decision, as they provide quality training and support to help learners succeed in their careers.
Looking for Certifications Beyond Developer Roles?
Explore our latest blog post featuring the "Top IT Skills in 2023." We've gathered a list of the seven most crucial IT skills that can open up numerous opportunities for professional growth in the rapidly evolving technology industry.
If you're new to IT and prefer an easy-to-understand guide, make sure to check out our blog post on the "Top IT Certifications for Beginners." This comprehensive guide will help you start your journey into the world of IT certifications with confidence.
Make the most of these informative blogs to enhance your IT career. Happy learning!
FAQs
1. Are developer certifications worth the investment?
While experience and skill level are important factors in the technology industry, obtaining a certification can demonstrate your proficiency in a specific technology or skill set, making you a more attractive candidate to potential employers.
2. Which certification course should I choose?
The certification course you choose will depend on your career goals and the specific technology or skill set you want to specialize in. The top 8 developer certification courses listed in this article are all worth considering, and you should choose the one that aligns best with your career aspirations.
3. Can certification courses be taken online?
Yes, many certification courses can be taken online, either through virtual classrooms or self-paced e-learning modules.
4. What resources are available to help prepare for certification exams?
Many training providers, including Trainocate, offer a range of resources to help prepare for certification exams, including practice tests, study materials, and expert guidance.
5.How long does it take to obtain a developer certification?
The time it takes to obtain a developer certification can vary depending on the specific course and your prior experience in the field. However, most certification courses can be completed in a matter of weeks or months with dedicated study and preparation.

Kishweni Jaganathan
A Branding and Marketing specialist , with 1 year of experience working in the social media and branding space