Microsoft Certified: Azure Data Engineer Associate
Microsoft Certified: Azure Data Engineer Associate

Level up and join an elite group of Azure Data Engineers in 2023.
Accelerate your business with the power of data. Advanced analytics power the transformation that drives our business forward.
The availability of data has never been more apparent than it is now. The world around us contains an infinite supply, but tapping into its potential can be challenging for businesses who don't know how or where to start with their analysis efforts. To make sense of these numbers, businesses need an innovative approach that will help them extract value from their collected information so they can grow more profitably in the long run.
"The days when siloed, monolithic data stores were the rule is long gone, and those that are still standing are insufficient for business needs in today's digital world."
Benefits of getting Microsoft certified
Upon earning a Microsoft certification, 61% of tech professionals say they earned a promotion, 73% are upskilled to keep pace with changing technologies, and 76% have greater job satisfaction – 2021 Pearson VUE Value of IT Certification.

It's time to level up
Your Microsoft Certification can open doors and boost your confidence. It also shows that you are ahead of other job seekers, which makes it easier for employers to hire someone with these skillset requirements in today's market.
Earn certifications that show you are keeping pace with today's technical roles and requirements. Microsoft has certification paths for many technical job roles. Each of these certifications consists of passing a series of exams to earn certification.
All you need to know about the Azure Data Engineer certification
The world of data analytics is an evolving one, and if you want to be ahead in this fast-paced business environment then it's crucial that your team's skills stay up with all trends. Another element that is important in today's business landscape is agility, which requires seamless data collaboration across the organization. This makes data engineers the key to an organization's success.
With this Azure certification, you can prove to your company that cloud analytics is more than just a skill. It's imperative for any business looking at digital transformation and resilience in today's market—and these professionals know how critical it really might be, through all the days they spend unlocking data and putting it to work for key insights and ground-breaking value. If you possess these skills and want them validated by a well-recognized technological institution, check out the Azure Data Engineer Associate certification.
The Microsoft Certified: Azure Data Engineer Associate certification is all about integrating and purifying big data for use in analytics solutions. It validates your ability to transform various types of structured information into something more meaningful, and particularly suitable when building analytics solutions.
Important details you need about the exam
This is a certification you earn by passing the newly available Exam DP-203: Data Engineering on Microsoft Azure, which is replacing both Exam DP-200: Implementing an Azure Data Solution and Exam DP-201: Designing an Azure Data Solution. Data expertise is essential to the digital revolution, and the updated exam better aligns with the evolving skills of real-world data engineer roles.
What kind of knowledge and experience should you have?
Azure data engineers are required to explore, investigate and probe into specific data questions posed by the stakeholders. They are also responsible for building and maintaining secure and compliant processing pipelines by utilizing various tools and techniques.
Data engineers are also needed to ensure that the data pipelines and stores are high performing, efficient, organized and reliable, given a specific set of business requirements and constraints. They deal with unanticipated issues swiftly, and they minimize data loss. They also design, implement, monitor and optimize platforms to meet the needs of the pipeline.
These professionals must have a solid knowledge of data processing languages, such as SQL, Python, or Scala, and they need to understand parallel processing and data architecture patterns.
Skills Covered
Explore compute and storage options for data engineering workloads in Azure

 

Design and Implement the serving layer

 

Understand data engineering considerations

 

Run interactive queries using serverless SQL pools

 

Explore, transform, and load data into the Data Warehouse using Apache Spark

 
How can you get ready?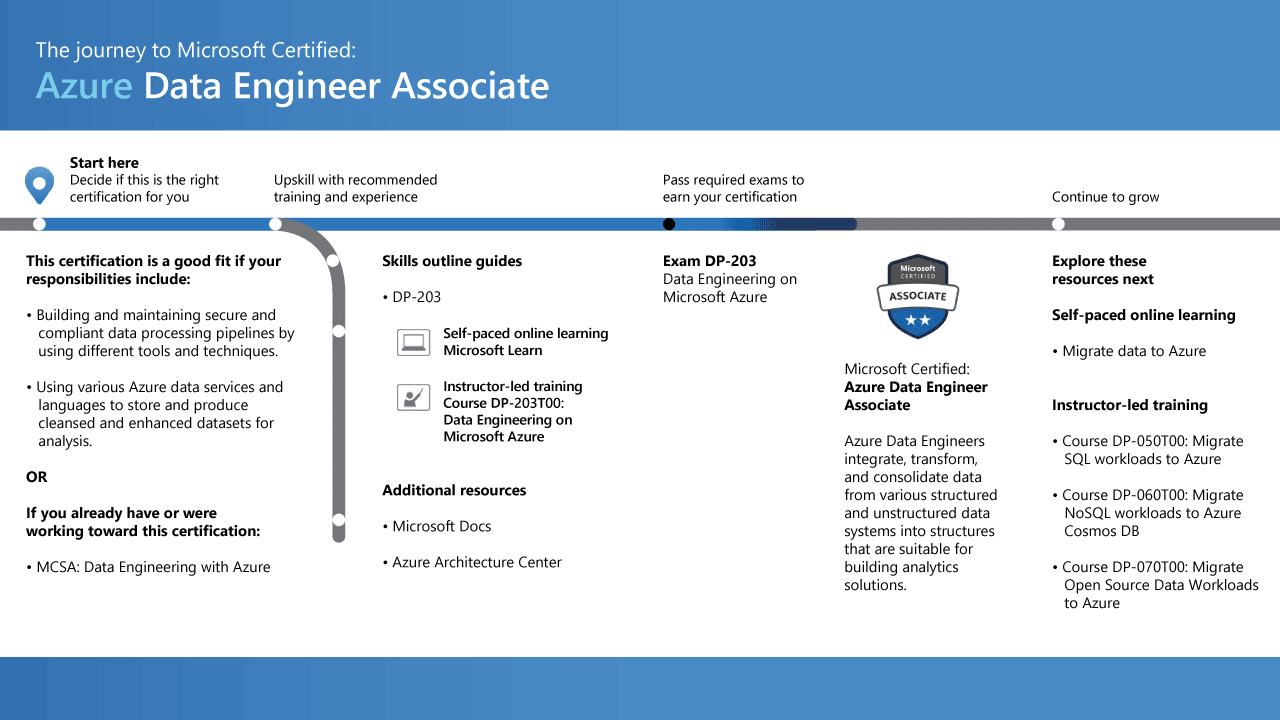 To help you plan your journey, check out the infographic, to help you plan the journey towards becoming Microsoft Certified: Azure Data Engineer Associate.
Many organizations today have petabytes of data, and analytics and AI play pivotal roles in putting this data to work—as do data engineers. These professionals work with data from many sources, and they know how to do this quickly and securely to deliver cost savings, new insights, improved business processes, and ground-breaking value. Ready to prove your worth to your team—and to current and future employers? Roll up your sleeves, and get started earning your Azure Data Engineer certification.
---
Most Popular Questions About Azure Certifications  
1) Are Microsoft Azure certifications worth it?  
Azure certifications offer IT, professionals, an edge in this cloud-based and connected world. Job seekers and seasoned professionals alike can use Azure certifications to help advance their career—in their existing organization and role or in new ones—earn recognition, and validate their technical knowledge and abilities in current and future industry job roles and organizations can use certifications to identify the talent they need and build the technical skills of their workforce  
2) How do Microsoft Azure certifications benefit me?  
Azure certifications are globally recognized and industry-endorsed. They're used both by job seekers (individuals) and by talent seekers (organizations) as a way to validate that a candidate has the skills to do the job. They're a powerful differentiator in the quest to match skilled talent to key jobs in the digital age.  
Whether you're looking to level up your career or to jump-start a new one, you can use Azure certifications to build and validate your technical knowledge and abilities in the modern cloud environment. In these unsettling times, earning your Microsoft Certification can help provide you with the edge you need with organizations that are seeking skilled talent.  
3) Why are Microsoft Azure certifications so important in today's landscape?  
Azure is the most widely used cloud computing platform, leading the cloud industry forward globally. A large majority of organizations and enterprises – small and big, have made the leap towards embracing cloud technology. This paradigm shift has also revealed that organizations want to remain competitive as the demand for cloud-based and centred solutions grows daily, directly affecting the need for technology professionals with cloud knowledge.  
Microsoft has been at forefront of ensuring that the global workforce is prepared to take on this substantial task by validating and certifying top applicants who are the best suited for a specific job position, according to Microsoft. Microsoft certifications can undoubtedly add value to a candidate's professional journey as most businesses now prefer to have prospective employees with certifications in tow.  
4) What are the available levels of Azure credentials?  
There are four levels of Microsoft certifications Azure Certification path levels, covering beginner to expert level azure cloud certification.  
Fundamentals

– If you are a beginner, your Azure journey will start with

Azure Fundamentals

certification. Candidates with a non-technical backdrop can also step into cloud computing through these certifications.

 

Associate

– Candidates who have a fair idea of Azure can aim toward associate certifications. 

 

Expert

– You can obtain an expert certification if you have experience, a solid comprehension of the subject, and associate-level familiarity with Azure. 

 

Specialty

– It is the highest level of Azure certification. Candidates can opt for this Azure certification if they want to apply for roles like Azure IOT Developer Specialty and Azure for SAP Workloads.

 
5) Will Azure work for my industry?   
Azure provides solutions for all industries, through proven combinations of cloud products and services. Address your industry-specific business challenges today, and prepare for the future by innovating with Azure solutions.   
6) How does Azure compare to other clouds?   
Azure is the only consistent hybrid cloud, that delivers unparalleled developer productivity, provides comprehensive, multilayered security, including the largest compliance coverage of any cloud provider, and you'll pay less for Azure as AWS is five times more expensive than Azure for Windows Server and SQL Server.   
7) What is the role of an Azure Data Engineer?   
As experts in Azure data services, languages and processing pipelines, Data Engineers are responsible for ensuring businesses have an efficient and reliable platform that meets their specific needs. Their role involves exploring the various questions posed by stakeholders to uncover valuable insights from datasets which require cleansing or enhancement. To do so they must address any unforeseen challenges promptly while mitigating risks of potential data loss; ultimately aiding analysis with high-performance platforms designed according to business requirements
8) What is covered in the DP-203 certification exam?
Candidates for this exam should have subject matter expertise integrating, transforming, and consolidating data from various structured and unstructured data systems into a structure that is suitable for building analytics solutions.
This exam measures your ability to accomplish the following technical tasks: design and implement data storage; design and develop data processing; design and implement data security; and monitor and optimize data storage and data processing.

---
Tap into the technology of tomorrow and unlock your full potential with a Microsoft Azure Certification. Get ahead, boost confidence, and maximize job satisfaction – all while potentially increasing that paycheck. It's time to work smarter by investing in yourself today and doors will open up for you tomorrow.
Syazana Khan
A communications specialist and technology wordsmith with over 2 years experience in the IT and professional development training arena.