Original article (Japanese)
https://www.trainocate-holdings.com/articles/top-message-malaysia/
Trainocate Group operates in 14 countries and regions worldwide. In this article series, current and future human resource development in each country by Leader.
This time, Ruby Kaur, Managing Director of Malaysia, talks about what is going on and what is forecasted for Malaysia in thr coming year. 
– Please introduce Malaysia to us 
Ruby : Malaysia is on its journey to becoming a more progressive nation with a focus on digital transformation. We have been intensifying efforts around talent development, especially in the technology space to prepare a talent pool for the future of work. There are ongoing efforts via various government initiatives in partnership with the tech industry, public and private universities and training providers.
Malaysia also has structured various talent development programs via HRD Corporation, a government body that collects levy from employers to fund the training and development programmes for the Malaysian workforce. Trainocate is a registered training provider under HRD Corp and leverages on 33,300 registered employers with a levy collection of RM475million (in 2020-HRDC annual report).
Trainocate Malaysia also aligned itself to the government's digital economy blueprint – the Malaysia Digital Economy Blueprint, also a part of the 12th Malaysia Plan. This Blueprint envisions Malaysia becoming the regional lead in digital economy and to achieve inclusive, responsible and sustainable socioeconomic development. Through our upskilling efforts, we aim to empower and equip the Malaysian workforce with current, in-demand skills to propel Malaysia further as we enter the new dawn of digitalization.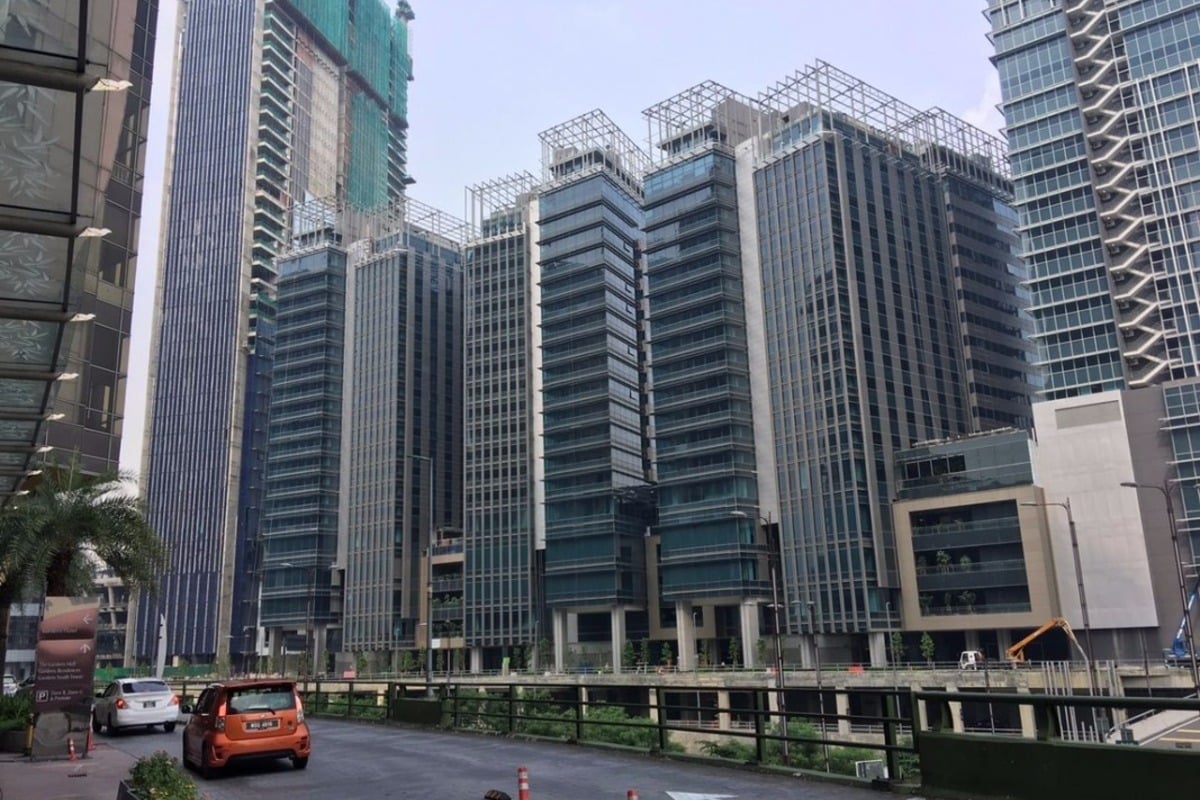 The scenery nearby Malaysia office. Lot of new buildings are there.
Credit: KL Eco City 
– So, Malaysia is going to develop talent for digital transformation. Then, what are your clients' industries and what kind of challenges do your clients have?
Ruby : Trainocate Malaysia's primary focus is on big enterprises in the services and technology sector. We also conduct training for many SMEs who contribute to HRDC, focusing on softskills and productivity training. We provide training to all segments of the industries with primary focus on tech companies, FSIs, and manufacturing clients. We offer training on information technology and soft skills, which are aligned to the global trends and best practices, helping our clients continuously grow and positively contribute to the digital economy.
Technological changes are rapid, and this is a challenge when it comes to keeping employees and the organization up to date and agile. Upskilling and reskilling employees is a constant challenge and employers want flexibility in training employees consistently and effectively, which improves overall productivity.
Above all, with the changes in culture and expectations of the younger generation, employers find it a challenge to keep them motivated and engaged. Employers have to consistently invest in softskills training, including communication, interpersonal skills, time management, analytical thinking, problem solving and teambuilding.
Ruby Kaur –  Managing Director, Malaysia
– The gap between generation looks to be exist every countries. So, what do you think the Trainocate's strength is?
Ruby : Our main strength is our regional presence and being the authorized training partner for various IT companies. We offer customers what they need and always keep ourselves ahead of the curve by adopting the latest technologies and offering training in these sectors to enable customers to leverage on their newfound skills and increase their business growth.
Our ability to upskill and prepare our pool of trainers to teach these technical courses in a short span of time brings value to customers when they come to our classes.
We also have long established working relationships with many corporate clients who trust our quality service and ability to respond to their needs.
Attending exhibition hosted by TrendMicro and Alibaba Cloud
– How rapid the company could adopt latest technology effects to business competitiveness. Next question is about business plan in your country. What kind of activities do you plan in future?
Ruby : We have built the business to become one of the largest IT training providers in Malaysia over the last few years. The plan is to provide customers with the right skill they need in a holistic/blended way.
Technology is bringing about so much change that there is a huge need for working adults to be upskilled from time to time in hard skills and soft skills. We aim to provide professionals with the right technical skills as well as soft skills to enable them to make a difference in the organization. (skills needed to communicate effectively, managing on the job pressure and self-development, together with latest technologies as all jobs are becoming increasing tech).
We plan to provide customers with a single platform for blended learning where they can learn multiple skills in multiple modes. A platform that provides the customer foundational skills as bite size e-learning courses, with recommendations on next steps to attend intermediate or advanced courses based on instructor led training, followed by certification preparation/simulations.
– The learning way will be developed with the time. Next, Let me ask about yourself. When did you join to Trainocate?
Ruby : I joined Trainocate in 2014 at a time when demand for IT training and certification was growing steadily and there were just a few established IT training providers in the market. Trainocate had huge potential, especially with its regional presence and being an authorized training partner for many big tech names such as Cisco, NetApp and VMware. In just a few years Trainocate Malaysia became the top IT training provider in Malaysia and we continue to strive to grow our customer base and the offerings we provide.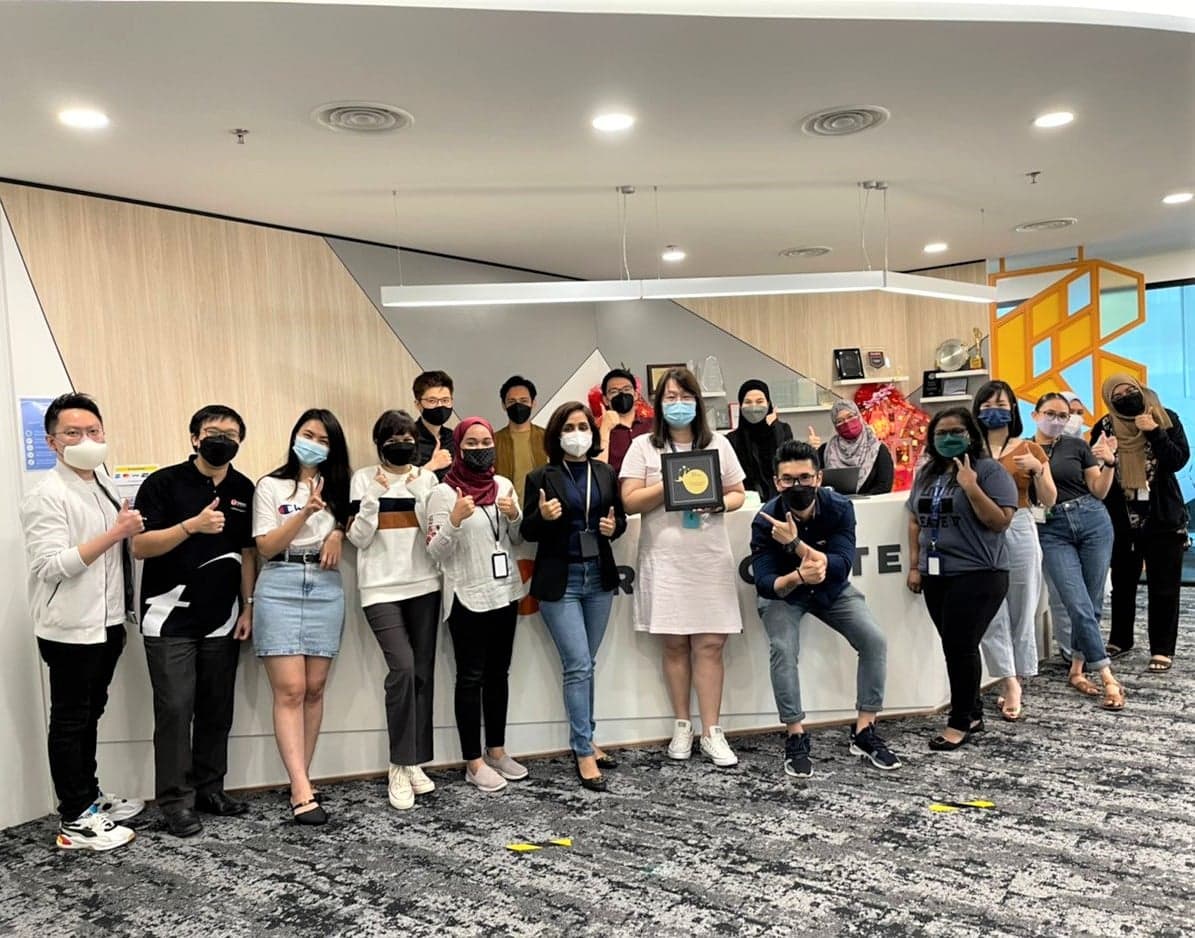 Winning the prized Microsoft Learning Partner of the Year (Malaysia) title in 2022
– Malaysia won the Microsoft Learning Partner of the Year was the great news. Trainocate is now top training company in Malaysia both in name and reality. So, what is most important to you in your work?
Ruby : Yes, I have three things.
1st is always doing the right thing and doing things right. There are many challenges daily, I do my best to tackle the problems with solutions that provides the best outcome possible.
2nd, it's important for me to always plan and set goals, no matter how big or small, and to work towards achieving these goals no matter the challenges that come my way.
3rd, it is important to me to always look at the bigger picture and to ensure that what we do makes a real difference to our customers who come to us for upskilling.
– Third one sounds related to Trainocate's vision. Then, next is the last question. How do you spend your off time?
Ruby : I love nature and the outdoors, so I do spend my free time hiking, swimming, or running. I enjoy reading a good book and always bring one along, especially when I'm travelling. Music and dancing are my way of relaxing, I always have Spotify or the radio playing to keep me upbeat. Travelling, meeting new people, exploring their culture and way of life, as well as food.
– Thank you!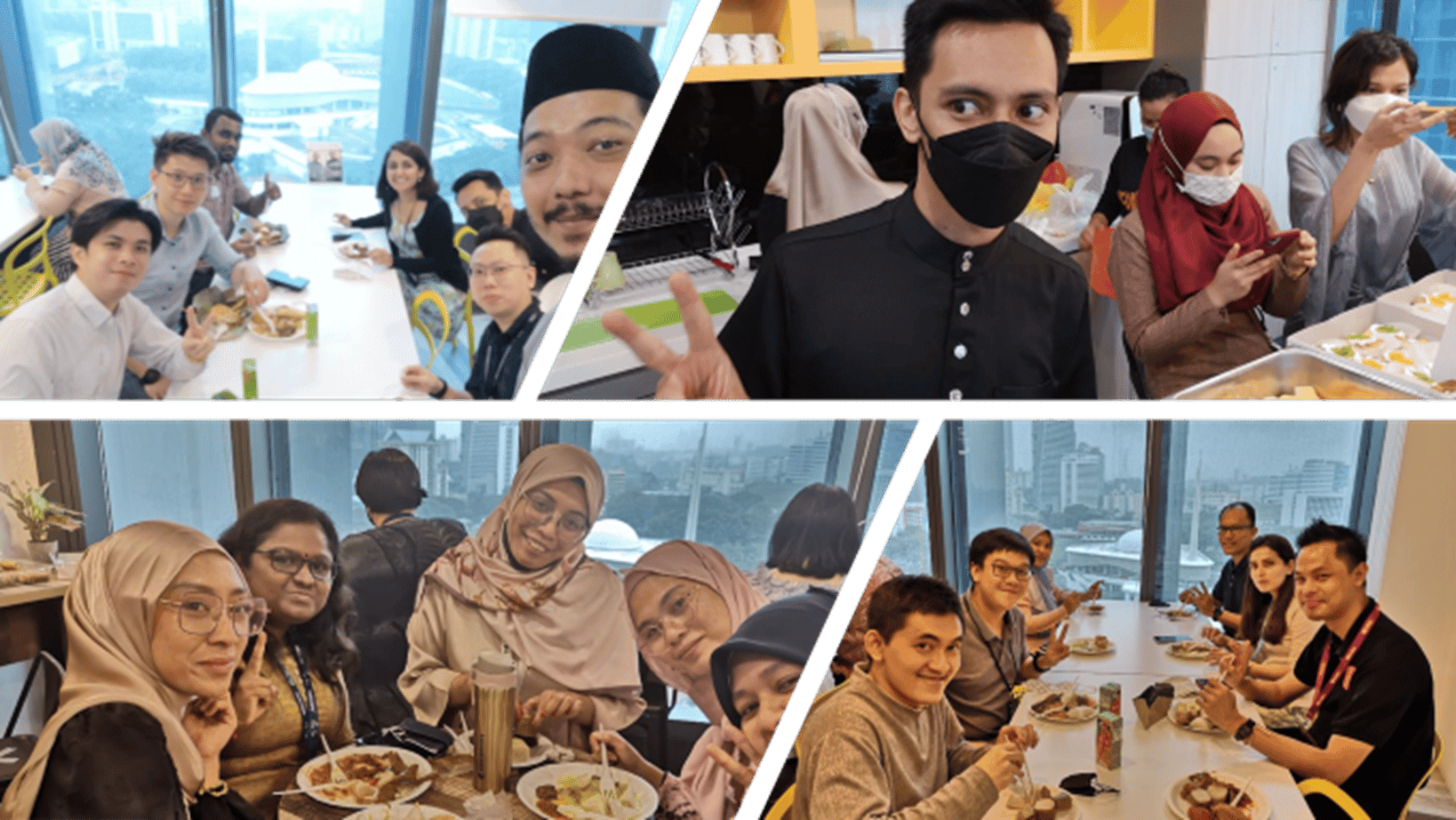 Staff potluck in the office